News
As Unlimited Data Takes Center Stage, T-Mobile Widens Speed Gap Between the Network Built for Unlimited … and Everyone Else
T-Mobile's advanced LTE network delivers mind-numbing speeds on the latest superphones as new data shows the Duopoly's networks slowing – by up to 14%! – under strain of Unlimited LTE
Bellevue, Washington — April 21, 2017 — What's next is here—and it's freaky fast. Starting today, T-Mobile customers with the latest smartphones can get up to DOUBLE their current speeds – up to gigabit-class speeds at the Un-carrier. That's all on top of what is already America's fastest LTE network.
And, while the Un-carrier just keeps taking the speed crown – recently notching the company's 13th quarter in a row as the fastest LTE network in America – Verizon and AT&T are cratering since they launched unlimited data. Verizon's download speed has plummeted 14% since they launched unlimited LTE – talk about a freefall! AT&T's download speed followed suit and dropped 4% ever since they FINALLY got on board with offering all their customers unlimited LTE.
"Watching what the carriers' new unlimited plans are doing to their networks is like watching a train wreck in slow motion – emphasis on slow," said John Legere, president and CEO of T-Mobile. "This is what happens when you unleash unlimited data on a network that wasn't built to handle it. T-Mobile's network was built for unlimited, so customers can experience the Galaxy S8 as it was intended – insanely-fast and without limits."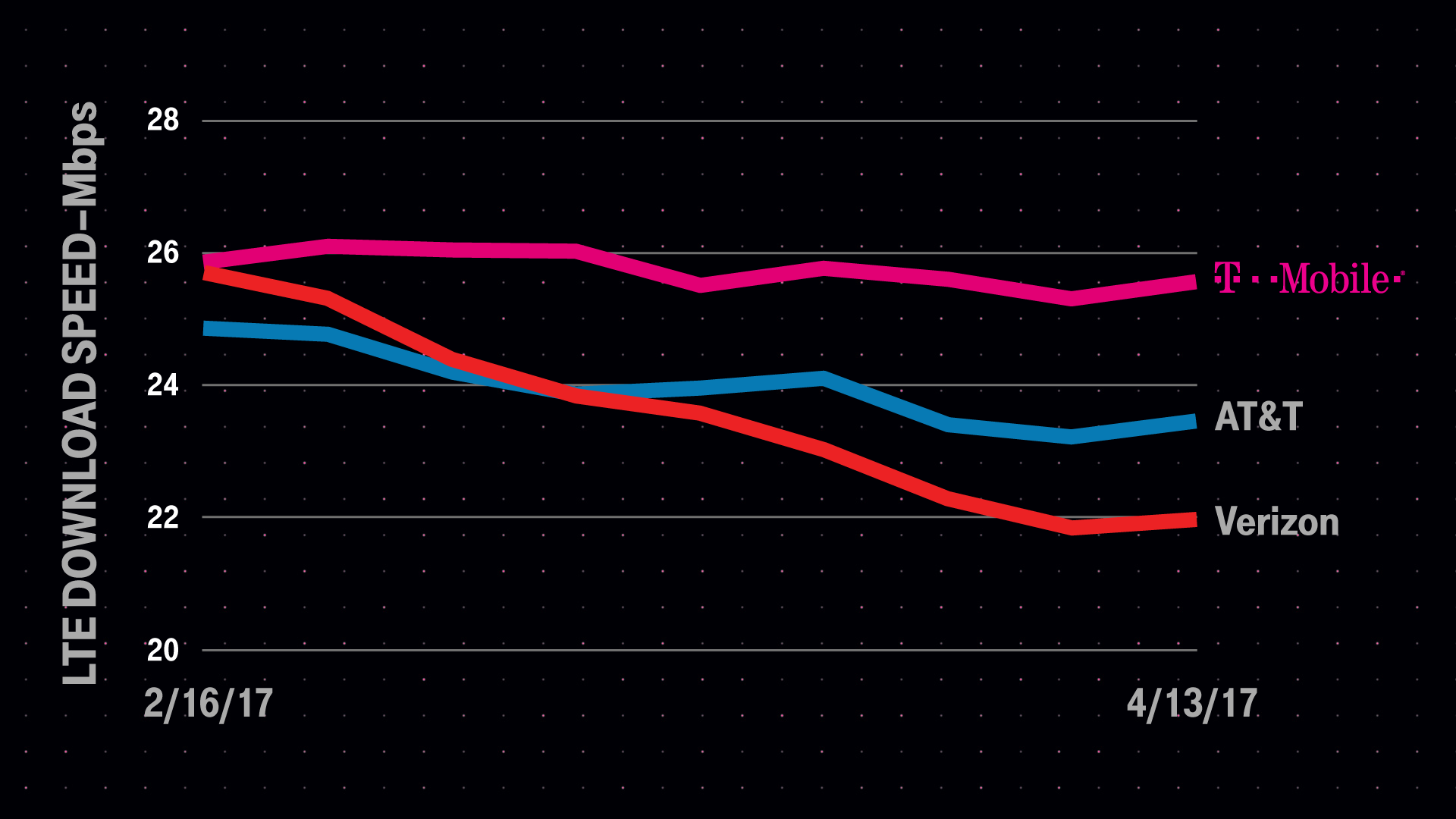 Carriers with average speeds slower than 20 Mbps were just too far below the pack to be included. We only have so much room.
Speed into the Savings
Customers who pick up the latest superphones at T-Mobile can still save hundreds annually over Verizon and AT&T with T-Mobile ONE -- the best unlimited plan on a network built to handle it -- with benefits like unlimited everything, zero overages, taxes and fees included and coverage in the air and around the globe. Right now, it's just $100 a month on AutoPay for 2 lines of T-Mobile ONE.
For more information on T-Mobile LTE coverage where you live, work and play, visit www.t-mobile.com/coverage.
Speed calculations based on T-Mobile's analysis of Ookla® Speedtest® data using download speed from January 1 to February 12 for Verizon (25.49 Mbps) and January 1 to February 15 for AT&T (24.41 Mbps) compared to the week of April 9-15 (21.96 and 23.51 Mbps respectively).

On all T-Mobile plans, if the network becomes intermittently congested, top 3% of data users (>30 GB/mo.) may notice reduced speeds due to prioritization. Video typically streams at DVD quality (480p). Sales tax and regulatory fees included in monthly service price. See in-store materials for specifics in your state. Device speeds vary based on device, location, and network conditions; typical download speeds will vary.

About T-Mobile
As America's Un-carrier, T-Mobile US, Inc. (NASDAQ: TMUS) is redefining the way consumers and businesses buy wireless services through leading product and service innovation. The Company's advanced nationwide 4G LTE network delivers outstanding wireless experiences to 71.5 million customers who are unwilling to compromise on quality and value. Based in Bellevue, Washington, T-Mobile US provides services through its subsidiaries and operates its flagship brands, T-Mobile and MetroPCS. For more information, please visit http://www.t-mobile.com.

# # #

T-Mobile Media Contacts
T-Mobile US Media Relations
MediaRelations@T-Mobile.com