The Un-carrier is one-upping the upgrade. T-Mobile (NASDAQ: TMUS) today announced Go5G Next, the only plan in wireless that guarantees customers are upgrade-ready every year and that new and existing customers always get the same great phone deals. The latest plan from T-Mobile—also available for businesses with Go5G Business Next—means that new and existing customers always have access to the latest technology to light up America's leading 5G network.
Earlier this year, T-Mobile's Un-carrier move Phone Freedom helped people break free from "contract creep," where Carriers quietly extended device contracts, locking in customers for three whole years in order to get their best deals. The Carriers did this despite the fact that nearly 70% of people surveyed prefer to upgrade their phones every two years. So T-Mobile introduced Go5G Plus, the first wireless plan to guarantee customers are upgrade-ready every two years AND that existing customers will always get the same great device deals as new customers. Go5G Plus saw immediate success, quickly becoming T-Mobile's most popular plan.
But of course, the Un-carrier couldn't stop there. Because for almost 10% of people surveyed, upgrading to the latest smartphone every 12 months is a major priority. And while that number may seem small, it's not! That accounts for over 33 million people, based on the U.S. population.
Enter Go5G Next—the only plan in wireless where customers are upgrade-ready every year with the promise existing customers will always get the same deals as new customers. And this isn't a limited-time thing. New and existing customers get the same great deals now … and always in the future ... and are upgrade-ready every year. Go5G Next launches alongside all of T-Mobile's existing value-packed plans, including Go5G and Go5G Plus, Essentials and more.
"While the Carriers try to lock you in and limit your choices, T-Mobile continues to double down on value and deliver even more options, so everyone has a plan that works for them," said Mike Sievert, CEO, T-Mobile. "At T-Mobile, we're focused on giving customers the best network, best value and best experience—and that means upgrading on your terms. Go5G Next brings more flexibility and freedom to wireless and another end to longer-than-you-want device contracts."
Go5G Next comes with all the great features of Go5G Plus, along with the ability to upgrade devices yearly. Here's how it works:
Switch to Go5G Next.
Score the latest 5G phone on T-Mobile's no-interest phone payment plan (EIP) with any eligible offer. Right now, that's a free 5G smartphone for both new and existing customers with eligible trade-in via 24 monthly bill credits plus tax.
Once you've paid off half your phone, you're eligible to upgrade! In most cases, customers are upgrade-ready every single year or sooner.
Simply trade in your old phone (T-Mobile pays off your remaining EIP!) and upgrade to the latest phone on a new EIP.
With Go5G Next, customers only have to pay off half of their phone to be upgrade-ready—and because T-Mobile's financing plans are only 24 months, this is typically done in just 12 months. For those who want to upgrade sooner, Go5G Next customers can do it in as soon as 6 months as long as they've paid off half their phone. T-Mobile covers the rest.
Say a customer picks up a $1000 smartphone. Once they pay off half ($500), that customer can trade it in toward a new one, and T-Mobile covers the remaining $500 on the old phone. And new and existing customers on Go5G Next always get the same great deals whenever they're ready to upgrade.
Premium Plan with Major Benefits
Go5G Next doesn't just guarantee that customers have the freedom to upgrade every year and get access to the nation's most awarded 5G network. It also includes extra perks like Apple TV+ on Us, Netflix on Us, free in-flight Wi-Fi, free high-speed data in 215+ destinations, Scam Shield protection and more. That's over $270 in added value every single month for those with two or more lines. And those perks are all built into the plan and all included on top of their wireless service—just for being a T-Mobile customer. Seriously. No Carrier can say that.
Right now, compared to premium plans from AT&T and Verizon, Go5G Next customers with three lines will pay the same price or less — and be upgrade-ready in a year instead of waiting three years with AT&T and Verizon to get their best deals. And Go5G Next customers will always get the same device deals as new customers when they're ready to upgrade.    See how Go5G Next stacks up against the others: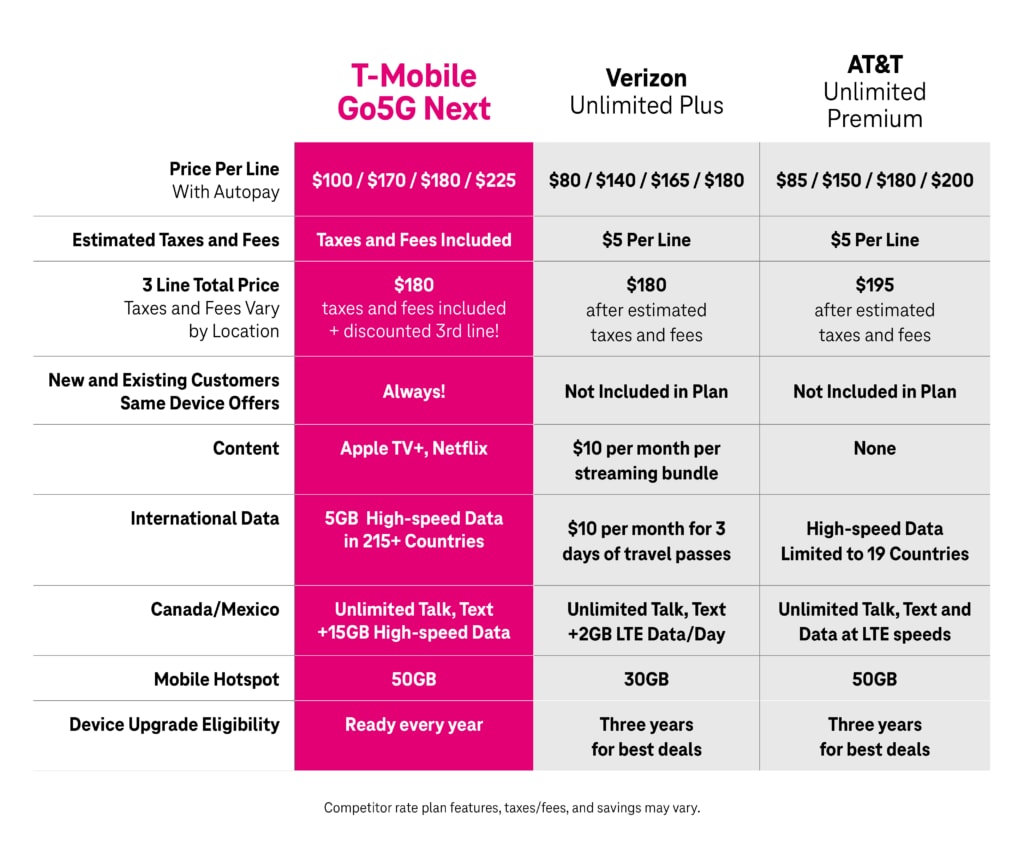 T-Mobile's mission is to be the best in the world at connecting customers to their world—and that means giving people ALL the options. Because the Un-carrier is for everyone. Go5G Next enhances T-Mobile's current plan portfolio so customers have an even greater range of choices—and Go5G Next extends across 55+, military and T-Mobile for Business plans to fit everyone's needs. Check out everything that comes with the Un-carrier's value-packed plans, from Essentials to Go5G Next: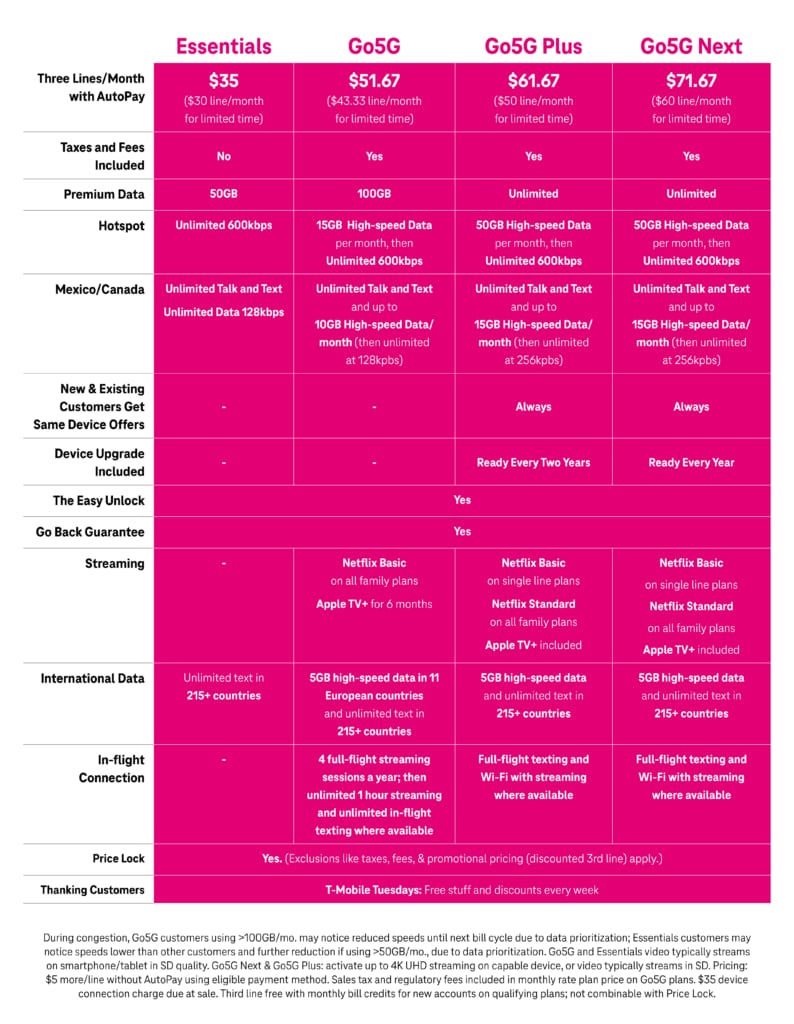 And Go5G Business Next is packed with value for small business customers, too. On top of the ability to upgrade devices every year, Go5G Business Next includes all the same benefits of Go5G Next, plus 100GB of mobile hotspot data, premium business travel benefits valued at over $400 and business solutions like Secure Wi-Fi and Microsoft 365 on Us—making it easier for businesses to work from virtually anywhere while saving money.
Go5G Next plans will be available this Thursday, August 24. And for a limited time, new and existing customers can get a discounted third line and pay just $60/line monthly with AutoPay. Plus, it's never been easier to switch to the Un-carrier. T-Mobile helps people break free from the Carriers by helping pay off their phones or contract termination fees when making the move.
For more information on Go5G Next visit www.t-mobile.com/goseewhy. Businesses can learn more about Go5G Business Next at www.t-mobile.com/Go5GBusiness.
Follow @TMobileNews on X, formerly known as Twitter, to stay up to date with the latest company news.  
# # #  
Limited time offers; subject to change. Credit approval & deposit may be required. U.S. roaming and on-network data allotments differ: includes 200MB roaming. Upgrade-ready Every Year: Available for qualifying new financed devices purchased on Go5G Next plan; existing devices are not eligible.  Upgrade qualifying device after at least 6 months and 50% of device cost has been paid.  Trade-in device must be in good working order & you must be current with your scheduled financing and wireless service payments.  Upgrading ends current financing and any device promotion or deposit reimbursement credits; trade-in satisfies early upgrade and not valued separately.  Not combinable with some offers (e.g. JUMP).
About T-Mobile  
T-Mobile US, Inc. (NASDAQ: TMUS) is America's supercharged Un-carrier, delivering an advanced 4G LTE and transformative nationwide 5G network that will offer reliable connectivity for all. T-Mobile's customers benefit from its unmatched combination of value and quality, unwavering obsession with offering them the best possible service experience and undisputable drive for disruption that creates competition and innovation in wireless and beyond. Based in Bellevue, Wash., T-Mobile provides services through its subsidiaries and operates its flagship brands, T-Mobile, Metro by T-Mobile and Sprint. For more information please visit: https://www.t-mobile.com