Update: September 1, 2023
Network, Emergency Management & First Responders Update
T-Mobile's network held up well during the storm and many of our sites in the hardest hit areas had nearby towers that provided overlapping coverage which minimized service interruptions. In the hardest hit areas of North Florida and South Georgia, coverage is almost fully restored and restoration efforts have been moving quickly. Coverage is fully restored in the Tampa area, and in Perry, FL and Valdosta, GA, a small number of sites have temporary satellite or microwave solutions providing coverage.
We also continue to work with first responders, agencies and federal, state and local officials to coordinate communication needs. Our teams have also been working alongside government representatives and public agencies in person at the Tallahassee Emergency Operations Center while supporting other EOCs to coordinate recovery efforts.
Community Support Update
For customers and members of the community that need a helping hand today, T-Mobile teams are providing support at the following locations at the following locations in Perry, FL and Valdosta, GA:
Today in Perry, our teams will have a Wi-Fi trailer and supply packs equipped with charging cables, chargers, adaptors and headlamps. Wi-Fi will remain available at this location through Sunday, Sept. 3:
T-Mobile Store
1912 S Jefferson St., Ste 100
Perry, FL 34328
Today through Sunday, Sept. 3, a Wi-Fi trailer is in Valdosta, GA at:
Home Depot
1825 Norman Dr.
Valdosta, GA 31601
Store Update
A very small number of stores remain closed. Updates on T-Mobile local store hours can be found here and Metro by T-Mobile stores are here.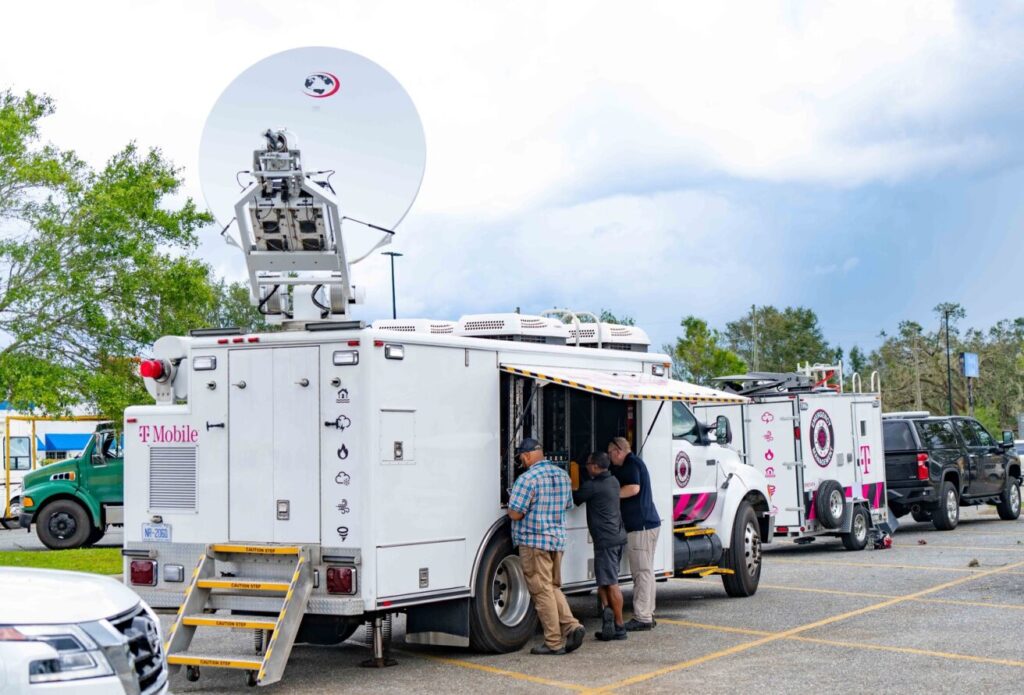 August 29, 2023

As Hurricane Idalia intensifies to Category 3 and continues its path toward landfall, T-Mobile has activated its emergency plan so when needed, teams can quickly begin recovery efforts to keep communities, first responders and customers along the Gulf Coast and Atlantic seaboard connected.
The National Hurricane Center has warned that Idalia could bring catastrophic storm surge along the Gulf Coast and southward to Tampa Bay.  
Key points you need to know: 
Generators and batteries are topped off at local towers.
Quick-deploy and portable satellites, microwave solutions and generators are ready to quickly recover critical connectivity.
Customer concessions for unlimited talk, text and data from August 30 through September 5 are in place.
Emergency teams are staged and ready to quickly begin network restoration; provide Wi-Fi, devices and device charging; and provide first responders with activated phones with Wireless Priority Service.
Here's more about what we are doing to be ready: 
Network  
Ahead of landfall, our Emergency Management teams have worked to ensure readiness and resiliency in projected impact areas. We've: 
Refueled generators and ensured that high-capacity batteries are charged on towers and other important network sites. 
Readied and staged engineers, technicians and equipment — such as portable generators and satellites that can be quickly deployed, microwave solutions to supply temporary backhaul and heavy-duty trucks that provide high-speed and 5G coverage and capacity. This equipment can enhance network coverage, boost capacity, replace cell sites that are damaged or down due to commercial power outages, and connect cell sites to deliver high speed data should local fiber cable be damaged.  
Filled fuel trucks. 
Also, over the last several years, our Emergency Management teams have extensively hardened our network ahead of the hurricane seasons, and we've worked to ensure readiness and resiliency in areas projected to be impacted by Idalia. 
Customer Support 
While the majority of our customers are on plans with unlimited talk, text and data, for those in impacted counties in Florida, Georgia and South Carolina who aren't, we are offering unlimited talk, text and data starting Wednesday, August 30 through Tuesday, September 5.
First Responder and Community Support
T-Mobile's teams have also staged equipment ready to provide critical wireless connectivity,  Wi-Fi connectivity and devices to first responders, customers and communities. Our team is ready with heavy-duty supply transport trucks, Wi-Fi trailers and a Command Center. We'll have additional RVs in the area to provide relief and housing to teams as needed. We'll also be providing phones and charging equipment such as cables and battery packs, and we'll have activated phones with Wireless Priority Service on hand for first responders to help ensure emergency communications move to the front of the line during times of high traffic. Our team is also at the State Emergency Operations Center in Tallahassee working with state and local officials to support public safety. 
Any first responder agencies or organizations needing communications assistance can reach out to our 24-hour emergency hotline at 888-639-0020 or email ERTRequests@T-Mobile.com.  
T-Mobile and Metro by T-Mobile Stores 
The safety of our employees and customers is paramount. We've already closed many stores in Idalia's projected path and in surrounding areas, we're closing others as early as 2 pm ET today. Updates on T-Mobile local store hours can be found here and Metro by T-Mobile stores are here.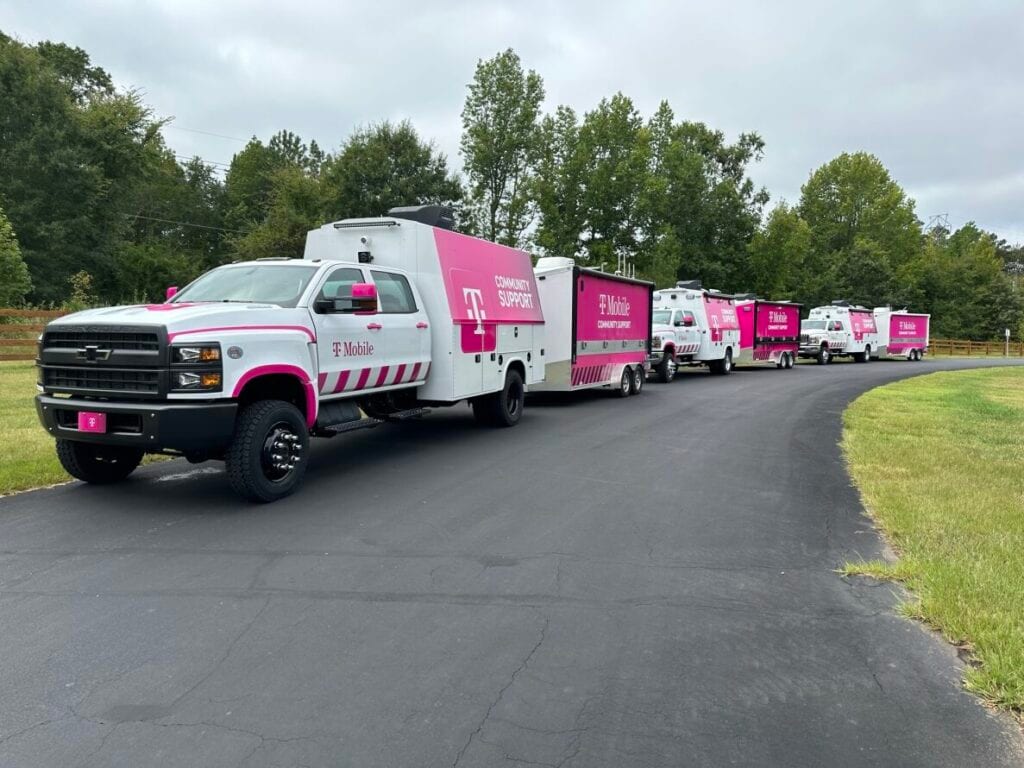 Employees 
We are partnering with our teams to take care of our local employees, which includes closing some office locations and supporting employees and their families during this time.   
Plan for Every Emergency 
Preparedness and proactive planning are essential for safeguarding you and your family's well-being before, during and after a disaster. In preparation for Idalia and ahead of National Preparedness Month in September, here's what you can do to be ready: 
Create a family emergency plan with your loved ones so everyone knows what to do in an emergency. T-Mobile has tips, resources and an easy-to-use emergency template here: How to Create a Family Emergency Plan. 
Load up a fully equipped Go Bag to ensure that you and your family have critical items in case of a quick evacuation. For more information on the best items to include, check out Everything You Need in Your Go Bag. 
Put everything on your phone to be ready, and fully charge it. Download critical apps such as NOAA National Weather Service, enable Wireless Emergency Alerts, set up Wi-Fi calling and use power or battery saving modes to stretch battery life. Take steps outlined on the checklist below: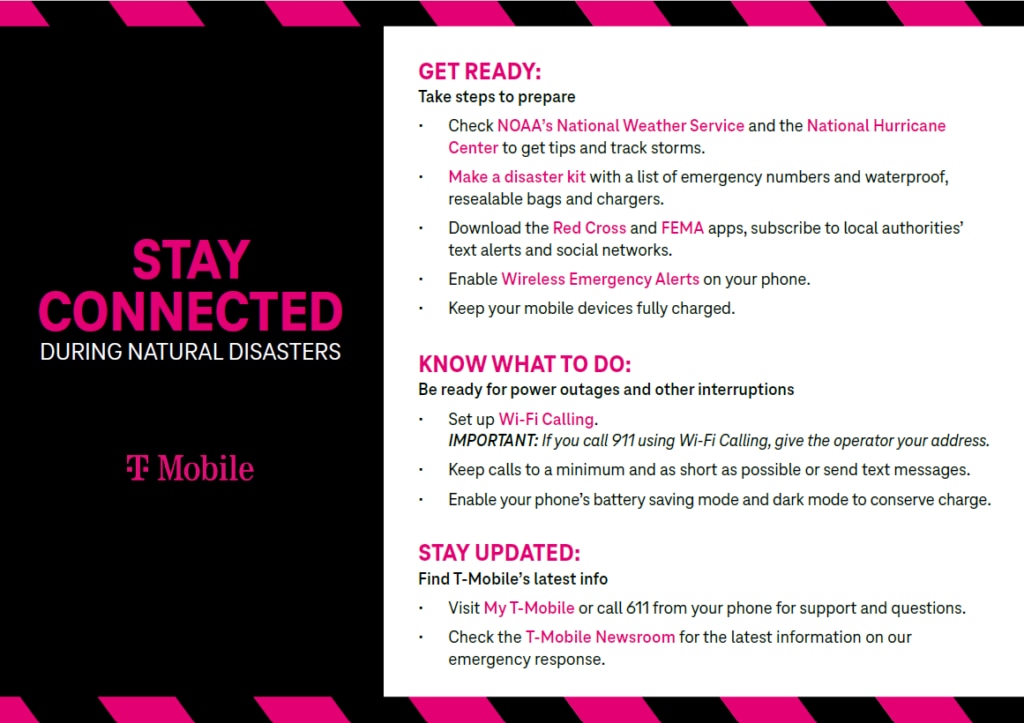 Bookmark federal and disaster relief organizations, including The American Red Cross, Ready.gov and FEMA for more resources that can help you prepare or get support.  
For more information on how T-Mobile prepares for and responds to disasters, visit T-Mobile's Emergency Response Hub. 
 
Follow T-Mobile's Official Twitter Newsroom @TMobileNews to stay up to date with the latest company news.