BELLEVUE, Wash. — June 27, 2023
What's the news:  T-Mobile just named 25 more recipients of its Hometown Grant program, marking 200 towns supported throughout the United States since the start of 2021. The initiative is part of the Un-carrier's greater effort to connect rural areas and empower communities.
Why it matters: T-Mobile's Hometown Grants initiative shows big love for small towns, driving positive change in communities nationwide by funding $25 million in projects over a massive 5-year commitment.
What they're saying: "It's been two years since we pledged to champion small towns across America, which nearly 50 million people in our nation call home," said Jon Freier, President, Consumer Group, T-Mobile. "Since then, we expanded our 5G network by nearly 400 thousand square miles to reach more rural communities and provided more than two million households affordable Internet access with T-Mobile 5G Internet. And that's all on top of breathing new life into main streets everywhere with Hometown Grants."
Who it's for: Everyone with big ideas to strengthen their communities.
Today, T-Mobile (NASDAQ: TMUS) announced its next round of Hometown Grant recipients, reaching a milestone of 200 towns. With projects focused on revamping outdoor spaces, building event venues, providing Wi-Fi connectivity and more, the latest 25 recipients will begin turning ideas into reality with help from the Un-carrier.
With a record of over 600 applications this time around, the growing interest in Hometown Grants is a testament to the profound impact T-Mobile is making on small towns across the country.
Connecting Rural America
T-Mobile's Hometown Grants initiative is just one way the Un-carrier is supporting small towns. T-Mobile is delivering on its promise to better connect rural communities by:
Bringing choice to communities.  Just over two years since its commercial launch, T-Mobile 5G Home Internet is available to more than 50 million households ­­­— a third of them in rural America which previously had limited or no access to broadband options.
Expanding the nation's most awarded network. T-Mobile 5G spans 326 million people across two million square miles — more than AT&T and Verizon combined. With super-fast Ultra Capacity 5G, 275 million people are already covered, and the Un-carrier plans to reach 300 million people with Ultra Capacity — nearly everyone in the country — this year.
Creating jobs. With 600 T-Mobile stores opening between 2020 and 2024, the Un-carrier is becoming a more familiar sight in communities nationwide, providing thousands of people with jobs and a more personalized experience for customers.
Empowering Students with Connectivity. T-Mobile has connected more than 5.3 million students across the U.S. through our education initiatives, including Project 10Million — and that number continues to grow as we work to close the digital divide.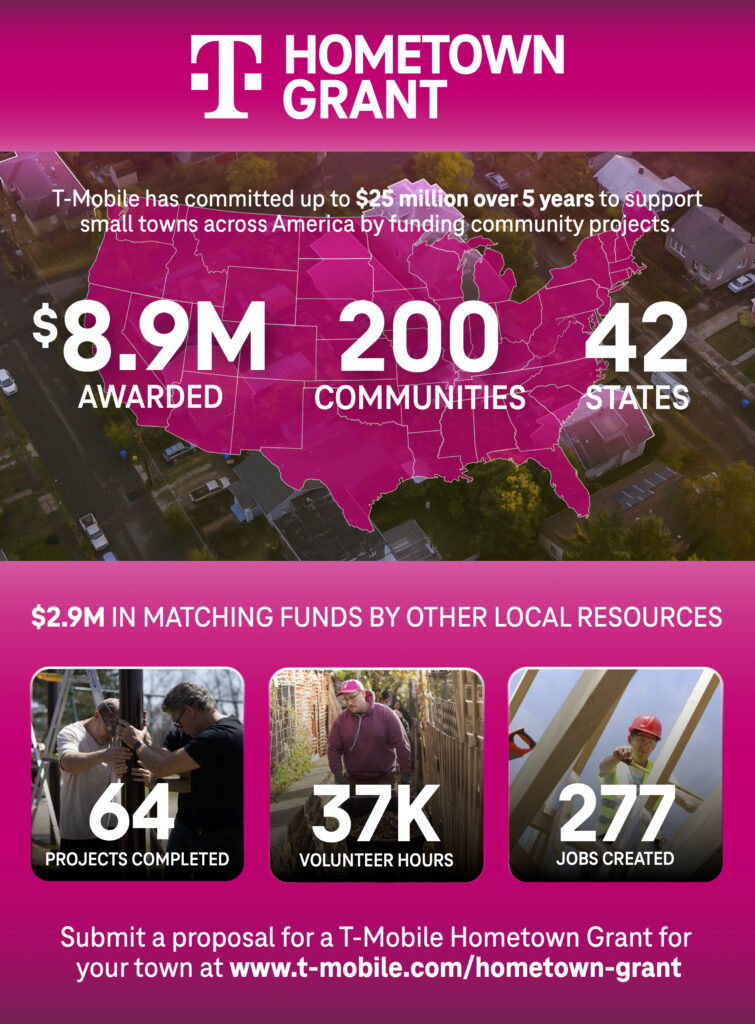 Hometown Grant Winners
These are the next 25 winners and their projects:
Osceola, Ark.: Revitalize the Osceola Main Street Bingo Hall Community Space as a hub for community events, festivals, family gatherings, workshops and so much more.
Montrose, Colo.: Construct a playground at Riverside Landing, adjacent to the new Ambulatory Care Center (target construction completion Feb. 2024), to provide play for patients and families awaiting care.
Quincy, Fla.: Repair the roof for the soon-to-be permanent location of the Big Bend Community Development Corporation's Florida Museum of African American History, to serve as education for Gadsden County students and preserve Main Street initiatives.
Paxton, Ill.: Install a free public Wi-Fi network in downtown Paxton to provide connectivity for customers, residents and local business owners.
Ottawa, Kan.: Create a state-of-the-art open-air body weight exercise Fitness Court, adaptable for adults of all ages, abilities and fitness levels, presented by the National Fitness Campaign and Kansas state sponsor Blue Cross and Blue Shield of Kansas.
Grayson, Ky.: Restore the water damaged roof of the Carter County Public Library, in the heart of downtown Grayson, for the community to have regained access to public technology resources.
Princeton, Ky.: Renovate the second floor of the George Coon Public Library, making enhancements for children and teen patrons to enjoy, while also creating a multifunctional space, filling a community need after recent tornado damage.
Brunswick, Md.: Place Wayfinding Kiosks in downtown Brunswick to provide navigation for visitors and residents and allow the City of Brunswick, Brunswick Main Street, local businesses and community organizations to promote various activities and events.
Easton, Md.: Update technology at the Brookletts Place Talbot County Senior Center computer lab, including 20 computer stations to provide the senior community with access to connectivity, classes and hands-on learning opportunities.
Red Wing, Minn.: Commission the "Honoring Dakota – We Are All Related" mural to celebrate the Dakota people, their history, and honor their contributions to the community.
Silver Bay, Minn.: Transform the current North Shore Area Partners' community-centric building and city lot into a vibrant and accessible intergenerational gathering place in downtown Silver Bay, including gardens and green spaces, and the installation of a solar array to increase the organization's environmental and economic sustainability.
Corinth, Miss.: Revamp the existing children's section of the Corinth Public Library, including child-friendly learning activities, new floor seating, an interactive play area and nearly 1,200 new books, some in Spanish language.
Laurel, Mont.: Build the new Laurel City Splash Park in Thomson Park, replacing an old pool that is no longer in use, as a way for the community to cool off during hot summer months.
Goldsboro, N.C.: Develop the first-ever STEM Program at Edgewood School, including monthly STEM project kits to provide innovative learning environments that are student focused, "hands on" and spark collaborative problem-solving opportunities for students with disabilities.
Dover, N.J.: Design the Town of Dover Trail, a quarter mile-long trail connecting residents to communal parks and each other, with a greater mission to create more than 100 miles of communal greenspace along the Morris Canal.
Carlsbad, N.M.: Renovate the existing Carlsbad Public Library to serve as a multi-purpose space, providing access to public internet, technology resources and digital archive materials as well as a community meeting space for digital literacy, telehealth, and job training.
Otisville, N.Y.: Upgrade the parking lot of the Old Otisville School – now a multipurpose community center – including new parking lot signage and ground repairs, to improve safety and accessibility and aid in existing historic building preservation efforts.
Wapakoneta, Ohio: Install the community's first-ever All-Abilities playground at Harmon Park, whose space theme includes a rocket ship and interactive panels, with interpretive signage that shares the story of the first moonwalker, Neil A. Armstrong, his relationship with Wapakoneta, and his great ability to be a team player and a problem-solver.
Ada, Okla.: Create the first-ever STEAM-SOS (Science, Technology, Engineering, Art, Mathematics – Seniors on Saturdays) program, pairing seniors from the Irving Community Senior Center with local high school and college students to collaborate in various technology fields including coding, digital fabrication and physical design.
Hamburg, Pa.: Construct a nearly 3,000 square foot multi-purpose facility in the downtown Hamburg business district, including a covered stage, kitchen area with two concession windows, public restrooms, and off-street parking lot, for the community to use as a hub for live performances and other family-oriented activities.
Levelland, Texas: Transform an outdoor space in the downtown area as the future Farmer's Market Park; a family-friendly space that includes free public Wi-Fi, a community garden, stage for performances, seating, a water feature and a farmer-themed mural to increase community gathering.
New Castle, Va.: Build a covered colonnade pavilion at the Craig County Farmers Market, for local merchants and farmers to sell goods, and for the community to use as an entertainment venue and gathering space.
Burlington, Vt.: Revitalize downtown Burlington's Champlain Street Park, including new inclusive playground equipment and accessible pathway, benches, bike racks, lighting and landscaping.
Colville, Wash.: Improve and beautify the Heritage Court, an existing gathering space used for various community activities and holiday events, by adding a mural, shade structure, free public Wi-Fi, seating and other inviting amenities.
Huntington, W.Va.: Complete final beautification renovations at Central City Park, including new cafe-style seating and public art sculptures for community gatherings.
To select recipients, T-Mobile partners with Main Street America and Smart Growth America — two organizations with extensive experience in developing vibrant and prosperous small towns and rural communities. Hometown Grant applications are evaluated based on their level of detail, potential community impact, project viability and other considerations. T-Mobile awards up to 25 Hometown Grants each quarter with a population of 50,000 or less.
To submit a Hometown Grants proposal, visit https://www.t-mobile.com/brand/hometown-grants.
For more information about T-Mobile's commitment to small towns, visit T-Mobile.com/AcrossAmerica.
Follow T-Mobile's Official Twitter Newsroom @TMobileNews to stay up to date with the latest company news.
###
About T-Mobile
T-Mobile US, Inc. (NASDAQ: TMUS) is America's supercharged Un-carrier, delivering an advanced 4G LTE and transformative nationwide 5G network that will offer reliable connectivity for all. T-Mobile's customers benefit from its unmatched combination of value and quality, unwavering obsession with offering them the best possible service experience and undisputable drive for disruption that creates competition and innovation in wireless and beyond. Based in Bellevue, Wash., T-Mobile provides services through its subsidiaries and operates its flagship brands, T-Mobile, Metro by T-Mobile and Sprint. For more information please visit: https://www.t-mobile.com.
About Main Street America
Main Street America has been helping revitalize older and historic commercial districts for more than 40 years. Today it is a network of more than 1,600 neighborhoods and communities, rural and urban, who share both a commitment to place and to building stronger communities through preservation-based economic development. Main Street America is a subsidiary of the National Trust for Historic Preservation.
About Smart Growth America
Smart Growth America helps create healthy, prosperous, and resilient places to live for all people through research, advocacy, and direct community support. Our work spans housing and land use, transportation, and economic development to find solutions to communities' most pressing needs. We work with elected officials, real estate developers, chambers of commerce, transportation and planning professionals, and residents to improve everyday life for people across the country.