What's the news: As Sprint and T-Mobile unify operations under the T-Mobile brand nationwide on August 2, the Un-carrier's supercharging competition for customers with their best deals ever for a limited time: four lines for just $25/month each, an unheard of price point for unlimited postpaid — or get 5G phones included for $5/month more each. All with included 5G access on the nation's biggest 5G network.
Why it matters: T-Mobile said a combined Sprint/T-Mobile would supercharge competition. Well, here it is.
Who it's for: Everyone – new and existing customers can get in on these deals.
BELLEVUE, Washington — July 22, 2020 — Biggest 5G network? Check. 5G for Good? Check. A Unified T-Mobile? Coming 8/2. Supercharged competition? It's on. T-Mobile (NASDAQ: TMUS) today delivered on another merger commitment, amping up competition like never before with two supercharged Un-carrier deals — its first across the entire new T-Mobile postpaid family: Starting this Friday and available only for a limited time this summer, get four lines of unlimited data for just $25 each/month or get four 5G phones included for just $5 more each/month, and all with 5G access included. Yep, that's just $25 a line plus tax with AutoPay for your family of four — or small business — to tap into the first and ONLY nationwide 5G network. This price point with unlimited data has not been offered for everyone in postpaid wireless in, well, ever. It's the best priced postpaid deal with 5G included for a family of four. Period. Verizon's lowest priced 5G plan, which will get you Verizon 5G roughly 0.4% of the time, will cost you almost $1,000 more a year. < insert "sad trombone" noise >
Hear it straight from Mike Sievert, CEO of T-Mobile here.
These offers are the first to roll out across the entire new T-Mobile and set the stage for August 2 when the Un-carrier begins operations under the flagship T-Mobile brand in retail nationwide, bringing the network of Sprint and T-Mobile stores together and beginning to roll out Un-carrier policies nationwide. And that's better for everyone. It means moving forward we're going to end practices like exploding rate plans and "step ups" and limiting the best offers to new customers — things that have been a staple of Carrier practices for years, frustrating customers and surprising them with exploding bills. Those days are gone when you sign up for any new T-Mobile plan.
Plus with the new unified storefronts, legacy Sprint and T-Mobile customers will get access to MANY more stores — all under the T-Mobile brand — and all of them will be able to serve both legacy Sprint and T-Mobile customers across the country. That means it's easier and more convenient for everyone to find and drop into a store, chat with a Mobile Expert, make upgrades and snag the latest accessories.
These supercharged deals come as T-Mobile prepares to unleash Scam Shield — its latest Un-carrier move — this Friday, making it easier than ever for Verizon and AT&T customers to switch and say goodbye to scam and robocalls. The Carriers are profiting from scam and robocalls by forcing their customers to pay for extra protection against the illegal calls their very networks deliver. For the millions of Carrier customers who find that repugnant (because it is), the Un-carrier is making it easier than ever to switch, save money and say goodbye to scams and unwanted robocalls.
"On August 2, we're combining our Sprint and T-Mobile brands to operate as one T-Mobile brand nationwide. And as promised, we're bringing heat to the competition this summer to celebrate, with an unprecedented offer for unlimited, including 5G," said Mike Sievert, CEO of T-Mobile. "You don't have to choose between the most 5G network coverage and the best value. T-Mobile gives you both."
Supercharged Un-carrier. Supercharged Value.
For a limited time, starting July 24, new and existing customers, including small businesses, have two options:
Get four lines for $25 each per month, plus taxes and fees with autopay on T-Mobile Essentials. Existing customers who already have four lines (or want four lines) can also swap to this new offer. Got (or need) more than four lines? Every additional line after four can be added for just $20 more a line, up to six lines.
If you need 5G phones too, for just $5 more per line, get four lines for $30 each per month, plus taxes and fees with autopay on T-Mobile Essentials PLUS four Samsung Galaxy A71 5G included with bill credits and eligible trade-in.
This price point for unlimited postpaid is unheard of. As in, unlimited high speed data at this price has never been offered before for everyone in postpaid wireless in the history of ever. And it's just another powerful example of how T-Mobile and Sprint are better together. Sprint was offering a similar price point, but it included contractual commitments and 'step ups' that increased customers' bills over time, as in a 60% in a year increase. Now that the two companies are one, we're taking the best of Sprint — awesome, industry-leading price point for postpaid service with unlimited data right out the gate — and the best of T-Mobile — the Un-carrier philosophy that extends the best deals to new and existing customers, forbids exploding offers and an industry-leading 5G network with access included at no extra cost — and bringing them together in a 'no compromises' offer. Best value and best network. That's what a supercharged Un-carrier can do!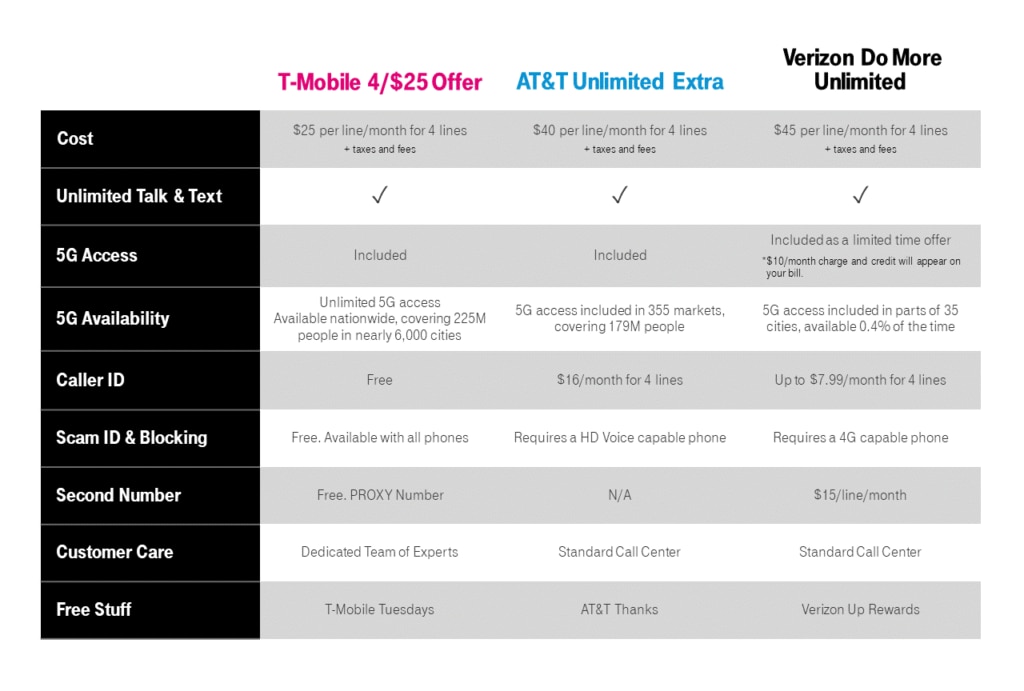 And new customers from AT&T and Verizon don't need to worry about paying off their device or trading in perfectly good phones to switch, all thanks to T-Mobile's Keep & Switch offer. With Keep & Switch, customers keep their existing eligible phones and T-Mobile pays what they owe AT&T or Verizon for them, up to $450 via virtual prepaid card. Head here for more details.
T-Mobile Essentials customers get the best customer care in wireless with a dedicated Team of Experts and score weekly free stuff from T-Mobile Tuesdays, plus Scam Shield starting this Friday. More information about T-Mobile Essentials is available right here.
Or, for those who just want a new 5G smartphone on their existing plan, starting July 24, existing T-Mobile and legacy Sprint customers can snag a Samsung Galaxy A71 5G for FREE OR a Samsung Galaxy S20 5G for HALF OFF with eligible trade in and 24 monthly bill credits.
Now that Sprint is a part of T-Mobile, the Un-carrier is delivering on its promise to not just be a bigger company, but a better one. This move is the latest of T-Mobile's merger-related commitments to launch. From delivering T-Mobile Connect early to the Connected Heroes initiative to a 5G network that is unparalleled in the industry, with access included, at no extra cost for at least three years. And now this Friday, the new supercharged Un-carrier is continuing to challenge the Carriers to step up with its latest Un-carrier move that gives customers free protection against scammers and unwanted robocalls…while also delivering on its promise to supercharge competition. Helping to make it easier to switch, save money and unlock some serious Un-carrier goodness … right when people need it most.
Transformative, Nationwide 5G Network for All.
T-Mobile is barely four months into the merger and already making strides with its supercharged network, now that Sprint is a part of T-Mobile. T-Mobile's 5G network spans more than one million square miles and customers get coverage in all 50 states and Puerto Rico. Already it is over 10,000 times bigger than Verizon's 5G network.
In global studies, T-Mobile customers get 5G more often than anyone else measured. T-Mobile ranks first — by a LOT — for 5G availability with customers getting a 5G signal more than 22% of the time compared to just 0.4% for Verizon customers with 5G phones. (Yes, that's ZERO-point-four percent — or roughly 5 minutes and 46 seconds per day. < face palm emoji > Un-carrier customers get a 5G signal more than twice as often as AT&T and 56 times more often than Verizon!
The Un-carrier has also been rapidly deploying mid-band 2.5 GHz spectrum from Sprint, adding depth and bringing speed boosts to 5G customers with service already live in cities such as Chicago, Houston, Los Angeles, Philadelphia and New York City. Customers with mid-band 5G are getting average download speeds over 300 Mbps with peak speeds hitting a blazing 1200 Mbps!! Check out Neville Ray's blog yesterday for all the latest on how the Un-carrier is building the country's biggest and best 5G network.
Learn more about these offers at www.t-mobile.com/offers/summer-2020-deals. Starting this Friday, July 24, sign up for these deals in your local store, online at www.t-mobile.com or by calling 1-800-937-8997. And act now! These deals are only available for a limited time this summer. To learn more about Scam Shield, head to www.t-mobile.com/scamshield.



During congestion, Essentials customers may notice speeds lower than other customers and further reduction if using >50GB/mo., due to data prioritization. Limited time offers; subject to change. 4/$25: Qualifying credit and 4+ lines required. Cancelling lines requires the move to full-priced Essentials. $5 more/line without AutoPay. Existing customers that switch plans may lose features & promo credits. 5G Phone On Us: If you cancel your line before receiving 24 bill credits you may owe up to the full value of your device ($600) on required finance agreement; if cancelling your account, you can contact us first to instead make discounted monthly payments. Allow 2 bill cycles for credits. Keep & Switch: Qualifying unlocked device, credit, service, port-in, 90+ days with ATT/VZN & timely redemption required. Card takes up to 15 days. No cash access & expires in 6 months. Issued by Sunrise Banks NA, Member FDIC.
About T-Mobile
T-Mobile U.S. Inc. (NASDAQ: TMUS) is America's supercharged Un-carrier, delivering an advanced 4G LTE and transformative nationwide 5G network that will offer reliable connectivity for all. T-Mobile's customers benefit from its unmatched combination of value and quality, unwavering obsession with offering them the best possible service experience and undisputable drive for disruption that creates competition and innovation in wireless and beyond. Based in Bellevue, Wash., T-Mobile provides services through its subsidiaries and operates its flagship brands, T-Mobile, Metro by T-Mobile and Sprint. For more information please visit: https://www.t-mobile.com.