Here we are, nearly four months after Sprint became part of T-Mobile and it's a great time to update you on our network. We've accomplished so much already in bringing our two networks together to build a transformative, nationwide 5G network for all.
Third-party reports are already showing just how much progress we're making. T-Mobile is ranked best in the industry based in large part on our aggressive 5G rollout. A new report from Opensignal ranks the T-Mobile network first for 5G availability, meaning Un-carrier customers get a 5G signal more often than customers on any other network – more than twice as often as AT&T and 56 times more often than Verizon! Plus, a new report from Ookla measuring 4G and 5G from over one million customer devices shows that T-Mobile has 5G in nearly 4X more cities than Verizon and AT&T (and 32X more cities than Verizon alone). And T-Mobile customers with a 5G-capable device experience faster overall download and upload speeds than Verizon customers.  And look at the Verizon availability score – yep – no typo here – that's 0.4%.....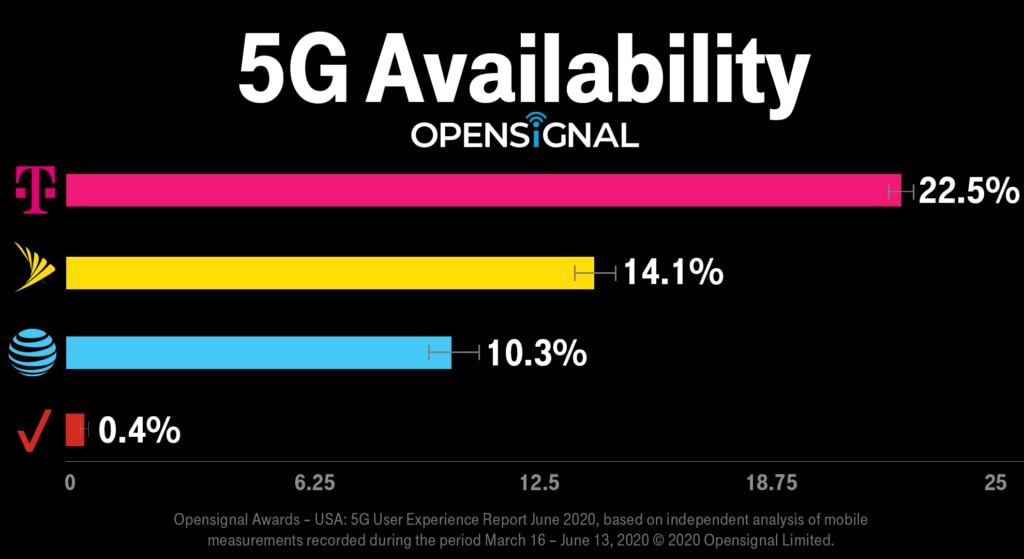 Here's how we're doing it.
First, this is part of a multi-year strategy playing out. We set out years ago to purpose-build the broadest, deepest 5G network in the country and cover more people in big cities and rural America. It started by using low-band 600 MHz spectrum. When we first announced our intent to use 600 MHz as the foundation for 5G, the reaction was … well ... interesting. Back then, everyone was following Verizon's lead and betting on millimeter wave as the cornerstone of 5G. In the ensuing years, everyone – and I mean literally everyone, including Verizon – has changed their tune and embraced the 'layer cake' approach we pioneered, using all spectrum bands for 5G.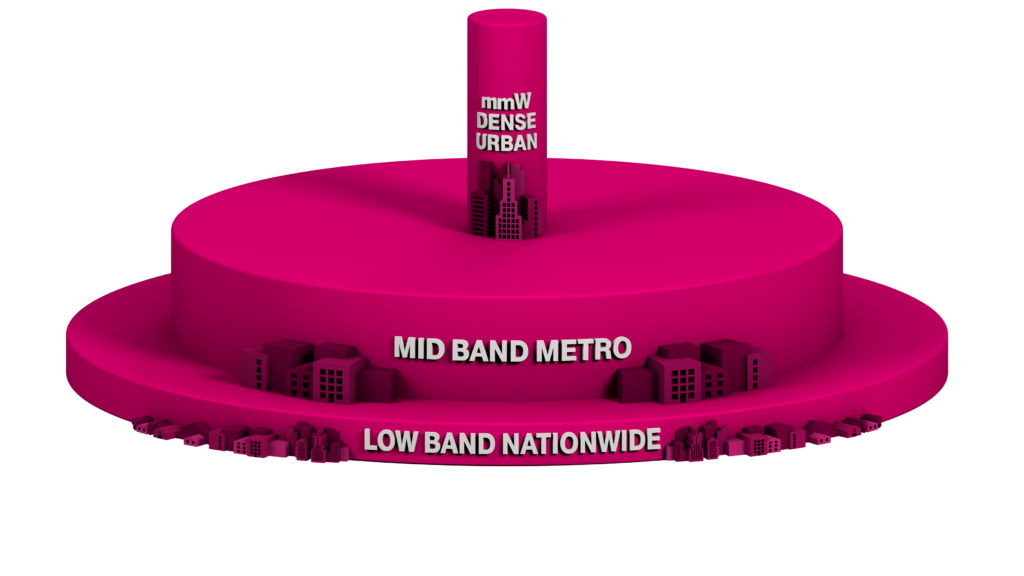 Just last week, we marked the end of the 39-month 600 MHz spectrum transition with the FCC. My team worked closely with the FCC and broadcasters over the last three years to clear and deploy this spectrum in record time, paving the way for new LTE coverage across the U.S. and enabling the launch of the first and only nationwide 5G network. No other 5G signal goes farther – in fact, we recently completed the world's farthest-ever 5G connection – 60 miles from the base station! And as part of the final stage of clearing, we are lighting up 600 MHz 5G for customers in Virginia Beach, Norfolk and Richmond, Va., Topeka, Kan., Sussex County, Del., and coming soon in Buffalo, N.Y.    
Following the close of the merger with Sprint, one of the first things we did was open up nationwide LTE to millions of Sprint customers, giving them access to significantly greater coverage in metro, suburban and rural areas, both indoors and out. On top of this, we made the largest, nationwide 5G network in the country also available to Sprint customers, with service in nearly 6,000 cities and towns covering 225 million people across over one million square miles. Following these changes, data usage is significantly up, call quality has dramatically improved and we're seeing an uptick in Sprint customers' network satisfaction.
Our team is also rapidly deploying critical mid-band 2.5 GHz spectrum from Sprint. This adds tremendous depth to our broad, nationwide 5G network, increasing capacity and boosting speeds for customers. The performance of mid-band 5G is incredible, with testing showing average download speeds over 300+ Mbps and peak speeds hitting an eye-popping 1200 Mbps! Today, I'm proud to announce that mid-band 5G is now live in parts of Chicago, Houston and Los Angeles, following its earlier debut in Philadelphia and New York. If you have a 5G phone, keep an eye out for those 5G speed boosts as we light up more 2.5 GHz sites daily across the country!
We're also hard at work getting ready to light up standalone 5G this quarter, having recently completed the world's first standalone 5G data session on a multi-vendor radio and core network, and the first standalone 5G data session of any kind in North America. Standalone 5G will expand our coverage and bring with it improved latency and faster uploads. It will also pave the way for applications that require real-time responses and massive connectivity such as mobile augmented and virtual reality, cloud gaming, smart factories and meters and even connected vehicles.
Today, T-Mobile already holds more low and mid-band spectrum than AT&T and Verizon combined. Over time, we will also be phasing out legacy technologies to free up even more spectrum nationwide for LTE and 5G. Looking ahead, we can do so much more with that capacity. We've already begun expanding our home broadband pilot. Starting in Grand Rapids, MI, we've opened up the program to non-T-Mobile customers for the first time. Early results demonstrate how badly home broadband needs more competition. Average NPS (net promoter scores – a measure of customer satisfaction) for T-Mobile Home Internet are 64 in the pilot phase versus -74 (yes, that's a negative 74) for legacy home ISP services. But there's good news. With the capacity of the 5G network we're building, we plan to offer T-Mobile Home Internet in more than 50% of U.S. zip codes – many in rural areas where home broadband is too slow and expensive with abysmal customer service.
I'm incredibly proud of the work that the combined team is doing to come together, unify our assets and deliver on this incredible mission! Together we're building a 5G network with world-changing potential – a network that will drive innovation across all industries and connect every American with unmatched value.
We're off to a flying start. And we're only picking up the pace!
Neville
---