What's the news
New data shows the most recent Pixels are faster on T-Mobile's network!
Why it matters
You don't have to put your new Pixel on Verizon, America's most congested network. Bring your Pixel 3 or Pixel 3 XL to T-Mobile, America's fastest LTE network, to get the most out of your new superphone.
Who it's for
People who want to unleash the full potential of their new Pixel. So, yea, pretty much all Pixel owners. 
Bellevue, Washington — October 8, 2018 — Not so fast, Verizon. In advance of the anticipated Pixel 3 launch tomorrow, T-Mobile (NASDAQ: TMUS) today shared new third-party data proving that the most recent Pixels are faster on T-Mobile than any other network. Verizon may be the exclusive carrier to sell the Pixel, but that doesn't mean you're stuck with their slower network, higher prices and lousy customer service. Bring your unlocked Pixel to T-Mobile and truly unleash that bad boy – and get all kinds of goodness you can't get with the carriers.
"Verizon wants you to buy this speedster of a smartphone and put it on America's most congested network. A Ferrari isn't meant for gridlock!" said John Legere, CEO at T-Mobile. "And, the new Pixel 3 or Pixel 3 XL are perfect for T-Mobile, so it's time to bring that sweet new superphone to the Un-carrier and experience all it was meant to be."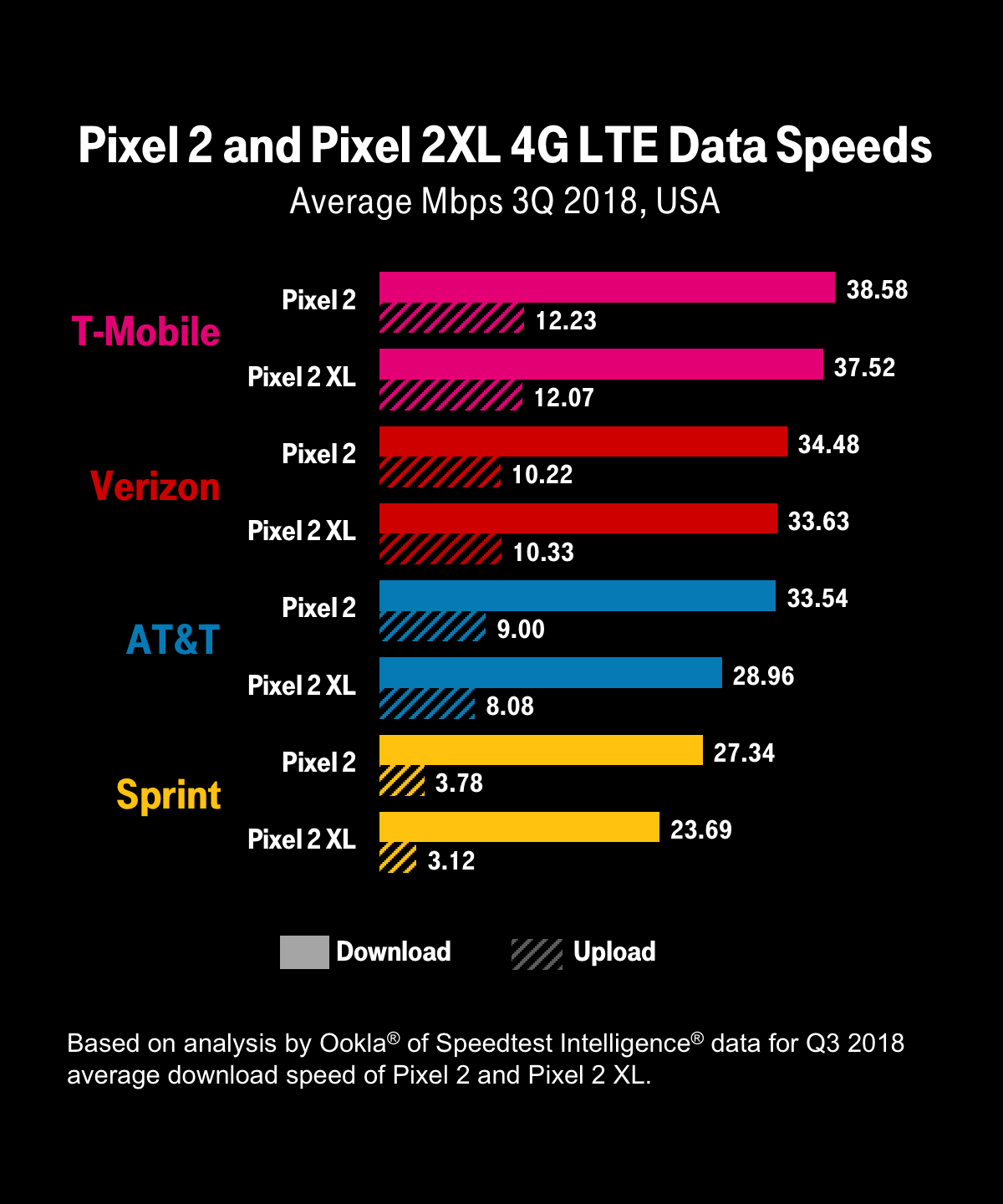 Last quarter, the Un-carrier once again had the fastest 4G LTE upload and download speeds according to Speedtest Intelligence® data from Ookla®. That's 19 quarters in a row of network domination, and it means Un-carrier customers are the real winners, flying on the fastest LTE network in the country for nearly five years straight.
T-Mobile has been expanding and upgrading its network at a furious pace with 600 MHz Extended Range LTE. The Un-carrier's Extended Range LTE signals travel twice as far from the tower and are four times better in buildings than mid-band LTE. More than 1,250 cities and towns across 36 states, including Puerto Rico, are already lit up with 600 MHz LTE. T-Mobile's 600 MHz LTE continues to expand network coverage and capacity, particularly in rural areas, and lays the foundation for nationwide 5G in 2020 with 5G ready equipment.
To take advantage of T-Mobile's blazing-fast network, simply purchase an unlocked Pixel from Google, Verizon or another original retailer, and bring it on over to T-Mobile or Metro by T-Mobile. And, with T-Mobile ONE, you get great Un-carrier benefits like taxes and fees included, Netflix on Us for families, data and texting included in 210+ destinations worldwide, Gogo Inflight Wi-Fi for unlimited texting all flight long and one hour of free smartphone Wi-Fi, and T-Mobile Tuesdays where you get thanked with free stuff every week and so…much…more.
To find out more about bringing your own device to T-Mobile, visit https://www.t-mobile.com/resources/bring-your-own-phone.
And to learn more about America's fastest LTE network, visit https://www.t-mobile.com/coverage/4g-lte-network.
Graphic based on analysis by Ookla® of Speedtest Intelligence® data for Q3 2018 average download speed of Pixel 2 and Pixel 2 XL

Fastest network based on data from Speedtest Intelligence based on average 4G LTE speeds. Q1 2014 through Q2 2017 is T-Mobile's analysis of the data. Q3 2017 – Q3 2018 is analysis by Ookla of the data

About T-Mobile US, Inc.
As America's Un-carrier, T-Mobile US, Inc. (NASDAQ: TMUS) is redefining the way consumers and businesses buy wireless services through leading product and service innovation. Our advanced nationwide 4G LTE network delivers outstanding wireless experiences to 75.6 million customers who are unwilling to compromise on quality and value. Based in Bellevue, Washington, T-Mobile US provides services through its subsidiaries and operates its flagship brands, T-Mobile and Metro by T-Mobile. For more information, please visit https://www.t-mobile.com.