BELLEVUE, Wash. — January 25, 2021 — The best just got better. T-Mobile (NASDAQ: TMUS), America's 5G leader with the first and largest nationwide 5G network, is also now the fastest. New independent data from Opensignal, based on real world customer usage from millions of device measurements, shows T-Mobile customers now get the fastest 5G download speeds, fastest 5G upload speeds AND a 5G signal more often than anyone else. Extensive mobile testing from research firm umlaut (formerly P3) across multiple major markets including Chicago, Houston, New York City and Washington DC also shows T-Mobile leading in 5G speed.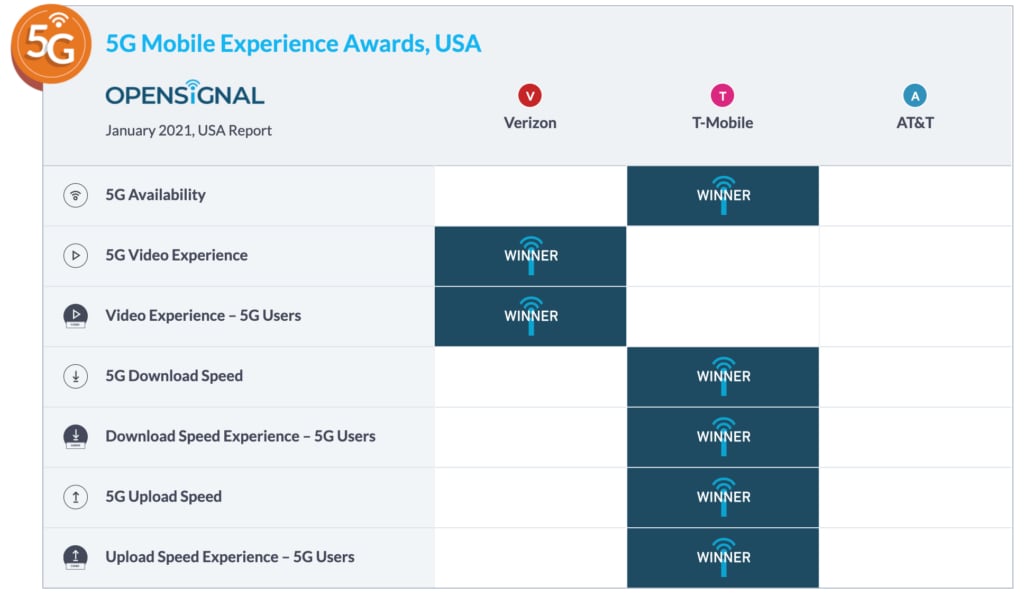 "From the word 'go', we've been the leader in 5G coverage, and now we're piling on the speed with Ultra Capacity 5G – first in 5G coverage, now first in 5G speed," said Neville Ray, President of Technology at T-Mobile. "Last year we blanketed the country in 5G, and now we're layering on the capacity and speed. We closed out 2020 with over 100 million people covered with our Ultra Capacity 5G and we will extend this deployment nationwide by the end of 2021. THIS is how you build the best 5G network in the country, and we are just getting started."
T-Mobile Widens Its Lead with Ultra Capacity 5G
T-Mobile is America's 5G leader, delivering the fastest 5G speeds in more places. With the first and largest nationwide 5G network, T-Mobile's Extended Range 5G covers more than 280 million people across nearly 1.6 million square miles – offering 2.5x more geographic coverage than AT&T and nearly 4x more than Verizon. With Sprint now part of T-Mobile, the Un-carrier is widening its lead, using dedicated spectrum to bring customers with capable devices download speeds of around 300 Mbps and peak speeds up to 1 Gbps. The Un-carrier's Ultra Capacity 5G already reaches more than 1,000 cities and towns and covers 106 million people, 50x more than Verizon covers with Ultra Wideband.
Opensignal's independent reports and insights are based on measurements of real experience. Its approach relies solely upon billions of device measurements shared by millions of real users every day – recorded in all the places where people actually live, work and travel.
Additional independent reports also confirm that T-Mobile 5G is #1 in speed and availability. Recent tests by umlaut in Chicago, Houston, New York City and Washington, D.C. found T-Mobile had the fastest average 5G download and upload speeds. Average download speeds for T-Mobile's Ultra Capacity 5G clocked in at 218 Mbps across the four cities and reached a blazing 315 Mbps in Washington, D.C. As for availability, overall T-Mobile 5G availability across the four cities was more than 90%. Testers on average spent 49% of time connected to T-Mobile's Ultra Capacity 5G and just 5% of time connected to Verizon's Ultra Wideband 5G.
"T-Mobile from the beginning has taken a differentiated strategic approach to 5G, first building a low-band foundation with broad coverage, and then adding a layer of deep capacity and speed with mid-band 5G," said Anshel Sag, Senior Analyst with Moor Insights and Strategy. "We are now starting to see the results pay off in the two areas customers care about most – coverage and speed. At the current pace T-Mobile is building out these two crucial 5G bands, we expect its lead will continue into the foreseeable future."
The Un-carrier's Ultra Capacity 5G is the very best kind of 5G with its ability to deliver both broad coverage and fast speeds. It brings game-changing performance to more people across the country than anyone else. Other wireless companies provide fast 5G speeds at the expense of coverage, with service only available in small pockets of some cities. But T-Mobile is building 5G using dedicated airwaves to deliver both coverage and speed to create a truly transformative 5G network capable of driving innovation across the country.
For more information on T-Mobile's network, visit T-Mobile.com/coverage. Follow T-Mobile's Official Twitter Newsroom @TMobileNews to stay up to date with the latest company news.
Opensignal Awards – USA: 5G User Experience Report January 2021, based on independent analysis of mobile measurements recorded during the period September 16 – December 14, 2020 © 2021 Opensignal Limited.
Ultra Capacity 5G includes dedicated mid- and/or high-band 5G signals & covers hundreds of cities and millions of people, with more added all the time.  "As fast as Wi-Fi" claim based on analysis by T-Mobile of Speedtest Intelligence® data from Ookla® U.S. median 5G T-Mobile results compared to mobile wi-fi results from cities with 2.5GHz speeds for September - November 2020. 2.5GHz available only in select cities (see t-mobile.com/5Glayers). Ookla trademarks used under license and reprinted with permission. 5G coverage not available in some areas. Some uses may require certain plan or feature; see T-Mobile.com.​ 
About T-Mobile
T-Mobile U.S. Inc. (NASDAQ: TMUS) is America's supercharged Un-carrier, delivering an advanced 4G LTE and transformative nationwide 5G network that will offer reliable connectivity for all. T-Mobile's customers benefit from its unmatched combination of value and quality, unwavering obsession with offering them the best possible service experience and undisputable drive for disruption that creates competition and innovation in wireless and beyond. Based in Bellevue, Wash., T-Mobile provides services through its subsidiaries and operates its flagship brands, T-Mobile, Metro by T-Mobile and Sprint. For more information please visit: https://www.t-mobile.com.