Our mission at T-Mobile is to be the best in the world at connecting our customers to their world.
While our leading 5G network provides the foundation for that connectivity, we set ourselves apart by harnessing the heart of our people to provide great experiences for our customers … in a way no other company can deliver.
A year ago, we introduced Total Experience – an integrated model that aligned our Retail, Care and Network teams geographically and operationally. This enhanced our ability to work at scale more efficiently, streamlining issue resolution and eliminating pain points as we work to deliver our highest customer satisfaction ever.
One of the ways we encourage our teams to strive for excellence is by tapping into their competitive spirit.
They are passionate about taking care of our customers, and they're also active members of the communities where they work and live. With the Difference Maker Award, we're bringing these motivations together. We're rewarding our top performing team each quarter with $50,000 to donate to community projects of their choice so they can make a positive impact right where they serve their customers. That healthy competition is great for our culture … and the bottom line!
Our first Difference Maker Award went to our team in Puerto Rico. For years they have led the way in showing how local partnerships can provide unmatched opportunity to strengthen our brand and build lasting relationships in their community. In fact, their cross-functional approach to managing their business provided the prototype for our Total Experience model that's been so successful.
Our Puerto Rico team chose to distribute its winnings to five local organizations for $10,000 each. The projects include youth programs, a children's hospital, food relief and an animal shelter (Spanish version). I am excited to see how these community organizations drive local impact with their Difference Maker Award funds.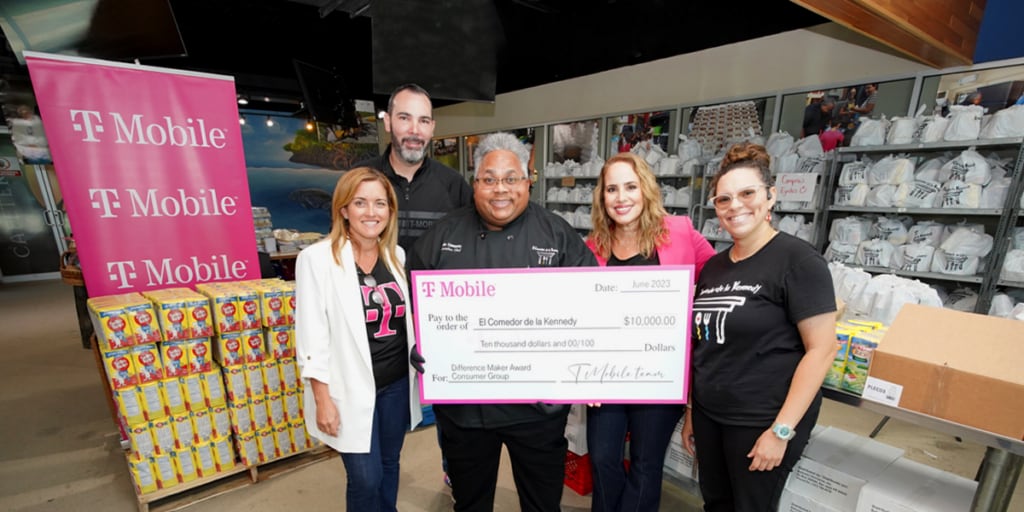 The T-Mobile Puerto Rico team presents a $10,000 check to the staff at El Comedor de la Kennedy. From left to right: Frances Rodriguez Torres (T-Mobile), Raul Bermudez (T-Mobile), Chef Ivan Clemente (El Comedor de la Kennedy), Lyanette Davila (T-Mobile) and Luz Mercado (El Comedor de la Kennedy).
Just last week, we announced our second quarter winning team — Virginia! They have been consistent in their metrics but stood out this quarter by reducing their issue resolution to less than one business day. I am so proud of them and can't wait to find out their choice for the $50,000 donation.
Making meaningful investments in our customers and the communities around us is a winning combination. And we won't stop in our relentless pursuit to take care of our customers, and at the same time, create good in their world.