Just like America wouldn't be the same without its Hispanic community, T-Mobile wouldn't be the Un-carrier without its Hispanic employees and customers. Or in other words, no hay uno without the other.
During this year's Hispanic Heritage Month, which takes place Sept. 15-Oct. 15, T-Mobile is celebrating and honoring the enduring influence of the Hispanic community, past, present and future. With the theme of Orgullosos de Nuestro Pasado. Enfrentando el Presente. Impactando el Futuro. (Proud of our Past. Facing the Present. Impacting the Future.), the Un-carrier will celebrate in a big way with customers and employees alike during HHM through community giving, events and more!
Comunidad/Community
To honor the past and embrace the future, T-Mobile is giving back to two organizations that serve unique needs within the Hispanic and Latino communities near its Bellevue, Wash. headquarters. As part of T-Mobile's Community Spotlight program with the Seattle Mariners, the company donated $10,000 to the Latino Community Fund initiatives, which cultivates new Hispanic leaders and supports cultural and nonprofit organizations to create a vibrant community in Washington state through civic engagement, healthy families, arts and culture. It is also doubling employee donations to El Centro de la Raza made during the month. El Centro de la Raza drives racial and economic equity efforts focused on Hispanic and minority communities in Seattle.
In another nod toward embracing the future, Metro by T-Mobile and Metro by T-Mobile Latino are giving a boost to Hispanic/Latino students through a social media giveaway aimed at helping out with school supplies and tuition. Hispanic and Latino students who share their thoughts on what their Hispanic/Latino identity means to them, how they celebrate their culture and how they'll use the funds for school will have a chance to be chosen for one of 30 $1,000 awards!
Empleados/Employees
T-Mobile is the most diverse major wireless company in the nation and a recognized Best Employer for Diversity and Latinos, so it's no surprise that Team Magenta is all in during HHM. The Un-carrier's 55 Diversity, Equity and Inclusion chapters across the country will give their employee members an opportunity to learn and share throughout the month with virtual panel discussions, cultural exchanges and guest speakers that will explore the topics of culture, history, representation and equity. Employees can connect with each other and reflect on their Hispanic heritage and culture, while the T-Mobile DE&I Learning podcast and employee spotlight videos produced by T Studios will circulate on brand social handles, web, YouTube and T-Nation. Employees can use the hashtag #SeguimosUnidos on social throughout the month.
Conexiones/Connections
T-Mobile is known for its exceptional customer service and support of Spanish speakers, but the Un-carrier also has a proud history of connecting customers with voices from the community that are meaningful to them. This HHM, the Un-carrier is proud to expand its partnership this year with Latino influencer and author LeJuan James. LeJuan is a bilingual writer, comedian and filmmaker whose first advertisement with the Un-carrier premiered in August 2020 at the Premios Juventud award show. Now he — and his mamá, too — are excited to share all the new and exciting offers and products that T-Mobile has in store. In the coming months, new content with LeJuan will continue to be shared on T-Mobile and T-Mobile Latino social media and air on Spanish-language channels.
Over the month T-Mobile will also post a content series on its newsroom featuring Hispanic employees and community leaders reflecting on the theme of past, present and future. Featured employees will share their experiences observing HHM, working at T-Mobile and supporting the company's customers. Featured community leaders will speak to their partnerships with T-Mobile and the commitments the Un-carrier has made to advance diversity, equity and inclusion in the Hispanic community and beyond, including the multimillion-dollar memorandum of understanding that the company signed with 6 civil rights organizations as part of its merger with Sprint.
Check out T-Mobile's diversity, equity and inclusion website to learn more about how DE&I are part of the Un-carrier DNA during Hispanic Heritage Month and beyond!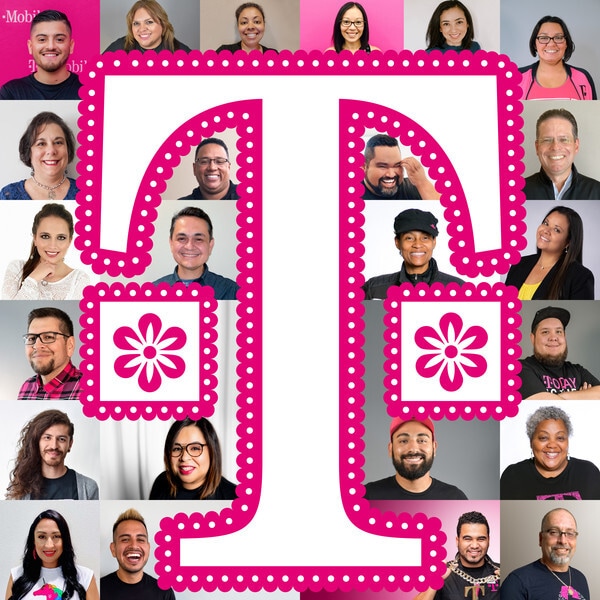 NO PURCHASE NECESSARY. Contest open all residents of the fifty (50) United States, Puerto Rico and the District of Columbia who are at least eighteen (18) years of age, identify as Hispanic/Latinx and enrolled in college. 9/15/20-9/18/20. On how to enter and full rules go to www.metrobyt-mobile.com/hhm-contest. Void where prohibited by law. T-Mobile is the sponsor of this offer.