To celebrate the launch of Google's latest superphones, the Un-carrier is offering $325 – up to 50 percent – back on any new Pixel 2 or 2 XL when you bring it to T-Mobile! 
Bellevue, Washington — October 4, 2017 — Want the new Pixel 2 or 2 XL but think Verizon's slowing network is your only choice? Well, listen up. T-Mobile (NASDAQ: TMUS) today announced that anyone can now get $325 back on a new Pixel 2 or Pixel 2 XL – that's as much as 50 percent off – when they bring their phone to T-Mobile and switch one voice line. It's #BYOPixel time.
The truth is Google's latest Pixel superphones work great on T-Mobile's blazing-fast network. Because America's best unlimited is also America's most advanced LTE network, and the Pixel 2 and 2 XL tap into three of T-Mobile's latest Advanced LTE technologies – 4x4 MIMO, three-way carrier aggregation and 256 QAM. In plain English, that means the Pixel 2 and Pixel 2 XL are fast… really, really fast. Like hold onto your hats (er, screen protectors) fast.
And while T-Mobile continues to encourage its customers to stream more with moves like Netflix on Us and increased monthly prioritization, Verizon and AT&T networkspeedscontinuetofall under the weight of their unlimited offerings.
"Verizon wants you to use your Pixel 2 on a network that's struggling to keep up with unlimited data. And they claim the Pixel is 'exclusive' – just like they claim to have a better network. I'm here to tell you it's all BS!" said John Legere, T-Mobile president and CEO. "The Pixel 2 works great on T-Mobile, and now you can get it for half off when you come to the Un-carrier and #BYOPixel."
To get the word out that the Pixel absolutely rocks on T-Mobile's advanced network, Legere rolled mobile billboards through the streets of San Francisco around the Pixel 2 announcement today.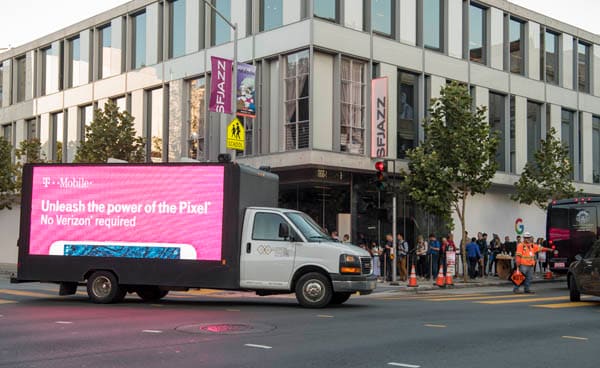 Get Your $325 Back
To take advantage of T-Mobile's limited time offer of up to half off your Pixel 2, simply purchase an unlocked Pixel from Google, Verizon or other original retailer, port in a number or activate a new line of service, sign up for T-Mobile ONE and enter the deets at T-Mobile's online validation site. Existing customers can get in on the deal too when they add a line of T-Mobile ONE or Simple Choice Unlimited. Your money will be mailed to you in a MasterCard card (for a grand total of $325 or half the cost of a 64GB Pixel 2).
To learn more about this offer, please visit https://www.t-mobile.com/pixel2.
On all T-Mobile plans, if congested, customers using >50GB/mo may notice reduced speeds due to data prioritization. Video typically streams at 480p. Limited time offer, subject to change. Via prepaid card worth 50% of Pixel 2 64GB MSRP (other models cost more). Qualifying credit, service, new line, and proof of purchase from original retailer must be submitted by 12/2/17. May not be combined with other offers (e.g., #GetOutoftheRed, Carrier Freedom). Must be active and in good standing when prepaid card is processed; allow 8 weeks. Prepaid cards issued by Sunrise Banks N.A., member FDIC. Terms & conditions apply; card expires.

About T-Mobile US, Inc.
As America's Un-carrier, T-Mobile US, Inc. (NASDAQ: TMUS) is redefining the way consumers and businesses buy wireless services through leading product and service innovation. Our advanced nationwide 4G LTE network delivers outstanding wireless experiences to 69.6 million customers who are unwilling to compromise on quality and value. Based in Bellevue, Washington, T-Mobile US provides services through its subsidiaries and operates its flagship brands, T-Mobile and MetroPCS. For more information, please visit https://www.t-mobile.com.
###

Media Contacts
T-Mobile US Media Relations
MediaRelations@T-Mobile.com