Billions of real-world customer tests rank T-Mobile first for speed, responsiveness and LTE signal availability
Bellevue, Washington — August 2, 2017 — Wireless customers have spoken, and America has a new No.1 network. T-Mobile (NASDAQ: TMUS) today announced its network has scored a clean sweep in the latest State of Mobile Networks report from OpenSignal, placing no.1 in every category. It is the first such sweep for any major wireless provider anywhere in the world. In the report, more than five billion tests from actual wireless customers in the second quarter show that T-Mobile's network is not only fastest, but also most responsive, and T-Mobile customers get an LTE signal more often than customers of any other major wireless company do.
The OpenSignal report also confirmed that, since February, when Verizon and AT&T began widely offering unlimited data plans, the carriers' customers have continued to see a steady drop in network speeds, declining steadily every month. In a separate blog post measuring peak network speeds for the same timeframe, OpenSignal found that T-Mobile customers experienced speeds closer to the top more often than Verizon customers on an everyday basis.
"Better matters. But BEST sure as hell matters more," said John Legere, president and CEO of T-Mobile. "I've always said, 'Shut up and listen to your customers.' Well, now, customers across all US wireless providers have spoken—through billions of their network experiences—and they've told us loud and clear that America's Un-carrier has built America's BEST unlimited network."
In addition to the OpenSignal results, T-Mobile's LTE network was also fastest for the 14th quarter in a row according to Ookla Speedtest.net data, which is based on millions of actual customer experiences.
"It's a clean sweep for the Un-carrier!" said Neville Ray, Chief Technology Officer for T-Mobile. "For the past several years, T-Mobile customers have been riding on America's fastest LTE network. But that wasn't good enough for us. Now T-Mobile's network is the fastest, the most responsive and has the most reliable LTE signal in the nation. That's what I'm talkin' about!"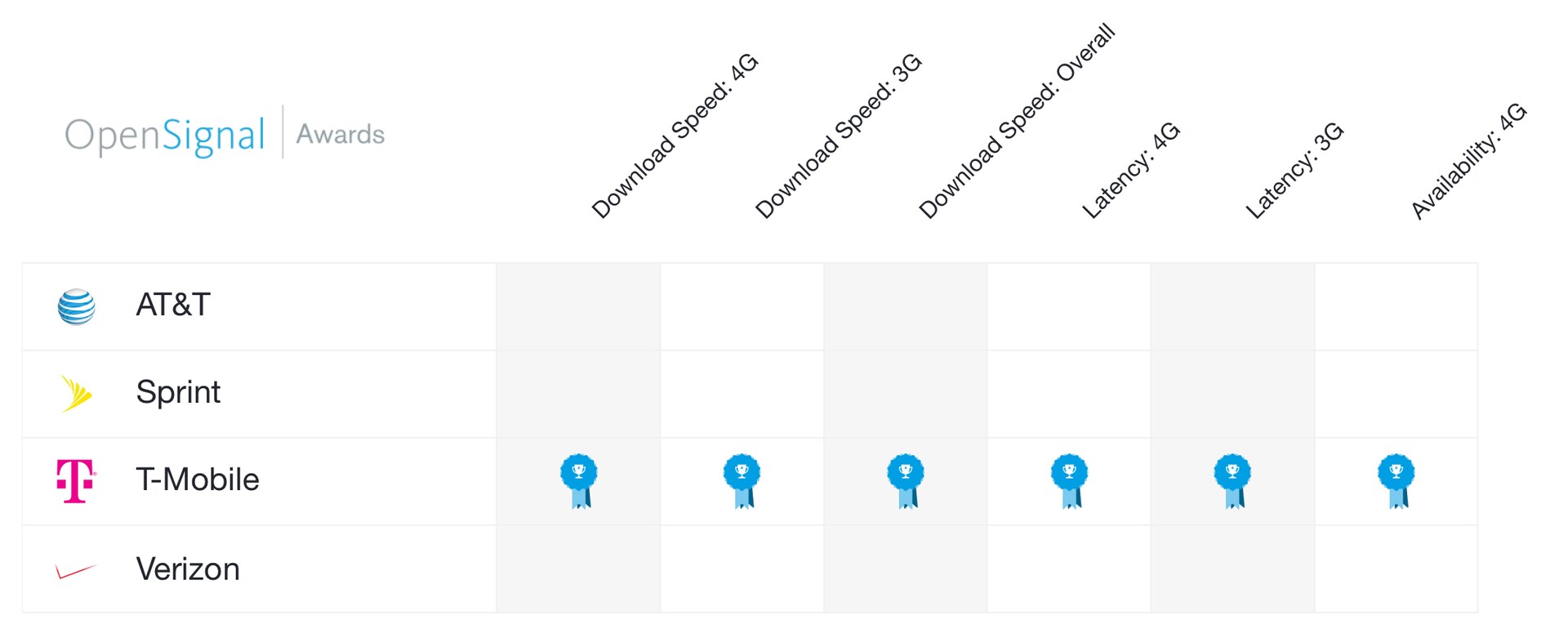 Rather than basing results on the simulations used in older network testing methods, with scripted drive routes on only one phone model, OpenSignal gathers data directly from actual wireless customers who have downloaded the app onto their smartphones. Performance measurements are taken wherever customers happen to be, at home, at work, or on the go – indoors and out – resulting in a true representation of customers' wireless data experience.
Since 2015, T-Mobile has doubled its LTE coverage and now covers 315 million people. By the end of the year, the Un-carrier expects to expand LTE coverage to 321 million people. With its rollout of 700 MHz Extended Range LTE nearly complete, T-Mobile plans to further broaden its LTE footprint for customers this year with its newly acquired 600 MHz spectrum.
To learn more about T-Mobile's network, please visit: www.t-mobile.com/coverage.
Source: OpenSignal Reporting U.S.A. (August 2017). © OpenSignal. All intellectual property rights, data, content, graphs & analysis in report is owned by OpenSignal. Reports produced by OpenSignal may not be quoted, reproduced, distributed, or published without prior written consent. Fastest for 14 quarters based on T-Mobile analysis of national LTE results from Ookla® Speetest data. Video typically streams at 480p; on all T-Mobile plans, if the network becomes intermittently congested, top 3% of data users (>32 GB/mo.) may notice reduced speeds due to prioritization.
 
About T-Mobile US, Inc.
As America's Un-carrier, T-Mobile US, Inc. (NASDAQ: TMUS) is redefining the way consumers and businesses buy wireless services through leading product and service innovation. Our advanced nationwide 4G LTE network delivers outstanding wireless experiences to 69.6 million customers who are unwilling to compromise on quality and value. Based in Bellevue, Washington, T-Mobile US provides services through its subsidiaries and operates its flagship brands, T-Mobile and MetroPCS. For more information, please visit https://www.t-mobile.com.
 
# # #
 
Media Contacts
T-Mobile US Media Relations
MediaRelations@T-Mobile.com
 
Investor Relations 
investor.relations@t-mobile.com