Billions of tests from real customers on every network – not tests by paid consultants -- prove T-Mobile customers get an LTE signal more often AND the fastest network  
Bellevue, Washington — January 22, 2018 — It's a no-brainer: the real test of a mobile network is how actual wireless customers experience it. New customer data released today from OpenSignal, the global standard for measuring consumers' real-world mobile network experiences, names T-Mobile (NASDAQ: TMUS) as the winner in five categories in the State of Mobile Networks USA report. Nearly 6 billion tests from actual customers of every major wireless network show that Un-carrier customers get an LTE signal more often than those of any other major wireless company, and they get it on the fastest network in the industry.
"Wireless customers have spoken AGAIN, and it's time for the Carriers to face facts! BILLIONS of real customer tests prove we've built America's best network!" said John Legere, president and CEO of T-Mobile. "That's why T-Mobile customers are the happiest in wireless. We've built our whole company – including the network – around delivering the best experience, and we. won't. stop."
OpenSignal measures the top four wireless providers on mobile data speed, latency – the responsiveness of a network, and availability – the ability to get an LTE signal. The results not only show that T-Mobile customers were able to connect to an LTE network 93.1% of the time, the results further support that T-Mobile's network is neck-and-neck with Verizon, and any differences that do exist will all but disappear as the Un-carrier continues their expansion into rural America.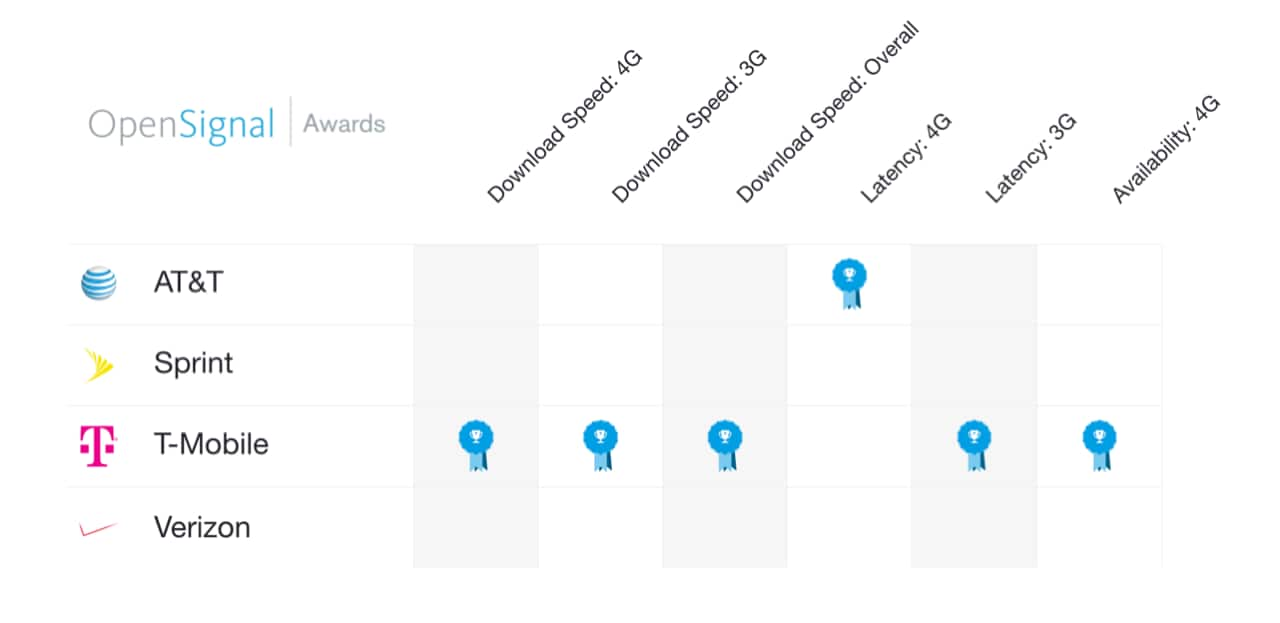 In addition to its national results, OpenSignal also reported on customers' experience with 4G download speed, latency and availability in 33 metropolitan areas. T-Mobile won or tied for first in 24 metros for 4G download speed and in 11 for latency, and tied for first in 22 for availability.
Rather than basing results on scripted drive test routes using an optimized test environment and just a few smartphones, OpenSignal collects data directly from real wireless customers across all networks. Customers use the OpenSignal app, which runs constantly in the background, collecting network experience information everywhere the smartphone goes. This gives OpenSignal a true, holistic measurement of users' wireless network experiences.
T-Mobile has been topping network and customer satisfaction lists all year long. The Un-carrier's LTE network was also fastest for the 16th quarter in a row according to Speedtest by Ookla. That's four straight years of real wireless customer data proving that T-Mobile has the fastest network in America. T-Mobile also consistently ranked #1 in Overall Customer Satisfaction and Likelihood to Recommend1 in 2017 according to the latest national survey from the leading consumer opinion tracker, which surveys more than 360,000 mobile phone customers annually. Add to that the recent YouGov BrandIndex report which ranked T-Mobile #1 in overall customer satisfaction throughout 2017, and the highest EVER industry scores in a recent study of wireless customer care performance, and you've got a brand that's built on the happiness of its customers.
T-Mobile's LTE coverage has nearly tripled since 2015 and now covers 322 million people – nearly every American.
To learn more about T-Mobile's network, please visit T-Mobile.com/coverage.
# # #
 
1. Based on HarrisX Mobile Insights survey data using subscriber's self-reported rating of Overall Satisfaction on a scale from 1 (Least Satisfied) to 10 (Most Satisfied). Likelihood to Recommend is on a scale from 0 (Extremely Unlikely) to 10 (Extremely Likely). Underlying source data is estimation based on national survey of 90,000 quarterly mobile phone users, Jan through Dec 2017. 
 
Data from Speedtest Intelligence based on average 4G LTE speeds. Q1 2014 through Q2 2017 is T-Mobile's analysis of the data. Q3 – Q4 2017 is Ookla's analysis of the data.
 
Data from OpenSignal State of Mobile Networks USA report - January 2018, based on independent analysis of 5,928,296,946 on-device measurements recorded by 237,213 users during the period Oct 1 - Dec 30, 2017  ©2018 OpenSignal Inc.
 
 
About T-Mobile US, Inc.
As America's Un-carrier, T-Mobile US, Inc. (NASDAQ: TMUS) is redefining the way consumers and businesses buy wireless services through leading product and service innovation. Our advanced nationwide 4G LTE network delivers outstanding wireless experiences to 72.6 million customers who are unwilling to compromise on quality and value. Based in Bellevue, Washington, T-Mobile US provides services through its subsidiaries and operates its flagship brands, T-Mobile and MetroPCS. For more information, please visit https://www.t-mobile.com.
 
Media Contacts
T-Mobile US Media Relations
MediaRelations@t-mobile.com
 
Investor Relations 
investor.relations@t-mobile.com