What's the news: T-Mobile has upgraded 5G service across more than 37,000 square miles of the Keystone State, covering nearly 99% of Pennsylvanians.
Why it matters: T-Mobile's network investment provides more capacity, coverage, reliability, and speed than ever before in Pennsylvania.
Who it's for: Wireless users from Scranton to New Castle and in between.
BELLEVUE, Wash. — August 15, 2023 — T-Mobile (NASDAQ: TMUS) is taking connectivity to the next level for hundreds of thousands of Pennsylvanians. Today the company announced that over the last two years, it has made significant investments to 5G wireless service in Pennsylvania, enhancing coverage across more than 37,000 square miles to now cover nearly 99% of the state's population.*
Since 2021, T-Mobile has added over 700 new towers and upgraded more than 3,000 existing towers across the state to expand its 5G coverage footprint as well as increase capacity to keep pace with suburban and rural growth and strengthen performance in its wireless networks. T-Mobile has plans for continued new installations and upgrades to existing towers by the end of 2023 to further boost capacity and data speeds.
As the network with the fastest download speeds in Pennsylvania according to third-party experts, Ookla** and Opensignal***, these upgrades will enable Keystone State customers to experience the nation's largest, fastest, and most awarded 5G network like never before. With enhanced data speeds that allow for better performance when it comes to downloading videos and music and uploading and downloading large files without delay or interruption.
"Pennsylvanians are experiencing notable enhancements in wireless infrastructure, thanks to collaborative partnerships with local and state agencies and entities," said Edwige A. Robinson, Senior Vice President, Field Engineering at T-Mobile. "The recent expansion of our 5G network across the state allows us to deliver enhanced wireless capabilities to individuals, families and businesses, furthering our commitment to improving the customer experience."
Some of the counties that have benefitted from expanded coverage and additional capacity include: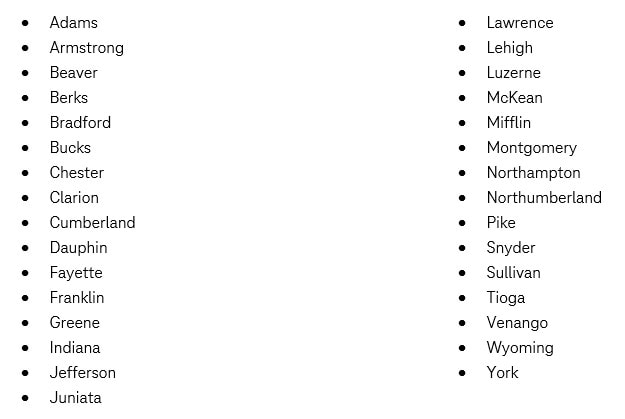 In addition to network enhancements, T-Mobile also opened additional retail stores in Pennsylvania between 2022 and 2023, especially in smaller communities and rural towns across the state. The company now has more than 240 retail locations in Pennsylvania, with more slated to open in 2023 and 2024.
# # #
*Values are based on outdoor coverage levels.
**Ookla, fastest median, overall combined national 5G speeds according to  analysis by Ookla® of Speedtest Intelligence® data 5G download speeds for Q2 2023
***Opensignal Awards - USA: Mobile Network Experience Report July 2023, based on independent analysis of mobile measurements recorded during the period March 16 - 13th June, 2023 © 2023 Opensignal Limited.
About T-Mobile
T-Mobile is America's largest 5G network & fastest median, overall combined 5G speeds according to analysis by Ookla® of Speedtest Intelligence® data 5G download speeds for Q2 2023. ​T-Mobile is America's most awarded 5G network with the most individual awards for 5G metrics in public reports from independent industry experts. Capable device required; coverage not available in some areas. Some uses may require certain plan or feature; see T-Mobile.com.