BELLEVUE, Wash. — July 5, 2023   
America's most awarded 5G network just became even more most awarded-er. T-Mobile (NASDAQ: TMUS) announced today it took home several wins in two new reports from Opensignal measuring overall network performance and 5G performance, including fastest download speeds (including 5G download speeds more than TWICE as fast as Verizon and AT&T), best overall live video experience, best overall consistent quality and best 5G availability.
"We have built a network that is delivering our customers incredible coverage and performance," said Ulf Ewaldsson, President of Technology at T-Mobile. "The new reports from Opensignal show why T-Mobile is THE overall network and technology leader in wireless, and it's only going to get better for our customers as we continue delivering new innovations and capabilities."
Everyone loves a good list, so here is the full, long list of T-Mobile wins:
Mobile Network Experience Report:
Download Speed Experience
Upload Speed Experience
Consistent Quality
Video Experience
Live Video Experience
Games Experience
5G Download Speed (more than 2x faster than Verizon and AT&T)
5G Availability (with a clean sweep for 5G availability in ALL 50 covered regions measured)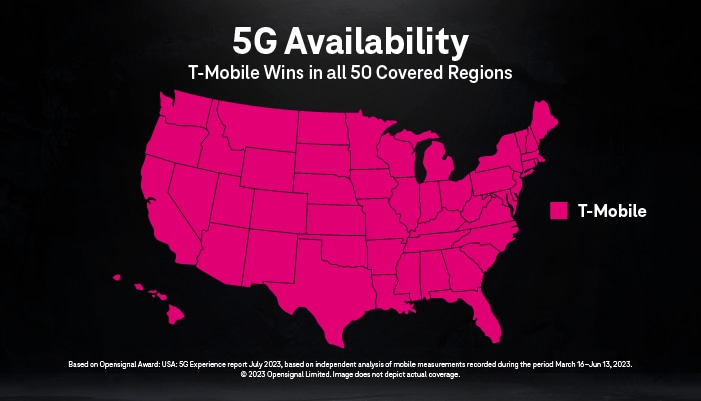 T-Mobile is the leader in 5G, delivering the country's largest, fastest and most awarded 5G network. The Un-carrier's 5G network covers 326 million people across two million square miles – more than AT&T and Verizon combined. 275 million people nationwide are covered by T-Mobile's super-fast Ultra Capacity 5G, and the Un-carrier plans to reach 300 million people with Ultra Capacity this year – nearly everyone in the country. T-Mobile 5G is available on all T-Mobile phone plans.
For more information on T-Mobile's network, visit T-Mobile.com/coverage.
Follow T-Mobile's Official Twitter Newsroom @TMobileNews to stay up to date with the latest company news.  
# # #  
Opensignal Awards: USA: Mobile Network Experience and 5G Experience report July 2023, based on independent analysis of mobile measurements recorded during the period March 16–Jun 13, 2023. © 2023 Opensignal Limited.
About T-Mobile  
T-Mobile US, Inc. (NASDAQ: TMUS) is America's supercharged Un-carrier, delivering an advanced 4G LTE and transformative nationwide 5G network that will offer reliable connectivity for all. T-Mobile's customers benefit from its unmatched combination of value and quality, unwavering obsession with offering them the best possible service experience and undisputable drive for disruption that creates competition and innovation in wireless and beyond. Based in Bellevue, Wash., T-Mobile provides services through its subsidiaries and operates its flagship brands, T-Mobile, Metro by T-Mobile and Sprint. For more information please visit: https://www.t-mobile.com  
Media Contacts  
T-Mobile US, Inc. Media Relations  
MediaRelations@t-mobile.com  
Investor Relations Contact  
T-Mobile US, Inc.  
investor.relations@t-mobile.com  
https://investor.t-mobile.com