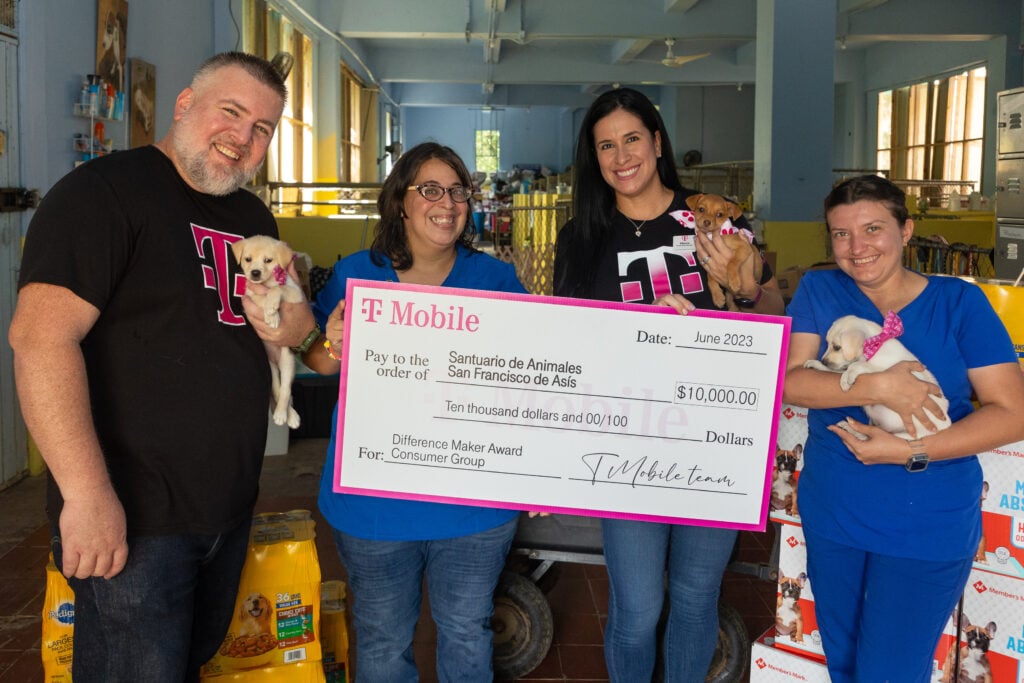 Guaynabo, PR – August 9, 2023 – T-Mobile is committed to Puerto Rico and today, the Un-carrier announced a donation of $50,000 to selected nonprofits in their territory. T-Mobile Puerto Rico employees had the opportunity to choose five local nonprofit organizations to receive $10,000 each; El Comedor de la Kennedy, Pediatric Hospital Foundation, Boys and Girls Clubs of Puerto Rico, San Francisco de Asis Animal Shelter, and My Brother's Workshop in USVI.
The Difference Maker Award is presented to the top-ranked area, as scored on the Un-carrier Leaderboard each quarter. The collective team can share immense pride knowing their performance earned them the top spot as the "best of the best" in overall business performance. And most important, they are awarded $50,000 to invest in their local communities!
"Our Puerto Rico team is unlike any other. For years, they have led the way in showcasing how localized partnerships can provide unmatched opportunities to grow our brand while providing best-in-class experiences. Puerto Rico has been the example to follow in so many ways! So, it's no surprise they continue to deliver an outsized contribution to our business," said Jon Freier, President, T-Mobile Consumer Group.
"T-Mobile Puerto Rico recognizes the hard work and commitment of these organizations and their volunteers. I am proud of the dedication our employees put in every day at their jobs and in their communities. We are building something truly amazing as we make meaningful investments in our network, our customers and our people and we won't stop," said Jorge Martel, VP and General Manager for T-Mobile Puerto Rico.
Learn about the organizations:
###
About T-Mobile US, Inc.
T-Mobile US, Inc. (NASDAQ: TMUS) is America's supercharged Un-carrier, delivering an advanced 4G LTE and transformative nationwide 5G network that will offer reliable connectivity for all. T-Mobile's customers benefit from its unmatched combination of value and quality, unwavering obsession with offering them the best possible service experience and undisputable drive for disruption that creates competition and innovation in wireless and beyond. Based in Bellevue, Wash., T-Mobile provides services through its subsidiaries and operates its flagship brands, T-Mobile, Metro by T-Mobile and Sprint. For more information please visit: https://www.t-mobile.com.