What's the news
The extra value packed into T-Mobile ONE is estimated to be up to $1,550.71 annually after all its individual perks and benefits are considered, according to analysis by Strategy Analytics. That's on top of unlimited data, talk and text.
Why it matters
Wireless customers simply get more with T-Mobile ONE. The nearest competitor gives customers less than half the included value in T-Mobile ONE.
Who it's for
People who like more. A lot more.
Bellevue, Washington — November 1, 2018 — There is no better total value in the wireless industry than T-Mobile ONE. In a recent study, industry analyst firm Strategy Analytics determined the total additive value T-Mobile (NASDAQ: TMUS) customers receive with T-Mobile ONE really packs a punch – up to $1,550.71 per line per year, to be exact. For a family of four, it could add up to as much as $5,150.59. And that's on top of unlimited talk, text and data and the industry's best customer care with Team of Experts. T-Mobile ONE has all the value and extras that most customers want, for just $40 per line for a family of four with autopay. It's one of many reasons T-Mobile continues its record-setting growth, adding more than one million customers 22 quarters in a row.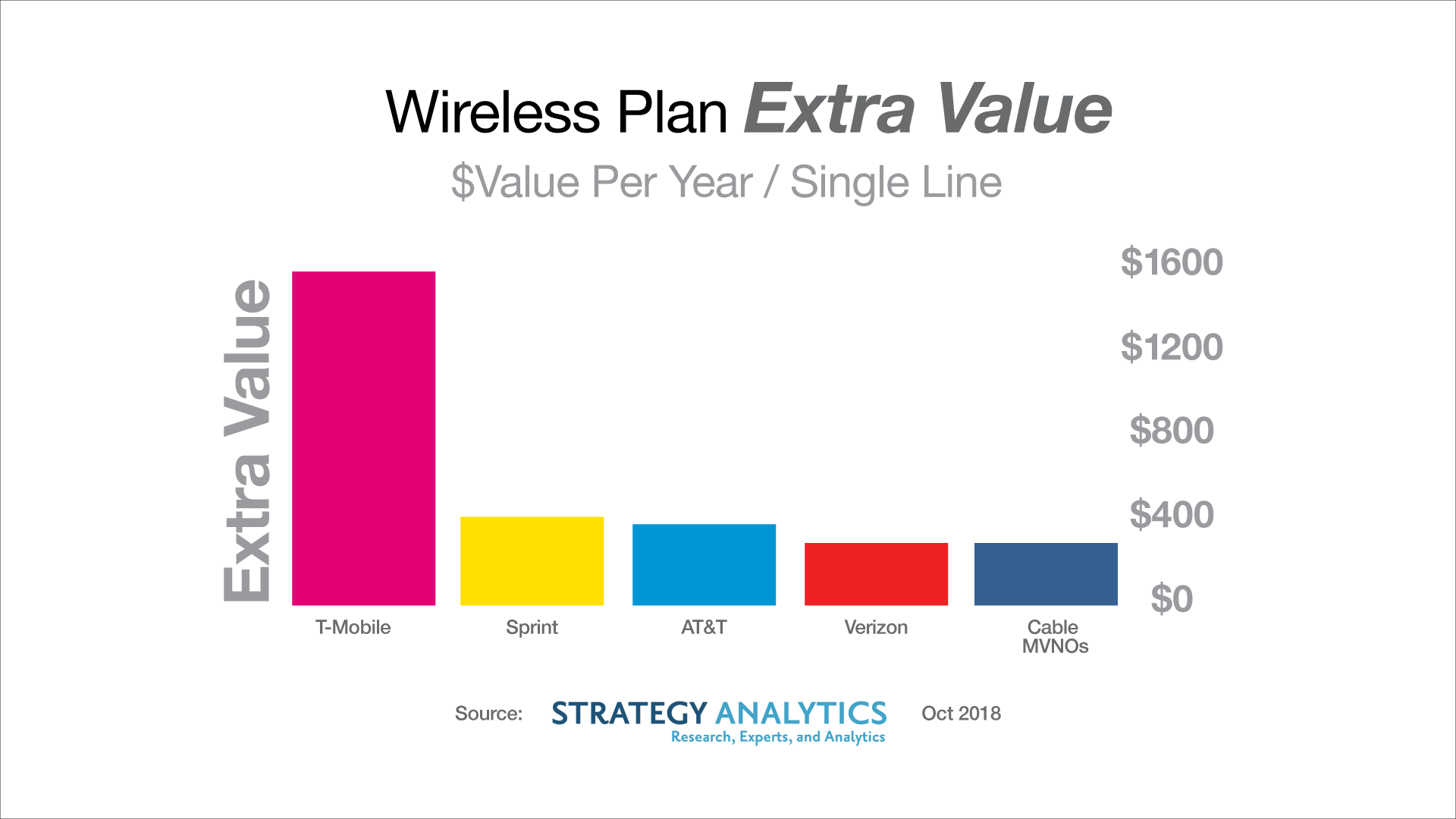 "This latest analysis proves what our customers already know -- T-Mobile ONE is the hands-down best value in wireless," said John Legere, CEO of T-Mobile. "T-Mobile ONE customers just get so many extras – and now with their own dedicated Team of Experts and exclusive magenta benefits at Live Nation events, they get more than ever. We're always looking for ways to make and keep our customers the happiest in wireless, and we won't stop!"
"In our comparison of value add features in wireless plans, T-Mobile ONE stands out as a clear leader," said Susan Welsh de Grimaldo of Strategy Analytics. "Through the inclusion of taxes and fees and a wide range of offers with broad appeal across sports, travel, video and retail, T-Mobile ONE can bring customers more than $1,500 in value-adds per year – that's a significant benefit that no other carrier comes close to providing in comparable plans."
According to the analysis, the carriers' comparably priced plans don't even come close to matching the value of T-Mobile ONE – not one of them even reaches a $500 per line per year value-add for customers. That's because T-Mobile ONE is jam-packed with extras that customers love, including:
Taxes & Fees Included. With T-Mobile ONE, the price advertised is the price you pay…period. Yep, your taxes and fees are included in – not in addition to -- the cost of T-Mobile ONE. That's an estimated cost savings of $66.96/year, on average!
Netflix on Us. T-Mobile ONE customers with two or more lines get a standard two-screen Netflix subscription, worth $10.99 a month, for free! So, stream your favorite TV shows and movies…it's all on T-Mobile, and it adds up to nearly $140/year value for a family of four.
Simple Global. With Simple Global, T-Mobile ONE customers get unlimited data and texting and in more than 210 countries and destinations! Post and text photos, check your maps online and stay connected when you travel abroad, without worrying about bill shock when you get home – it could save you approximately $85/year.
Gogo In-flight Internet. T-Mobile ONE customers get unlimited texting all flight long and an hour of free Wi-Fi on Gogo-equipped domestic flights – a $21 average value based on the average number of flights taken by Americans every year!
T-Mobile Tuesdays. T-Mobile customers get thanked with free stuff every Tuesday in the T-Mobile Tuesdays app – that could be over $966 in value, this year alone! T-Mobile partners with brands customers love like Dunkin' Donuts, Atom Tickets, and Shell…even Live Nation and Pandora (an additional $260 in value, BTW).
MLB.TV. A year-long subscription to MLB.TV will run you $115.99 per year – or, $0.00 three years in a row for T-Mobile ONE customers! It includes all the premium features of the MLB At Bat app (a $19.99 value), with enhanced pitch tracking, home and away radio broadcasts and more.
Scam ID. T-Mobile ONE customers instantly see when calls come in from potential scammers, for free ($35.88/year with some of the other guys) – it's built right into the Un-carrier network and there's nothing to install…it just works.
And on top of all that added value, T-Mobile ONE customers -- and all postpaid T-Mobile customers -- now also get their own Team of Experts – that's a dedicated team, no bots, no bouncing, no BS. Team of experts means the end of the hated phone menu and the call center runaround! Calling customer service sucks, so T-Mobile just made the best care in wireless even better…giving T-Mobile ONE customers another big reason to be glad they're magenta.
$1,550.71 is the equivalent of 364 Pumpkin Spice Lattes, 31 slow cookers or 310 orders of avocado toast. And on Twitter, Legere is asking his followers what they'd do with an extra $1,550.71 and making some wishes come true.
For the full Strategy Analytics report on the value of T-Mobile ONE, head here.
T-Mobile ONE: During congestion, the small fraction of customers using >50GB/mo. may notice reduced speeds until next bill cycle due to data prioritization. Video typically streams on smartphone/tablet at DVD quality (480p). Tethering at max 3G speeds.
About T-Mobile US, Inc.
As America's Un-carrier, T-Mobile US, Inc. (NASDAQ: TMUS) is redefining the way consumers and businesses buy wireless services through leading product and service innovation. Our advanced nationwide 4G LTE network delivers outstanding wireless experiences to 77.2 million customers who are unwilling to compromise on quality and value. Based in Bellevue, Washington, T-Mobile US provides services through its subsidiaries and operates its flagship brands, T-Mobile and Metro by T-Mobile. For more information, please visit https://www.t-mobile.com.