1x is chance, 2x is coincidence, 3x is a pattern. T-Mobile for Business customers have spoken: The Un-carrier cements its place as the go-to wireless provider for businesses of all sizes, three years running
What's the news
For the third straight year, T-Mobile topped the prestigious J.D. Power Wireless Business Customer Satisfaction Study for businesses of all sizes, continuing to outperform its larger wireless competitors.
Why it matters
T-Mobile is well-known for shaking up the consumer wireless market, but less so for its industry-shattering changes in business markets. Nothing provides more validation then the direct feedback of customers via J.D. Power, which provides a tangible measure that businesses, like consumers, are unsatisfied with the status quo. 
Who it's for
Businesses of all sizes — from the 5-worker farm in rural America to the 100,000-employee massive multinational with offices throughout the country.  
Bellevue, Washington – October 10, 2019 – The businesses have spoken. And evidently, they're fans of international data, generous hotspot data, published rate plan pricing, Gogo inflight Internet, no annual service contracts and award-winning customer service featuring a dedicated Team of Experts. For the third straight year, T-Mobile (NASDAQ: TMUS) swept all three segments — very small, small/medium and enterprise — of the annual J.D. Power Wireless Business Customer Satisfaction Study.
"Four years ago, we took a leap of faith and made a bet that business customers want simplicity, transparency and a fair value. Three straight J.D. Power wins later, and it's clear that we were right!  Business customers continue to shake up the status quo with us, and they are happy about it!," said John Legere, CEO of T-Mobile. "When you put customers first — it shows! With our incredible network performance, reliability and award-winning customer care, we won't stop making our customers the most satisfied in wireless."
T-Mobile for Business has come a long way since 2015 when T-Mobile launched Un-carrier 9.0, Un-carrier for Business. The launch marked a shift to transform the wireless business market by simplifying rate plans and bringing transparency to pricing, among other features. The response has been overwhelmingly positive. In the four years since, T-Mobile for Business' customer base has tripled, including nearly 25% growth in the company's most recently reported quarter.
J.D. Power conducts an annual independent online survey to measure business customer satisfaction with the top four national wireless providers in three types of businesses: large enterprise (500 or more employees), small/medium (20-499 employees) and  very small business (1-19 employees). T-Mobile swept the board with the highest satisfaction scores across all three business sizes for the third year in a row.
The J.D. Power 2019 U.S. Business Wireless Satisfaction Study measures satisfaction with providers of telecommunication voice and data services based on responses from hundreds of wireless customers surveyed between July and August 2019. Satisfaction is measured across six factors: offerings and promotions, cost of service, sales representative and account executive, billing, performance and reliability and customer service.
For more information about T-Mobile's J.D. Power rankings,visit www.jdpower.com. 
To learn more about the benefits of switching your business to the Un-carrier, visit www.t-mobile.com/business.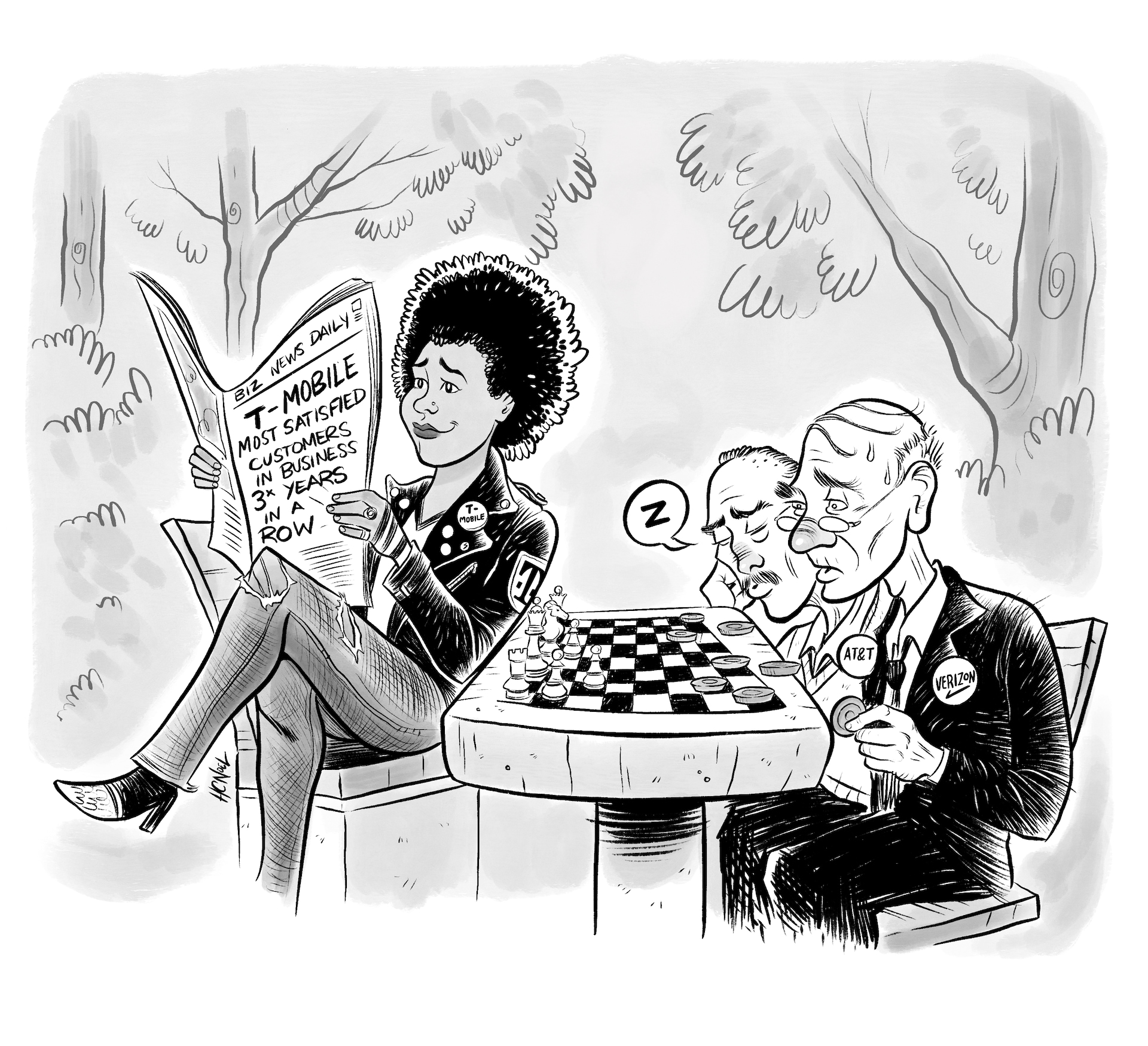 About T-Mobile US, Inc.
As America's Un-carrier, T-Mobile US, Inc. (NASDAQ: TMUS) is redefining the way consumers and businesses buy wireless services through leading product and service innovation. Our advanced nationwide 4G LTE network delivers outstanding wireless experiences to 83.1 million customers who are unwilling to compromise on quality and value. Based in Bellevue, Washington, T-Mobile US provides services through its subsidiaries and operates its flagship brands, T-Mobile and Metro by T-Mobile. For more information, please visit https://www.t-mobile.com.