Legere puts it all on the table in new book that offers recipes, advice and personal musings:  #SlowCookerSunday – Leadership, Life and Slow Cooking with CEO and Chef, John Legere
What's the news
Today, T-Mobile released a new book by CEO and first-time author John Legere… and in signature Legere style, it's a complete departure from anything you'd expect out of a typical exec. #SlowCookerSunday – Leadership, Life and Slow Cooking with CEO and Chef, John Legere, features 52 of Legere's favorite slow-cooker recipes that he has shared with nearly 5 million viewers each week in his wildly successful Facebook Live show. All that, plus advice to take from the office to the kitchen, behind the scenes tales from the popular show and a peek into the makings of the man in the magenta chef's hat. 
Why it matters
Net proceeds from the sales of the book benefit Feeding America™… and, just in time for holiday giving, it's available at T-Mobile.com December 6th and in all T-Mobile stores nationwide starting December 7th.
Who it's for
Anyone who eats delicious food – so, everyone! 
Bellevue, Washington — December 6, 2018 — What'd you expect from the Un-CEO? Today, T-Mobile (NASDAQ: TMUS) released an unconventional book from its trailblazing CEO, John Legere. This is no typical autobiography, nor a typical cookbook, because John Legere isn't your typical exec… he's got a side job: his own weekly slow cooking show on Facebook Live that grabs the attention of more than five million viewers a week. And now he's written a book about it!
#SlowCookerSunday – Leadership, Life and Slow Cooking with CEO and Chef, John Legere, available on T-Mobile.com today, December 6, and in T-Mobile stores nationwide on December 7. The book includes 52 of Legere's favorite recipes, mixed with his advice to take from the office to the kitchen. Legere also takes readers behind the scenes of his popular SCS cooking show and gives them a small glimpse into his personal life. And, because Legere and the Un-carrier are committed to giving back and creating a future that's brighter for everyone, net proceeds from the sales of the book will go to Feeding America to support its mission to feed America's hungry.
"I've been inviting everyone into my kitchen for more than two years now, and the best part is live engagement with everyone who tunes in! Viewers have been asking me for a cookbook, and in business, I always say… shut up, listen and do what they tell you – so I did!" said John Legere, CEO of T-Mobile and author of #SlowCookerSunday. "For me, #SlowCookerSunday is so much more than a cookbook. Sure, you'll make incredible food with the recipes in it, get a little bit of advice, and laugh at old photos of me (in a suit!)  but my favorite part is that you'll be helping feed the hungry across the country – because proceeds from sales of the book are going to Feeding America. I can't wait for you to read it and share what you liked best with me on Twitter @JohnLegere!"
"We are thankful for our continued partnership with T-Mobile. They consistently find ways to help their employees and customers give back, including this cookbook from their CEO," said Rowena Norman, director of New Partnerships at Feeding America. "Proceeds from sales of the cookbook will help families in need create their own lasting memories around the kitchen table this holiday season."
With a foreword by domestic diva Martha Stewart, #SlowCookerSunday includes recipes that Legere has curated from others and enjoyed, sometimes adding his own twist. But don't look for the expected alphabetical or season-by-season cookbook organization. Legere mixes things up by incorporating recipes, stories and advice into chapters that speak to all three, like 'Don't Be a Chicken,' – tips on making bolder moves at work and in the kitchen, plus non-chicken recipes like a melt-in-your-mouth pot roast, an easy apple cake and a corned beef and cabbage dish reminiscent of Legere's Irish Catholic upbringing. In 'Get Comfortable Being You,' Legere shares the importance of becoming your authentic self, alongside plenty of comfort food recipes like a cheesy spinach and mozzarella rigatoni, chicken cacciatore and a giant chocolate chip cookie. There's something for everyone -- vegetarian and vegan meals, plenty of protein, a smattering of desserts and a whole chapter of soups, stews and chilis.
Legere also serves up a bunch of personal stories. Go behind the scenes of the Slow Cooker Sunday show with funny moments from Legere's early days in front of the camera. Find out what kind of kid he was in school. Hear about that time he carried the Olympic torch and learn what book it was that inspired him to become the long-haired, leather-jacketed, magenta-clad CEO he is now.
The book is available to everyone today, December 6th, on T-Mobile.com, and in T-Mobile stores nationwide beginning tomorrow, December 7th. It retails for $19.99, with net proceeds from the sales of the book going to Feeding America.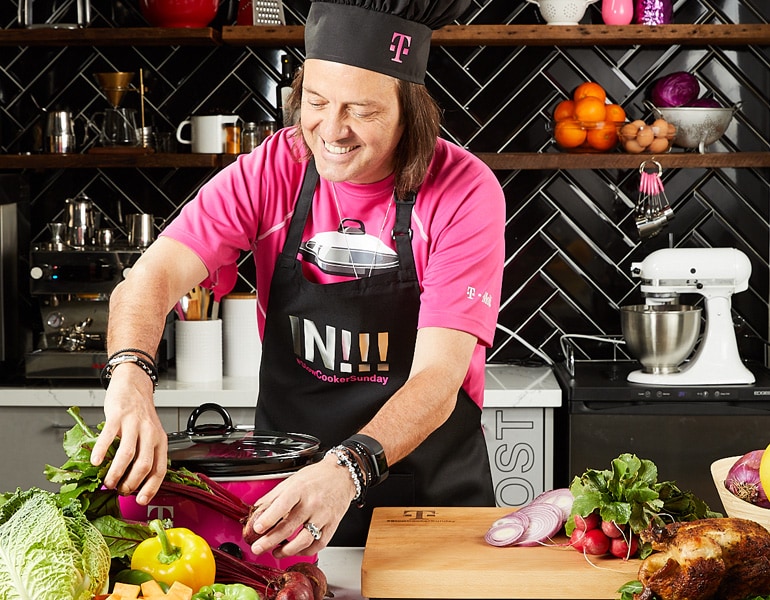 Visit www.feedingamerica.org for more information.
About T-Mobile US, Inc.
As America's Un-carrier, T-Mobile US, Inc. (NASDAQ: TMUS) is redefining the way consumers and businesses buy wireless services through leading product and service innovation. Our advanced nationwide 4G LTE network delivers outstanding wireless experiences to 77.2 million customers who are unwilling to compromise on quality and value. Based in Bellevue, Washington, T-Mobile US provides services through its subsidiaries and operates its flagship brands, T-Mobile and Metro by T-Mobile. For more information, please visit https://www.t-mobile.com