More good news for Un-carrier customers who love their iPhone and iPad. T-Mobile today became the first national wireless company to give customers AppleCare Services at ZERO additional cost as part of its Premium Device Protection services—because the best devices in the world deserve the best protection and care.
Both T-Mobile's Premium Device Protection (previously called Premium Handset Protection) and JUMP! with Premium Device Protection will now include AppleCare Services for eligible Un-carrier customers who recently purchased a new device. For just $12 a month, iPhone and iPad users can get complete peace of mind with protection from loss, theft or accidental damage, hardware coverage, the security features of Lookout Mobile Security® Premium—and now, award-winning AppleCare Services.
T-Mobile customers who purchase a new iPhone or iPad — including the new iPhone 7 and iPhone 7 Plus (PRODUCT)RED Special Edition and new 9.7-inch iPad — can enjoy all the following benefits of AppleCare Services…
24/7 priority  access to AppleCare's award-winning technical support via chat or phone
Low service fees such as $29 for iPhone screen damage
$0 for battery service
Apple-certified repair or replacement at Apple Stores and Apple Authorized Service Providers
Software support for iOS, iCloud, and Apple-branded iOS apps
Hardware repairs and service backed by Apple
And T-Mobile customers who get the new Premium Device Protection will be able to keep it when they JUMP! to the latest iPhone or iPad - and now that includes AppleCare Services.
Premium Device Protection services are administered by Assurant, a premier global provider of mobile protection products and services. You can learn more about T-Mobile's Premium Device Protection here,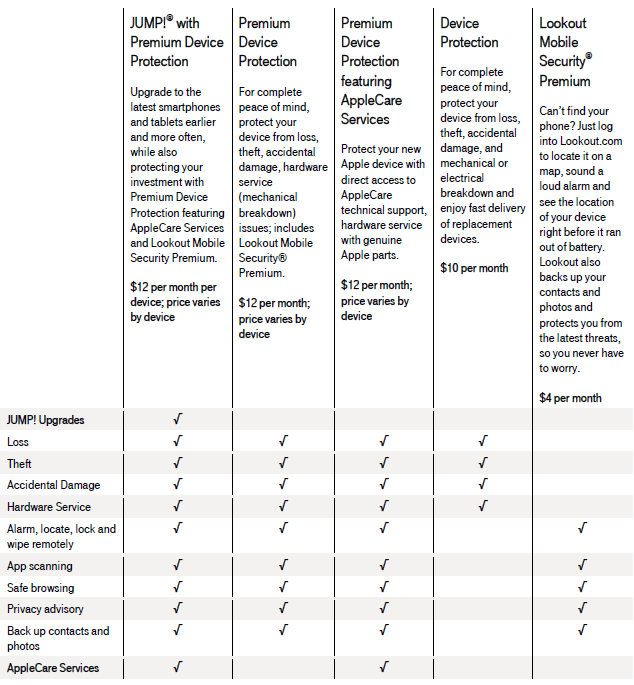 About T-Mobile
As America's Un-carrier, T-Mobile US, Inc. (NASDAQ: TMUS) is redefining the way consumers and businesses buy wireless services through leading product and service innovation. The Company's advanced nationwide 4G LTE network delivers outstanding wireless experiences to more than 71.5 million customers who are unwilling to compromise on quality and value. Based in Bellevue, Washington, T-Mobile US provides services through its subsidiaries and operates its flagship brands, T-Mobile and MetroPCS. For more information, please visit https://www.t-mobile.com.
 
 
# # #
 
T-Mobile Media Contacts
T-Mobile US Media Relations
MediaRelations@T-Mobile.com