– Companies Complete World's First Low-Band Data Session on a Commercial 5G Modem
– Low-Band FDD Spectrum to Enable Wider Coverage and Deeper Signal Penetration for Accelerated 5G Network Deployments Around the Globe
Bellevue, Washington – July 11, 2019 – T-Mobile (NASDAQ: TMUS), Qualcomm Technologies, Inc., a subsidiary of Qualcomm Incorporated (NASDAQ: QCOM), and Ericsson (NASDAQ: ERIC) today announced they've achieved the world's first low-band 5G data session on a commercial 5G modem. The data session was conducted in T-Mobile's lab in Bellevue, Washington on 600 MHz – the same spectrum T-Mobile is using to roll out broad, nationwide 5G in the U.S. – marking a major milestone in delivering 5G across America beyond urban areas.
The data session was completed on a mobile test device powered by the second-generation Qualcomm® Snapdragon™ X55 5G modem, RF transceiver and RF Front-End (RFFE) solution, as well as commercial 5G radios from the Ericsson Radio System portfolio. The demonstration is an important step toward the launch of the first commercial 5G network using low-band spectrum.
"This is a key step toward achieving our vision of 5G for All," said Neville Ray, Chief Technology Officer at T-Mobile. "This modem will power devices that tap into the 600 MHz low-band spectrum we'll use to blanket the country with 5G. And we're not stopping there. If regulators approve our merger with Sprint, we'll have the crucial mid-band spectrum and resources needed to supercharge our network and deliver broad AND deep, transformational 5G across the U.S."
T-Mobile's 600 MHz low-band spectrum will offer several unique advantages as the foundation for its 5G network, including wider coverage area and deeper signal penetration in buildings than millimeter wave spectrum. T-Mobile's low-band deployment strategy will enable the rapid expansion of its 5G network by allowing the Un-carrier to easily leverage existing 4G LTE assets and infrastructure.
Similarly, along with bringing low-band support to mobile devices, the Snapdragon X55 5G modem offers advanced multi-mode support for virtually any combination of spectrum bands and modes, including mmWave, sub-6 GHz, standalone and non-standalone, and more – ensuring mobile devices powered by the Snapdragon X55 5G modem and RFFE solutions are compatible with current and future multi-mode 5G networks rolling out around the globe.
"Today's data call marks a significant milestone in 5G's ongoing rollout across the United States, paving the way for the launch of commercial networks and devices on low-band FDD spectrum," said Cristiano Amon, president, Qualcomm Incorporated. "This call demonstrates the ability to dramatically increase 5G's global footprint and we look forward to continuing our work with industry leaders like Ericsson and T-Mobile to unlock the full potential of 5G for consumers and new industries around the world."
"Ericsson and Qualcomm Technologies have successfully tested and commercialized 5G globally across different spectrum bands, and together with T-Mobile we have now reached another major milestone as we are enabling 5G on low bands," said Fredrik Jejdling, executive vice president and head of business area networks, Ericsson. "This shows that our industry is now ready for building wider 5G coverage that will enhance end user experience."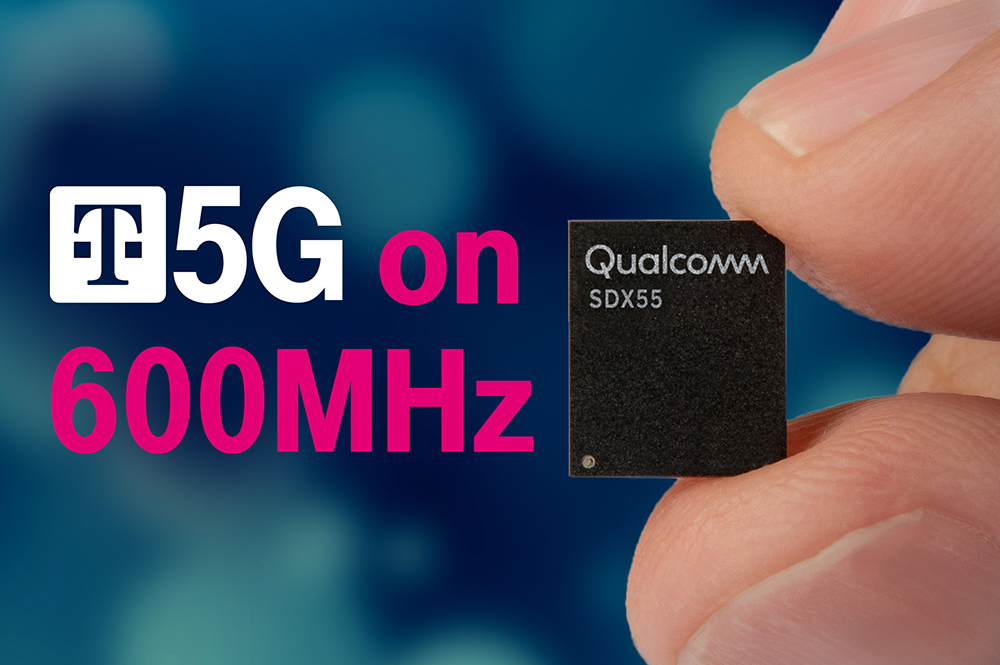 About T-Mobile US, Inc.
As America's Un-carrier, T-Mobile US, Inc. (NASDAQ: TMUS) is redefining the way consumers and businesses buy wireless services through leading product and service innovation. Our advanced nationwide 4G LTE network delivers outstanding wireless experiences to 81.3 million customers who are unwilling to compromise on quality and value. Based in Bellevue, Washington, T-Mobile US provides services through its subsidiaries and operates its flagship brands, T-Mobile and Metro by T-Mobile. For more information, please visit https://www.t-mobile.com.


About Qualcomm
Qualcomm invents breakthrough technologies that transform how the world connects, computes and communicates. When we connected the phone to the Internet, the mobile revolution was born. Today, our inventions are the foundation for life-changing products, experiences, and industries. As we lead the world to 5G, we envision this next big change in cellular technology spurring a new era of intelligent, connected devices and enabling new opportunities in connected cars, remote delivery of health care services, and the IoT — including smart cities, smart homes, and wearables. Qualcomm Incorporated includes our licensing business, QTL, and the vast majority of our patent portfolio. Qualcomm Technologies, Inc., a subsidiary of Qualcomm Incorporated, operates, along with its subsidiaries, substantially all of our engineering, research and development functions, and substantially all of our products and services businesses, including the QCT semiconductor business. For more information, visit Qualcomm's website, OnQ blog, Twitter and Facebook pages.

Qualcomm Contacts:
Pete Lancia, Corporate Communications
Phone: 1-858-845-5959
Email: corpcomm@qualcomm.com

Mauricio Lopez-Hodoyan, Investor Relations
Phone: 1-858-658-4813
Email: ir@qualcomm.com


About Ericsson
Ericsson enables communications service providers to capture the full value of connectivity. The company's portfolio spans Networks, Digital Services, Managed Services, and Emerging Business and is designed to help our customers go digital, increase efficiency and find new revenue streams. Ericsson's investments in innovation have delivered the benefits of telephony and mobile broadband to billions of people around the world. The Ericsson stock is listed on Nasdaq Stockholm and on Nasdaq New York. www.ericsson.com

Ericsson Contacts:
Jannie Tong, External Communications
Phone: 1-214-415-0815
Email: jannie.tong@ericsson.com


Qualcomm and Snapdragon are trademarks of Qualcomm Incorporated, registered in the United States and other countries.

Qualcomm Snapdragon is a product of Qualcomm Technologies, Inc. and/or its subsidiaries.


Important Additional Information
U.S. Securities and Exchange Commission (the "SEC") on October 29, 2018, and which contains a joint consent solicitation statement of T-Mobile and Sprint Corporation ("Sprint"), that also constitutes a prospectus of T-Mobile (the "joint consent solicitation statement/prospectus"), and each party will file other documents regarding the proposed transaction with the SEC. INVESTORS AND SECURITY HOLDERS ARE URGED TO READ THE JOINT CONSENT SOLICITATION STATEMENT/PROSPECTUS AND OTHER RELEVANT DOCUMENTS FILED WITH THE SEC WHEN THEY BECOME AVAILABLE BECAUSE THEY WILL CONTAIN IMPORTANT INFORMATION. The documents filed by T-Mobile may be obtained free of charge at T-Mobile's website, at www.t-mobile.com, or at the SEC's website, at www.sec.gov, or from T-Mobile by requesting them by mail at T-Mobile US, Inc., Investor Relations, 1 Park Avenue, 14th Floor, New York, NY 10016, or by telephone at 212-358-3210. The documents filed by Sprint may be obtained free of charge at Sprint's website, at www.sprint.com, or at the SEC's website, at www.sec.gov, or from Sprint by requesting them by mail at Sprint Corporation, Shareholder Relations, 6200 Sprint Parkway, Mailstop KSOPHF0302-3B679, Overland Park, Kansas 66251, or by telephone at 913-794-1091.


No Offer or Solicitation
This communication shall not constitute an offer to sell or the solicitation of an offer to buy any securities, nor shall there be any sale of securities in any jurisdiction in which such offer, solicitation or sale would be unlawful prior to registration or qualification under the securities laws of any such jurisdiction. No offering of securities shall be made except by means of a prospectus meeting the requirements of Section 10 of the U.S. Securities Act of 1933, as amended.


Cautionary Statement Regarding Forward-Looking Statements
This communication contains certain forward-looking statements concerning T-Mobile, Sprint and the proposed transaction between T-Mobile and Sprint. All statements other than statements of fact, including information concerning future results, are forward-looking statements. These forward-looking statements are generally identified by the words "anticipate," "believe," "estimate," "expect," "intend," "may," "could" or similar expressions. Such forward-looking statements include, but are not limited to, statements about the benefits of the proposed transaction, including anticipated future financial and operating results, synergies, accretion and growth rates, T-Mobile's, Sprint's and the combined company's plans, objectives, expectations and intentions, and the expected timing of completion of the proposed transaction. There are several factors which could cause actual plans and results to differ materially from those expressed or implied in forward-looking statements. Such factors include, but are not limited to, the failure to obtain, or delays in obtaining, required regulatory approvals, and the risk that such approvals may result in the imposition of conditions that could adversely affect the combined company or the expected benefits of the proposed transaction, or the failure to satisfy any of the other conditions to the proposed transaction on a timely basis or at all; the occurrence of events that may give rise to a right of one or both of the parties to terminate the business combination agreement; adverse effects on the market price of T-Mobile's or Sprint's common stock and on T-Mobile's or Sprint's operating results because of a failure to complete the proposed transaction in the anticipated timeframe or at all; inability to obtain the financing contemplated to be obtained in connection with the proposed transaction on the expected terms or timing or at all; the ability of T-Mobile, Sprint and the combined company to make payments on debt or to repay existing or future indebtedness when due or to comply with the covenants contained therein; adverse changes in the ratings of T-Mobile's or Sprint's debt securities or adverse conditions in the credit markets; negative effects of the announcement, pendency or consummation of the transaction on the market price of T-Mobile's or Sprint's common stock and on T-Mobile's or Sprint's operating results, including as a result of changes in key customer, supplier, employee or other business relationships; significant transaction costs, including financing costs, and unknown liabilities; failure to realize the expected benefits and synergies of the proposed transaction in the expected timeframes or at all; costs or difficulties related to the integration of Sprint's network and operations into T-Mobile; the risk of litigation or regulatory actions; the inability of T-Mobile, Sprint or the combined company to retain and hire key personnel; the risk that certain contractual restrictions contained in the business combination agreement during the pendency of the proposed transaction could adversely affect T-Mobile's or Sprint's ability to pursue business opportunities or strategic transactions; effects of changes in the regulatory environment in which T-Mobile and Sprint operate; changes in global, political, economic, business, competitive and market conditions; changes in tax and other laws and regulations; and other risks and uncertainties detailed in the Form S-4, as well as in T-Mobile's Annual Report on Form 10-K for the fiscal year ended December 31, 2018 and in its subsequent reports on Form 10-Q, including in the sections thereof captioned "Risk Factors" and "Cautionary Statement Regarding Forward-Looking Statements," as well as in its subsequent reports on Form 8-K, all of which are filed with the SEC and available at www.sec.gov and www.t-mobile.com. Forward-looking statements are based on current expectations and assumptions, which are subject to risks and uncertainties that may cause actual results to differ materially from those expressed in or implied by such forward-looking statements. Given these risks and uncertainties, persons reading this communication are cautioned not to place undue reliance on such forward-looking statements. T-Mobile assumes no obligation to update or revise the information contained in this communication (whether as a result of new information, future events or otherwise), except as required by applicable law.