T-Mobile, the T-Mobile Foundation and Ashoka reveal that ALL three category winning teams of amazing youth will go home with seed money for their inspiring projects – and more!
Bellevue, Washington — February 21, 2020 — Oops, we did it again! T-Mobile senior leaders were SO impressed by the top three teams competing for the Grand Prize at this year's T-Mobile Changemaker Challenge, they couldn't just choose one winner … instead they awarded all three Category Winners the Grand Prize!
The Changemaker Challenge is a nationwide search for youth ages 13-23 with big ideas for how to change the world for good. This week, 30 winning teams attended the three-day Changemaker Challenge Lab hosted at T-Mobile's Bellevue, Wash., headquarters where the three category winning teams, AVA (Technology), Stories Untold (Education) and Youth Climate Action Coalition (Environment) got the chance to pitch their ideas to T-Mobile leadership and compete for the Grand Prize.
Instead of just ONE team walking away with the Grand Prize, all three teams were selected to each receive a total of $10,000 in seed funding for their project, a return trip back to HQ to supercharge their ideas … AND in an unexpected Un-carrier twist, access to some of T-Mobile's best and brightest senior leaders who will serve as advocates for the winning teams and provide an extra level of support and strategic counsel personalized to their individual projects —including marketing and social media advice, software development support, business advice and mentorship.
"The Changemaker Challenge Lab is always one of THE most inspirational weeks at T-Mobile and this year did NOT disappoint — I was blown away! These young people have proven to me yet again that they have incredible stories and ideas and are willing to take big risks to drive positive, long-term change in their communities," said Mike Sievert, T-Mobile President and COO. "We were incredibly inspired by what we heard and look forward to rolling up our sleeves alongside these teams to help them amplify their impact. This is just the beginning of their amazing journeys!"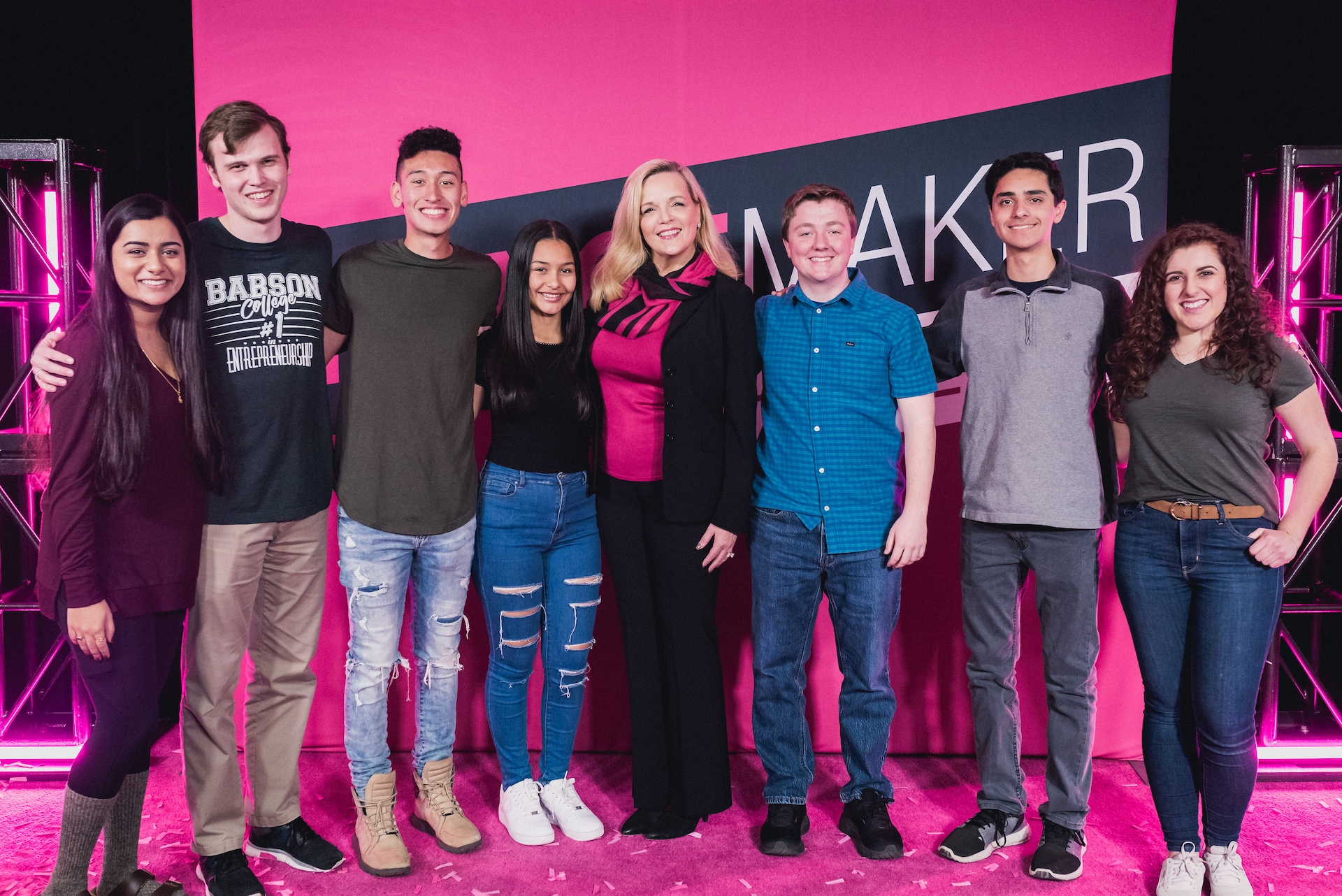 To learn more about this year's Changemaker Challenge Grand Prize winners, see below:

AVA: Created by college student Vanessa Castañeda Gill, founder and CEO of Social Cipher, Ava is a video game that helps neurodiverse youth apply social skills in a safe and accessible space. Ava rose to the top of T-Mobile's Technology category because the game offers an innovative approach to tackle a pressing issue, building inclusivity and diversity into America's communities through an accessible and fun video game. Vanessa and team plan to use the seed funding to help subsidize a pilot to distribute the game to low income schools and autism service providers in Los Angeles.
Stories Untold US: Launched by Carlitos Rodriguez – a survivor of the Marjory Stoneman Douglas school shooting in Parkland, FL that took 17 of his classmates' lives in 2018 – Stories Untold US aims to provide a platform and a voice for those who have been affected by gun violence. The project was chosen as the Education Category Winner because of the personal and heartfelt approach to creating impactful conversations around a challenging topic. Carlitos plans to use the funds to expand the project to more cities, sharing the stories of more survivors to continue advocating for gun violence prevention.
Youth Climate Action Coalition: Launched by co-founders Kevin Malaekeh, Jake McCullough and Jack Galloway, Youth Climate Action Coalition (YCAC) is a program focused on helping schools take steps to become more sustainable, reducing water usage through low-flow faucets and launching composting programs to divert organic waste from landfills. YCAC was chosen as the Environment category leader because their project provided an easily replicable solution at a low cost that could provide massive impact very quickly. The team plans to use their seed funding to provide grants to schools that want to join the program but don't have funding allocated for sustainability projects.

The three-day T-Mobile Changemaker Lab was designed to foster community among young innovators while helping them develop the skills to turn their projects into reality. A highlight of this year's lab was the mentorship and connection the changemakers had with Nadya Okamoto, Founder of PERIOD, the largest youth-run women's health NGO and a recent Forbes 30 under 30 honoree. Nadya took time to meet with members of this year's Changemaker class to give advice and encouragement. The events also included a speaking appearance from Jaclyn Corin, one of the organizers from the historic March for Our Lives. Jaclyn is also the founder of Never Again MSD, a student-led political action committee for gun control.
For more information about the T-Mobile Changemaker Challenge and to check out this year's full list of winners, visit T-Mobile.com/Changemaker or visit the newsroom for event images and b-roll video.

About T-Mobile US, Inc.
As America's Un-carrier, T-Mobile US, Inc. (NASDAQ: TMUS) is redefining the way consumers and businesses buy wireless services through leading product and service innovation. Our advanced nationwide 4G LTE network delivers outstanding wireless experiences to 86 million customers who are unwilling to compromise on quality and value. Based in Bellevue, Washington, T-Mobile US provides services through its subsidiaries and operates its flagship brands, T-Mobile and Metro by T-Mobile. For more information, please visit https://www.t-mobile.com

About T-Mobile Foundation
The T-Mobile Foundation is committed to changing the world for good. The Foundation advances positive change in our communities by supporting causes that focus on youth development and by providing opportunities for T-Mobile employees to engage in causes that benefit the communities where they live and work. The T-Mobile Foundation, created and funded by T-Mobile US, Inc., is recognized by the IRS as a Section 501(c)(3) private foundation.

About Ashoka
Ashoka is the largest global network of leading social entrepreneurs—individuals with new ideas to systemically address the world's biggest challenges and the entrepreneurial skill to transform those ideas into national, regional and global social impact. Over 35 years, Ashoka has supported more than 3,500 social entrepreneurs in 90 countries with solutions addressing society's most pressing issues. Ashoka's vision is a world in which Everyone is a Changemaker—a society that responds quickly and effectively to challenges, and where each individual has the freedom, confidence and societal support to address any social problem. For more information, visit ashoka.org.