What's the news: T-Mobile is launching new rate plans for small businesses with Microsoft 365 included to give customers access to Office apps, powerful cloud services, device management and advanced security. And, the Un-carrier has more than doubled the team dedicated to supporting SMBs and updated its more than 7,000 T-Mobile retail locations to better serve small and medium business customers.
Why it matters: Small businesses are the lifeblood of the American economy, and now more than ever, they could use a great deal.
Who it's for: Small business owners, solopreneurs and entrepreneurs nationwide.  
Bellevue, Washington — September 21, 2020 — As the most important National Small Business Week of the last decade begins today, T-Mobile (NASDAQ: TMUS) is doubling down on its commitment to this vital community. The Un-carrier is launching new Magenta for Business plans with Microsoft 365 included at no extra charge on up to two lines per account and has upgraded its 7,000-plus retail stores to cater to the needs of small businesses around the country. Finally, T-Mobile has more than doubled the size of its team of specially trained experts dedicated to helping business customers and ensure they have what they need in store, on the phone or online.
"We celebrate small businesses every day at T-Mobile — they are the backbone of our communities. Today, we're going even bigger for small businesses with Microsoft 365 on Us, providing critical Microsoft tools to help them survive and thrive in the face of new realities," said Mike Katz, EVP T-Mobile for Business. "Additionally, small business owners now have a new experience when they step into retail stores with highly trained mobile experts ready to serve them and other small businesses in the area. These businesses have endured such great challenges in 2020, and we want them to know — we're with you."
Small businesses are the foundation for economies worldwide. In fact, small- and medium-sized enterprises represent over 90% of all businesses, between 60-70% of employment and 55% of GDP in developed economies.1 The pandemic has hit small businesses especially hard, and they need help now more than ever.
"T-Mobile and Microsoft have a shared commitment to helping small businesses save time and money by providing the tools and technology they need to succeed both now and into the future," said Mark Kroese, General Manager, Microsoft 365 for SMB. "With the new offering, T-Mobile is making Microsoft 365 tools available to T-Mobile for Business customers, and in the process helping small business owners stay connected and productive in a new world of remote work."
Today's announcement builds on T-Mobile's tradition of supporting small businesses and helps to ensure business owners are equipped with the plan, devices and solutions they need to navigate new realities. When COVID-19 hit, T-Mobile quickly sprang into action to offer up to 90 days free service to new customers who switch their employees to T-Mobile — the offer is still available today. And, the Un-carrier launched a web series — Taking Care of Business — hosted by Mike Katz, EVP of T-Mobile for Business, featuring SMB leaders sharing new insights and stories to navigate these uncertain times. Now available as a podcast, "Taking Care of Business" explores the world beyond COVID-19 and dives deep with trailblazing business leaders to learn how they build leadership skills, lead successful organizations and innovate within their industries.
Plans Built for Business
T-Mobile has ranked #1 Business Wireless in customer satisfaction from businesses of ALL sizes for the last three years by J.D. Power. Now, the Un-carrier has reimagined business plans to help small businesses save more time and money. The new Magenta for Business and Magenta Plus for Business now include Microsoft 365 on Us, making T-Mobile the first service provider to put productivity tools in the hands of businesses for no extra charge.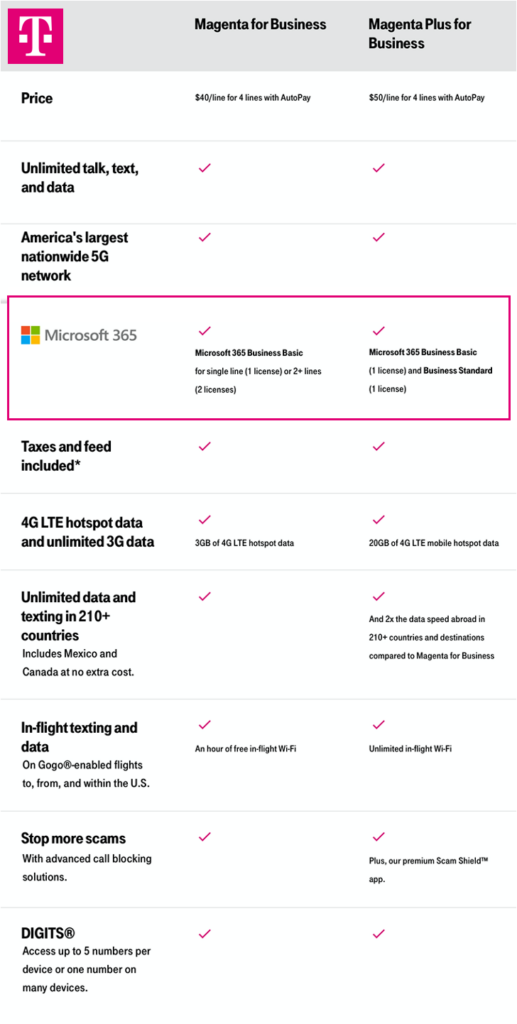 And for a limited time, businesses who switch to T-Mobile can get up to 90 days of free wireless service — making the switch even easier! To sign up or for more information, visit www.t-mobile.com/microsoft365 or a retail store near you.  
In addition to newly redesigned rate plans for small business, T-Mobile is doubling down on support for SMBs. Not only can small business owners find support and expertise in T-Mobile retail stores nationwide, online and on the phone, but the Un-carrier has more than doubled the number of people dedicated to advising SMBs and increased dedicated business space in stores by 500%. 
Microsoft 365 on Us
Microsoft apps are the gold standard for business productivity and can help SMBs improve collaboration, increase productivity and put forward a more professional appearance. T-Mobile Magenta for Business customers get access to Office apps, Microsoft Teams, cloud storage and more. For more information about Microsoft 365 Business Basic and Standard editions, visit www.microsoft.com/microsoft-365.  
T-Mobile Business Advantage
Businesses shouldn't have to choose between a great network, great service and a great value. And with the T-Mobile Business Advantage, they don't have to. With T-Mobile, businesses of all sizes can expect:
A Network Better for Business: T-Mobile's 5G network covers more businesses in more places than anyone else, with more 5G coverage than AT&T and Verizon combined. T-Mobile 5G covers more than 250 million people across 1.3 million square miles. And, with a $40B planned investment in network and business improvements over the next three years, the Un-carrier is working to supercharge innovation and connect businesses and communities throughout the country.
Magenta Glove Support: Switching doesn't have to be stressful, and with T-Mobile it won't be. T-Mobile for Business customers get the benefit of dedicated implementation teams that make sure any transition is seamless. For three years in a row, J.D. Power ranked T-Mobile Highest in Business Wireless Customer Satisfaction with Very Small, Small/Medium and Large Enterprise Wireless Service.
Insanely Great Value: With T-Mobile's transparent pricing you can spend less and innovate more. The Un-carrier offers business customers what they need to ensure their business is mobile, with available extras like mobile hotspot data on our network, global roaming in over 210 countries and destinations and more. Plus, there's no extra charge for 5G access.
To learn more about T-Mobile's support for small businesses, visit www.t-mobile.com/business/small-midsize-business.  
Follow T-Mobile's Official Twitter Newsroom @TMobileNews to stay up to date with the latest company news. 
---
During congestion, the small fraction of customers using >50GB/mo. may notice reduced speeds until next bill cycle due to data prioritization. Microsoft 365 on Us: Contact us to activate. 1/line max 2/account. 3rd party terms apply. Not combinable with some features. 90 days free: Via bill credits when you switch 6+ lines with AutoPay; credits stop if you cancel any lines. Qualifying business account, service, and timely port-in required. 5G: Capable device req'd; coverage not available in some areas. Some uses may require certain plan or feature; see T-Mobile.com. Double the 5G coverage based on Ookla CoverageRight® data released 8/15/20. Ookla trademarks used under license and reprinted with permission.
T-Mobile received the highest score among very small, small/medium, and large enterprise business wireless providers in the J.D. Power 2017-2019 U.S. Business Wireless Customer Satisfaction Studies of customers' satisfaction with their current wireless provider. Visit jdpower.com/awards.
1 Source: According to the World Trade Organization 
About T-Mobile US, Inc. 
T-Mobile U.S. Inc. (NASDAQ: TMUS) is America's supercharged Un-carrier, delivering an advanced 4G LTE and transformative nationwide 5G network that will offer reliable connectivity for all. T-Mobile's customers benefit from its unmatched combination of value and quality, unwavering obsession with offering them the best possible service experience and undisputable drive for disruption that creates competition and innovation in wireless and beyond. Based in Bellevue, Wash., T-Mobile provides services through its subsidiaries and operates its flagship brands, T-Mobile, Metro by T-Mobile and Sprint. For more information please visit: https://www.t-mobile.com.