Just in time for back to school, T-Mobile bolsters its affordable smartphone lineup. Get 4 lines AND 4 new phones included for $40/month per line. 
Bellevue, Washington – July 19, 2019 – Two words: free smartphones. Today, T-Mobile (NASDAQ: TMUS) announced that customers can take their pick of five smartly-priced smartphones for FREE with 24 monthly bill credits when they add a voice line. That means they could get four new phones AND four lines for just $40/month per line. When did math become so enjoyable? Plus, on top of all these savings, the Un-carrier has two new phones joining the company's affordable smartphone lineup – the Samsung Galaxy A10e (included in the above offer!) and the Galaxy A20 both hit shelves July 26th.
Starting today, well-qualified customers can choose any of these sweet smartphones for FREE with 24 monthly bill credits when they add a line – save up to $800 on phones for a family of four:    
The new REVVLRY, the latest generation in the REVVL family (hitting shelves today)

Or, choose the new Samsung Galaxy A10e when it hits T-Mobile stores on Friday, July 26.
And customers won't bust their back-to-school budget…with Magenta, they can get four lines of unlimited talk, text and high-speed data on the Un-carrier network for just $40 per month per line with AutoPay. Customers will get the industry's best unlimited plan with taxes and fees included, unlimited hotspot with 3GB high-speed hotspot per month, Netflix on Us for families and the best customer care in wireless with a dedicated Team of Experts, and free scam protection options to fight robocalls. Customers also score weekly free stuff and discounts from T-Mobile Tuesdays along with industry-leading travel benefits. And when they switch, they can bring their eligible employee or affiliate discount with them for up to $15 off per month for single lines and $30 off per month for families. IKR?
Already, T-Mobile boasts a bevy of affordable smartphones – including the latest REVVL devices launching today – and the lineup just keeps growing. The Galaxy A10e (included in the offer!) sports a 5.8" HD+ infinity screen, a 3,000 mAh battery with an 8MP rear and 5MP front facing camera. The Galaxy A20 takes these specs next level with a 6.4" HD+ SUPER AMOLED Infinity-V display, 4,000 mAh battery with a 13+ 5MP dual rear and 8 MP front facing camera.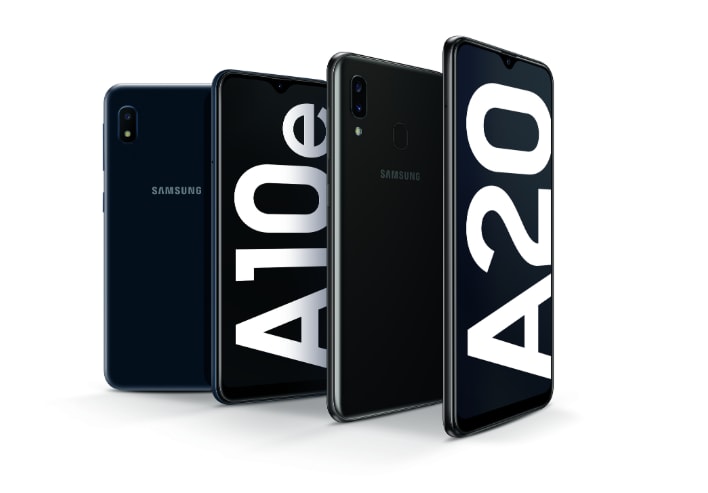 Not adding a line? Starting July 26th, customers can get the Samsung Galaxy A10e in T-Mobile Stores across the nation for just $0 down and $7.30/month (FRP $175) and the Samsung Galaxy A20 for just $10/down and $10/month (FRP $250) – both for well-qualified customers for 24 months on T-Mobile's no-interest Equipment Installment Plan (EIP). 
To find out more about the latest offer from T-Mobile, visit https://www.t-mobile.com/offers/free-cell-phone-with-plan.
Limited time offers; subject to change. Magenta: If congested, customers using >50 GB/mo. may notice reduced speeds due to prioritization. Video streams at 480p. Without AutoPay, $5 more/line; may not be reflected on 1st bill. Tethering: 3GB high speed data then unlimited on our network at max 3G speeds.   Contact us before cancelling wireless service to continue device payments, or credits stop & remaining balance on device at full price is due. Free Phones: Tax on pre-credit price due at sale. Finance agreement required. Example pricing: REVVLRY: $0 down + 8.34/mo x 24; pre-credit price: $200. 0% APR. Pricing for well qualified customers. Max 12/account. Up to $200 in bill credits; must be active and in good standing to receive credits; allow 2 bill cycles. May not be combinable with some offers or discounts (e.g., Carrier Freedom)
About T-Mobile US, Inc
As America's Un-carrier, T-Mobile US, Inc. (NASDAQ: TMUS) is redefining the way consumers and businesses buy wireless services through leading product and service innovation. Our advanced nationwide 4G LTE network delivers outstanding wireless experiences to 81.3 million customers who are unwilling to compromise on quality and value. Based in Bellevue, Washington, T-Mobile US provides services through its subsidiaries and operates its flagship brands, T-Mobile and Metro by T-Mobile. For more information, please visit https://www.t-mobile.com.