It's Super Bowl time, the ads are back … and something remarkable is happening in wireless. Verizon has just realized who the real network competition is. After years of ignoring T-Mobile, even leaving us out of coverage map comparisons (if you think back, you may remember TV ads from them where they did not even include us!). Now, Verizon's spending big Super Bowl bucks to advertise JUST AGAINST T-MOBILE'S 5G NETWORK. Not just against T-Mobile as a brand… but actually trying to take on our network!  Something they never even cared about before! Why? Because they finally had to admit that we're the real network competition, especially with the New T-Mobile. And they're absolutely right.
I feel like I should celebrate. (Honestly, I am! And you should see @NevilleRay and his team!!) Verizon's spending big bucks to tell people T-Mobile's 5G network – the first and only nationwide 5G network – is the one to beat. That is INCREDIBLE! Should I write someone in their marketing team a check?
But, also, their ads are just sad. Big Red hired the talented, hilarious Jenny Slate (love you, Jenny!) to do some 'man on the street' interviews, comparing their 4G LTE network to T-Mobile's 5G. That's right, while the rest of the world has their eye on 5G, they want you to focus on 4G! Don't get me wrong. 4G has transformed our lives, and we've been at the forefront of LTE innovation … but 5G is the future. Verizon has become the sad ex-high school quarterback who's now living in his mom's basement, trying to squeeze into that old letterman's jacket and relive his heydays. "Hey, remember 4G? Remember, guys?" It's honestly sad to watch.
Verizon is still wearing their LTE letterman's jacket and living in the past. They peaked in 2007… We're talking 5G and now they want to bring up LTE. #5GThatWorks pic.twitter.com/HpDt8jYlnT

— John Legere (@JohnLegere) February 1, 2020
Face it. Verizon peaked in 2007. And they're terrified that people are catching on.
Where'd it all go wrong?
For years, Verizon was the platinum network. I'll give them that. Then we got LTE and built a more modern, faster LTE network that could go neck and neck for 99% of Americans, but it's been very much a battle.
Then, came this: Verizon bet wrong on the 5G future. They bet big on millimeter wave 5G, and that was a bad bet. It hasn't scaled like they thought it would. So Verizon customers are forced to pay a premium for sad, spotty coverage in random parts of some areas of some cities. Just look at Hard Rock stadium in Miami. Big Red spent 80 million dollars to boost their spotty 5G in a single stadium. 80 MILLION for a few thousand square feet and it's STILL hard to find a signal! Imagine if they tried to cover an entire city … or state … or even the whole country.
And when you do find a 5G signal, you need to dodge obstacles like walls, hot dog stands and other people. Even waving your hand in front of the phone can cause the signal to crap out. Hey, down in front! Hope nobody starts the wave at the big game…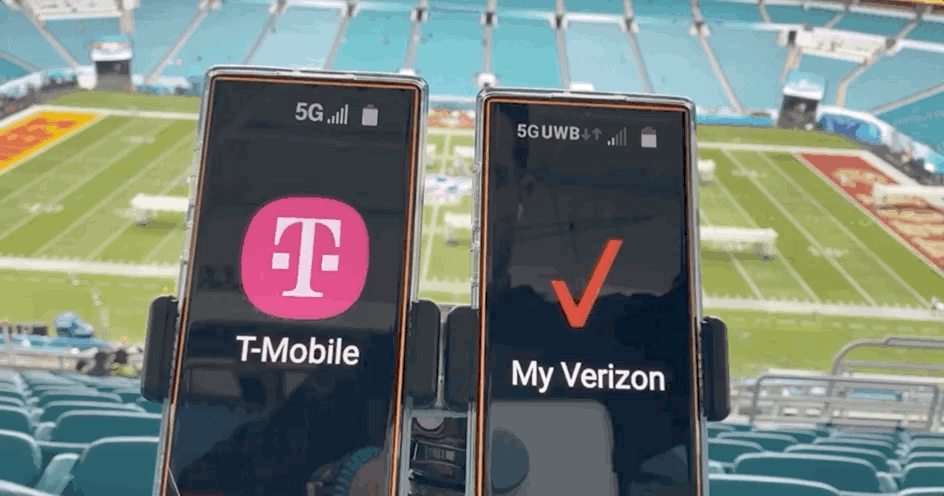 Some Verizon customer even created a petition to ban stadium standing. ud83dude09

Verizon bet wrong on 5G, and they know it. They're stuck. They're desperate … because really what is the Verizon brand except 'network'? If they lose that, they're toast.
Now they're trying to advertise their way out of a crappy strategy.
While Verizon spends massive marketing budget trying desperately to relive their glory days and convince people their 5G is right, T-Mobile remains focused on the future. We already have 5G coverage they simply can't match anytime soon - the ONLY nationwide 5G network which covers more than 1 million square miles and reaches over 200 million people. Unlike Verizon 5G that can get blocked by basically anything and covers spotty patches of outdoor areas in just 34 cities, T-Mobile 5G provides far-reaching coverage that can go through walls and works indoors and out … in more than 5,000 cities and towns all across the country. That's about 147x more than Verizon. T-Mobile 5G is #5GThatWorks. Just ask Anthony Anderson's mama.
Plus, we still have unused low-band spectrum to light up with 5G … and nationwide millimeter wave spectrum to add super-fast hotspot-like coverage in some areas. And we're poised to give our customers a network Verizon can only dream of should the merger with Sprint move forward with spectrum that will add breadth and speed across the country. (I know they don't want THAT to happen, because we'll be an even tougher competitor then!) On top of all that … we're not charging a dollar more for 5G access, which goes against everything Verizon stands for. Should I go on?
I say keep those ads coming, Verizon, I'm a big fan! And while you stay focused on what once was, at T-Mobile, we'll keep facing the other direction — the future. Building the biggest and best 5G network in the country! And we won't stop.
John Legere
T-Mobile CEO
Important Additional Information
In connection with the proposed transaction, T-Mobile US, Inc. ("T-Mobile") has filed a registration statement on Form S-4 (File No. 333-226435), which was declared effective by the U.S. Securities and Exchange Commission (the "SEC") on October 29, 2018, and which contains a joint consent solicitation statement of T-Mobile and Sprint Corporation ("Sprint"), that also constitutes a prospectus of T-Mobile (the "joint consent solicitation statement/prospectus"), and each party will file other documents regarding the proposed transaction with the SEC.  INVESTORS AND SECURITY HOLDERS ARE URGED TO READ THE JOINT CONSENT SOLICITATION STATEMENT/PROSPECTUS AND OTHER RELEVANT DOCUMENTS FILED WITH THE SEC WHEN THEY BECOME AVAILABLE BECAUSE THEY WILL CONTAIN IMPORTANT INFORMATION.  The documents filed by T-Mobile may be obtained free of charge at T-Mobile's website, at www.t-mobile.com, or at the SEC's website, at www.sec.gov, or from T-Mobile by requesting them by mail at T-Mobile US, Inc., Investor Relations, 1 Park Avenue, 14th Floor, New York, NY 10016, or by telephone at 212-358-3210.  The documents filed by Sprint may be obtained free of charge at Sprint's website, at www.sprint.com, or at the SEC's website, at www.sec.gov, or from Sprint by requesting them by mail at Sprint Corporation, Shareholder Relations, 6200 Sprint Parkway, Mailstop KSOPHF0302-3B679, Overland Park, Kansas 66251, or by telephone at 913-794-1091.
No Offer or Solicitation
This communication shall not constitute an offer to sell or the solicitation of an offer to buy any securities, nor shall there be any sale of securities in any jurisdiction in which such offer, solicitation or sale would be unlawful prior to registration or qualification under the securities laws of any such jurisdiction.  No offering of securities shall be made except by means of a prospectus meeting the requirements of Section 10 of the U.S. Securities Act of 1933, as amended.
Cautionary Statement Regarding Forward-Looking Statements
This communication contains certain forward-looking statements concerning T-Mobile, Sprint and the proposed transaction between T-Mobile and Sprint. All statements other than statements of fact, including information concerning future results, are forward-looking statements. These forward-looking statements are generally identified by the words "anticipate," "believe," "estimate," "expect," "intend," "may," "could" or similar expressions. Such forward-looking statements include, but are not limited to, statements about the benefits of the proposed transaction, including anticipated future financial and operating results, synergies, accretion and growth rates, T-Mobile's, Sprint's and the combined company's plans, objectives, expectations and intentions, and the expected timing of completion of the proposed transaction. There are several factors which could cause actual plans and results to differ materially from those expressed or implied in forward-looking statements. Such factors include, but are not limited to, the failure to obtain, or delays in obtaining, required regulatory approvals, and the risk that such approvals may result in the imposition of conditions that could adversely affect the combined company or the expected benefits of the proposed transaction, or the failure to satisfy any of the other conditions to the proposed transaction on a timely basis or at all; the occurrence of events that may give rise to a right of one or both of the parties to terminate the business combination agreement; adverse effects on the market price of T-Mobile's or Sprint's common stock and on T-Mobile's or Sprint's operating results because of a failure to complete the proposed transaction in the anticipated timeframe or at all; inability to obtain the financing contemplated to be obtained in connection with the proposed transaction on the expected terms or timing or at all; the ability of T-Mobile, Sprint and the combined company to make payments on debt or to repay existing or future indebtedness when due or to comply with the covenants contained therein; adverse changes in the ratings of T-Mobile's or Sprint's debt securities or adverse conditions in the credit markets; negative effects of the announcement, pendency or consummation of the transaction on the market price of T-Mobile's or Sprint's common stock and on T-Mobile's or Sprint's operating results, including as a result of changes in key customer, supplier, employee or other business relationships; significant transaction costs, including financing costs, and unknown liabilities; failure to realize the expected benefits and synergies of the proposed transaction in the expected timeframes or at all; costs or difficulties related to the integration of Sprint's network and operations into T-Mobile; the risk of litigation or regulatory actions; the inability of T-Mobile, Sprint or the combined company to retain and hire key personnel; the risk that certain contractual restrictions contained in the business combination agreement during the pendency of the proposed transaction could adversely affect T-Mobile's or Sprint's ability to pursue business opportunities or strategic transactions; effects of changes in the regulatory environment in which T-Mobile and Sprint operate; changes in global, political, economic, business, competitive and market conditions; changes in tax and other laws and regulations; and other risks and uncertainties detailed in the Form S-4, as well as in T-Mobile's Annual Report on Form 10-K for the fiscal year ended December 31, 2018 and in its subsequent reports on Form 10-Q, including in the sections thereof captioned "Risk Factors" and "Cautionary Statement Regarding Forward-Looking Statements," as well as in its subsequent reports on Form 8-K, all of which are filed with the SEC and available at www.sec.gov and www.t-mobile.com. Forward-looking statements are based on current expectations and assumptions, which are subject to risks and uncertainties that may cause actual results to differ materially from those expressed in or implied by such forward-looking statements. Given these risks and uncertainties, persons reading this communication are cautioned not to place undue reliance on such forward-looking statements. T-Mobile assumes no obligation to update or revise the information contained in this communication (whether as a result of new information, future events or otherwise), except as required by applicable law.