BELLEVUE, Wash. — May 22, 2023
You might have noticed an uptick of vacation selfies and pristine beaches flooding your feed lately. It's called revenge travel. And no, it's not traveling to spite your ex. Many Americans – eager to make up for lost time – are hitting the roads, seas and skies like never before. Despite packed airports, crowded destinations and rising prices, 80% of Americans are planning to travel as much or even more than they did last summer. A new Harris Poll survey from T-Mobile looks at how Americans are traveling, where they're going and what's important to them as they head into the summer travel season.
Summer Travel Trends.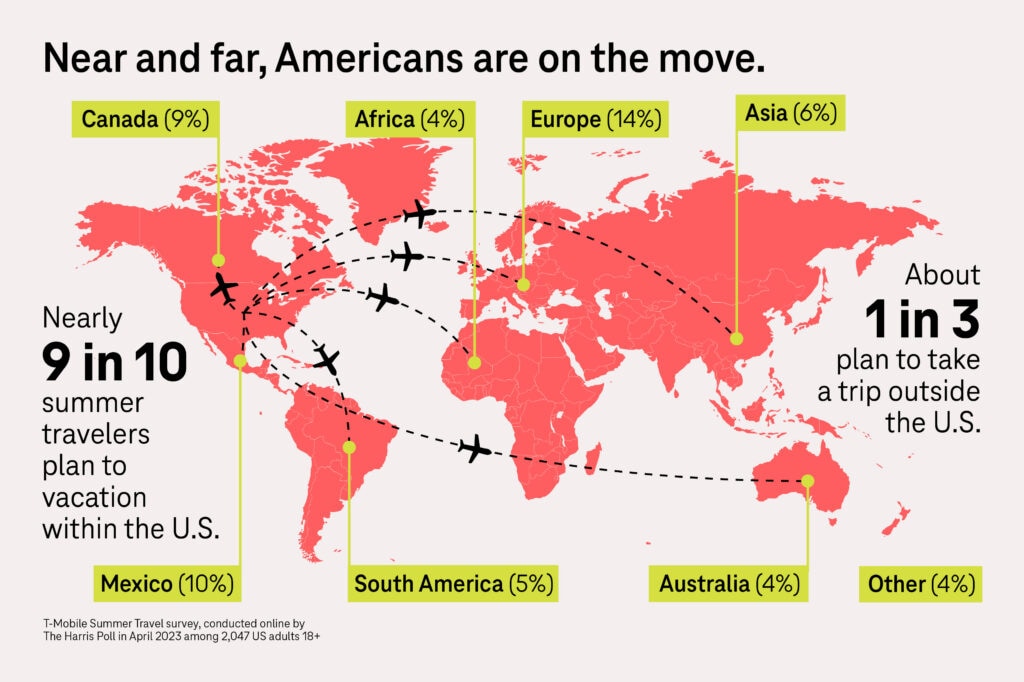 Hot Phone Summer.
One thing revenge travelers won't vacation without? Their phone. From a weekend trip to an epic getaway, staying connected is a major priority for people, sparing them the agony of Wi-Fi withdrawal and allowing them to focus on humblebrag-worthy check-ins. Reliable wireless connection when traveling is no longer a luxury, but an absolute necessity, with nearly all American travelers (95%) saying they rely on their mobile phone when traveling.
When it comes to what American travelers need most while traveling, wireless service/access to smartphone apps (34%) is ranked a priority alongside other travel essentials like good food/restaurants (36%), a comfortable bed (36%) and clean undergarments (32%). That's right. People care just as much about their phone as they do about clean underwear. Let that sink in.
Many said they'd even make some serious sacrifices to stay connected when traveling: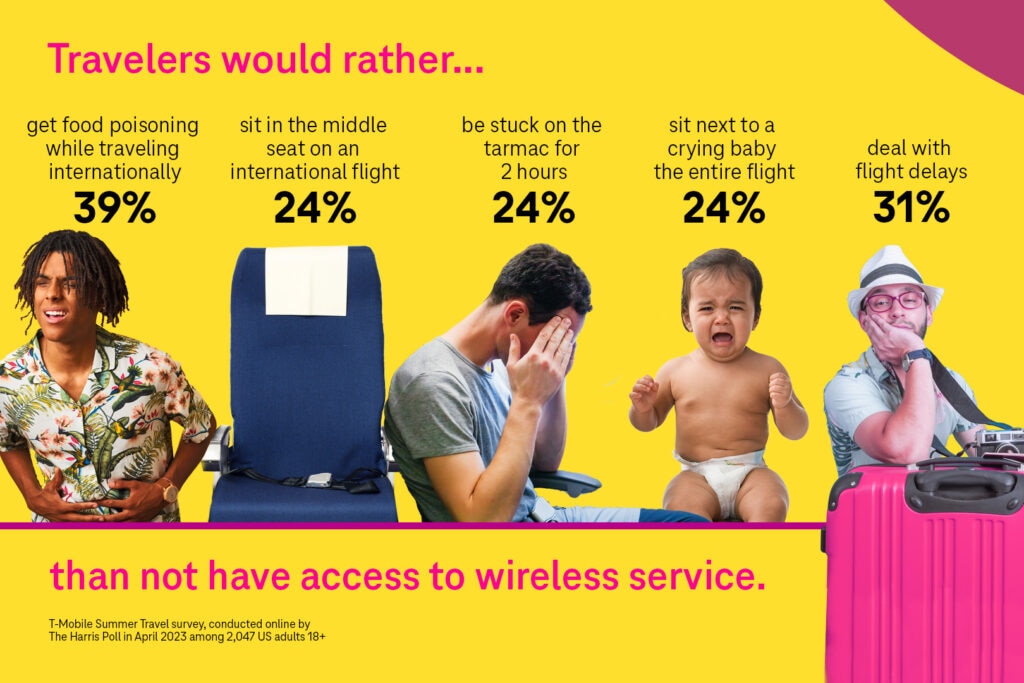 Connectivity is King (or Queen!) For Many Reasons When Traveling.
Work from wherever.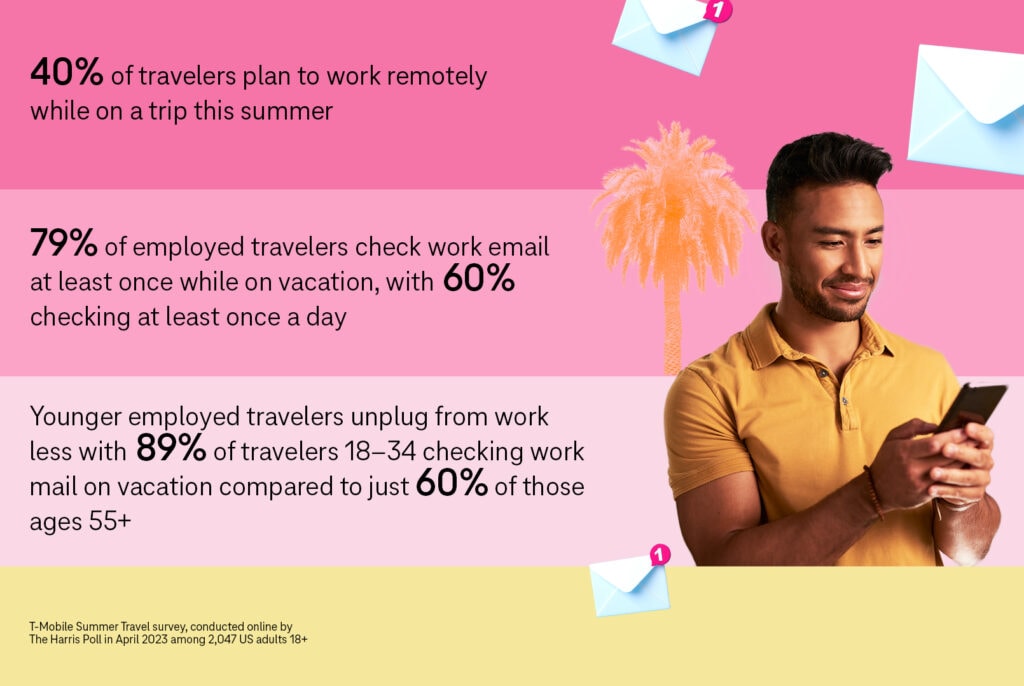 Smartphone users want to know where they're going and share what they're doing.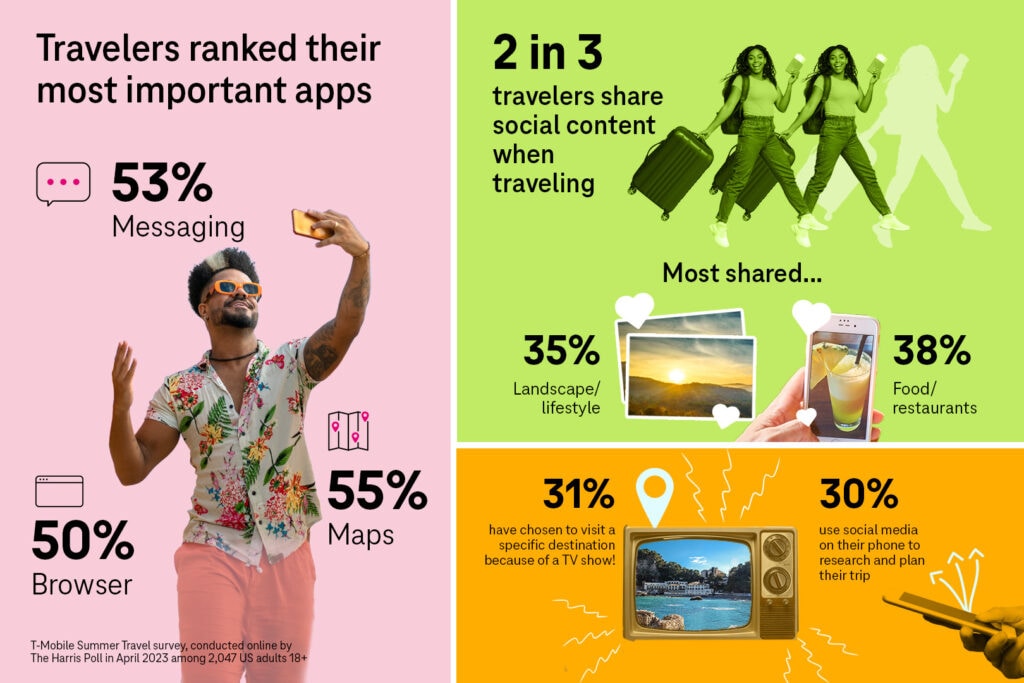 People want to stay connected from takeoff to touchdown.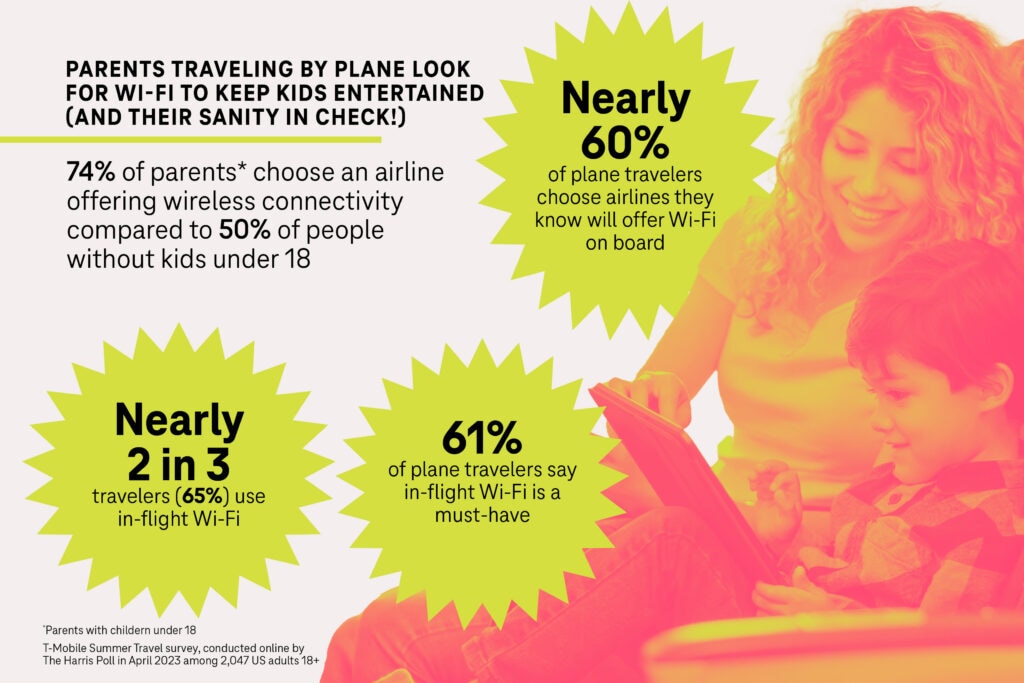 Digital dollars are becoming more mainstream.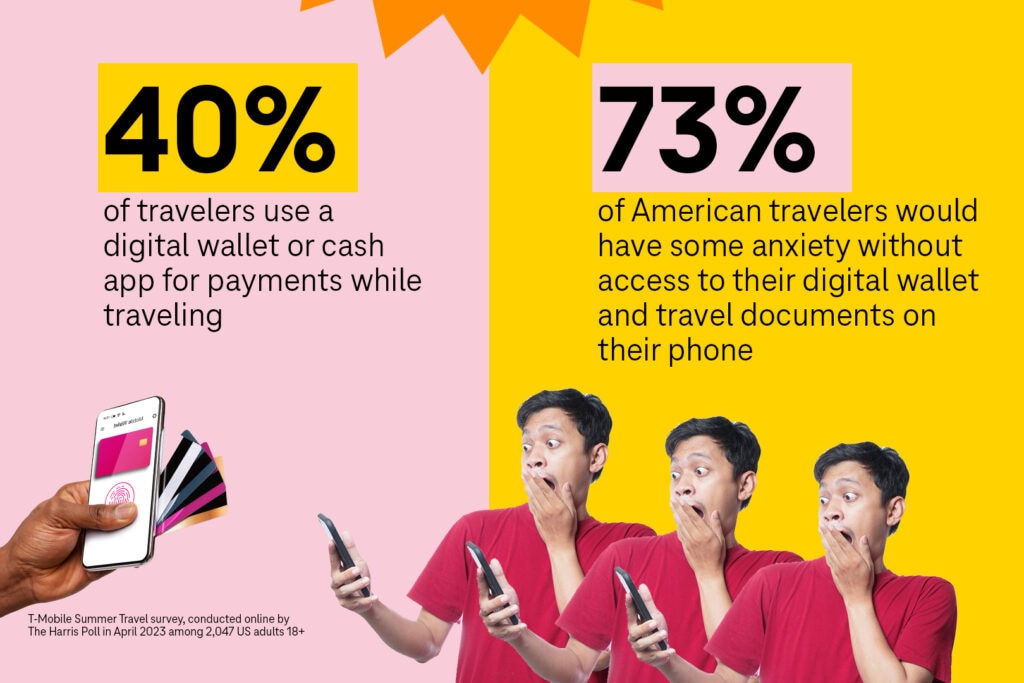 Stay Plugged-in to Avoid Freaking Out.
People feel very strongly about having wireless service while they travel, and for good reason. For most, it brings peace of mind on their journey.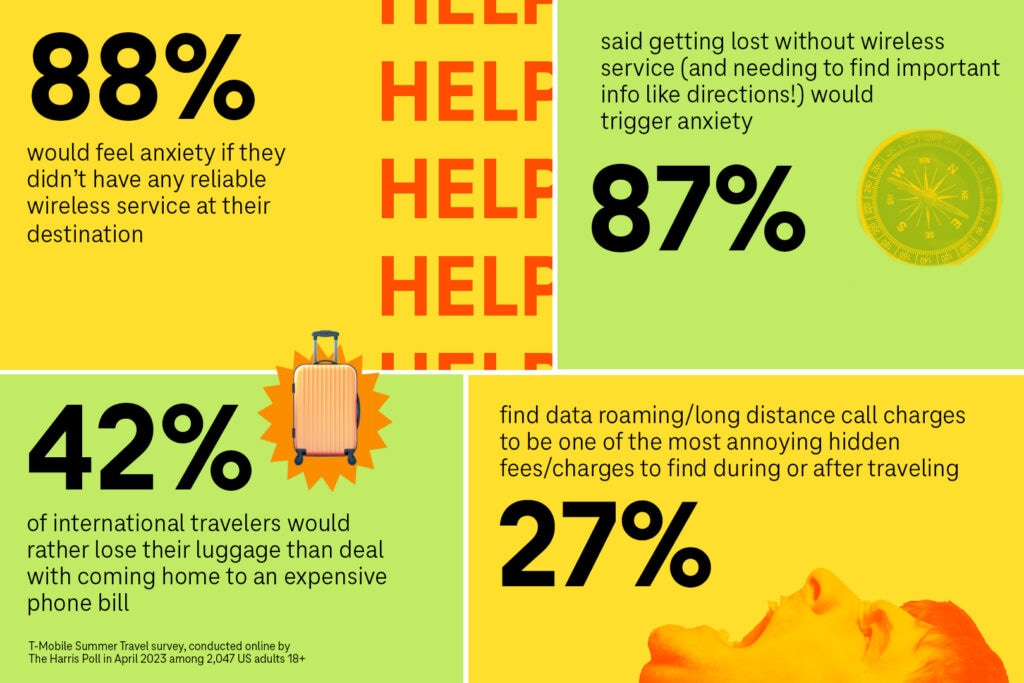 Travel Better with Built-in Benefits.
Americans are eager to travel this summer. But most people don't want to deal with the hassle and expense that can come with staying connected, especially when exploring other countries. Some phone plans – like the new Go5G Plus from T-Mobile – give customers built-in travel benefits and coverage that just works the minute they arrive. With free in-flight Wi-Fi, free high-speed data in 215+ countries and exclusive deals with T-Mobile TRAVEL from Priceline – the journey is seamless from start to finish and all included in the price of their plan.
With Go5G Plus, customers are upgrade-ready every two years and always get the same great device deals whether they're a new or existing customer. And since 83% of travelers list their phone as the most important tech to take, they'll love having the latest and greatest phone for whatever adventure awaits.
Plus, Un-carrier customers can vacation a little easier knowing they won't come home to a surprise 'international roaming' bill. A no-brainer for the 70% of people who say the cost of wireless service abroad is important when choosing a phone plan.
To slay any summer getaway, people should make sure their wireless plan is stacked with all the travel benefits needed to seamlessly stream, surf, navigate and share on every leg of a trip. Because it's more fun chasing sunsets than Wi-Fi signals.
Bon voyage, America – it's time for revenge travel!
###
This survey was conducted online within the United States by The Harris Poll on behalf of T-Mobile from April 18-20, 2023 among 2,047 U.S. adults ages 18+. Data are weighted where necessary by age and gender to bring them in line with their actual proportions in the population. Respondents for this survey were selected from among those who have agreed to participate in our surveys. The sampling precision of Harris online polls is measured by using a Bayesian credible interval. For this study, the sample data is accurate to within + 4.2 percentage points using a 95% confidence level. This credible interval will be wider among subsets of the surveyed population of interest. All sample surveys and polls, whether or not they use probability sampling, are subject to other multiple sources of error which are most often not possible to quantify or estimate, including, but not limited to coverage error, error associated with nonresponse, error associated with question wording and response options, and post-survey weighting and adjustments.
About T-Mobile
T-Mobile US, Inc. (NASDAQ: TMUS) is America's supercharged Un-carrier, delivering an advanced 4G LTE and transformative nationwide 5G network that will offer reliable connectivity for all. T-Mobile's customers benefit from its unmatched combination of value and quality, unwavering obsession with offering them the best possible service experience and undisputable drive for disruption that creates competition and innovation in wireless and beyond. Based in Bellevue, Wash., T-Mobile provides services through its subsidiaries and operates its flagship brands, T-Mobile, Metro by T-Mobile and Sprint. For more information please visit: https://www.t-mobile.com.