Effective 10/16/17: Verizon customers now get their carrier switching costs reimbursed up to the first $650. Customers with payments remaining that exceed $650 can still make the switch and pay the remaining balance.
Effective August 2nd, 2017
Premium Device Protection (PDP+) is no longer required to #GetOutOfTheRed
Now Verizon customers can switch to T-Mobile ONE Plus or ONE Plus International without having to trade in their device and T-Mobile will still pay it off for them!
T-Mobile ONE Plus offers many benefits, including HD video streaming, 10GB of high-speed Mobile Hotspot data, unlimited Gogo WiFi on domestic flights, and unlimited data in 140+ global destinations (up to 256kbps).
T-Mobile ONE Plus International offers all of that plus Mobile HotSpot data at up to 4G LTE speeds and Stateside International Talk.
Original Post
As Verizon's network slows under the load of unlimited data, T-Mobile is throwing Verizon customers a lifeline. Now, Verizon customers can keep their smartphone when they switch—and get their phone paid off in full.
And to celebrate summer, T-Mobile also kicks off a limited-time offer—two additional lines for the price of one.
Bellevue, Washington — May 24, 2017 — Kicking off the Un-carrier's summer celebration with the first of three announcements with four great pieces of news, T-Mobile (NASDAQ: TMUS) president and CEO John Legere today announced a spectacularly simple way for Verizon customers to switch to T-Mobile, keep their phone—and #GetOutoftheRed.
Starting May 31, Verizon customers with two of the most popular smartphones out there can walk (or run) into any T-Mobile store, put their phone on a faster network built for unlimited—and get that phone paid off in full. This limited time offer works whether you owe $1 or $1,000 on your phone—and gets you on T-Mobile ONE with device protection. With no more phone payments to make, that could mean thousands of dollars right back in your pocket. In addition, starting tomorrow and for a limited time, T-Mobile customers with two or more T-Mobile voice lines can get two additional lines for the price of one.
"After desperately launching unlimited, Verizon's network choked—while our network speeds surged. Today, T-Mobile has a whopping 23% speed advantage over Verizon," said Legere. "So, to kick off summer, we're going BIG right out of the gate and throwing a lifeline to millions of Verizon customers. Now, you can ditch Verizon, keep your phone, and we'll even pay it off for you! The latest superphones work GREAT on T-Mobile's network ever since we rolled out Extended Range LTE. So, now is the best time ever to #GetOutoftheRed!"
For years, carriers have led you to believe the phones you buy from them only work on their network. That's how it used to be, but no more. There is no such thing as a Verizon Pixel. It's just a Pixel, and today, many of the most popular smartphones, including the Pixel, work great on all networks. But the carriers still require you to trade-in a perfectly fine smartphone when you switch—simply to get you on the hook for a brand new device. Over the past four years, US wireless customers wasted more than $1.6 billion dollars trading in phones that work great. It's no surprise a full 75% of people say they wish they could keep their phone if they switched carriers. Enter the Un-carrier.
#GetOutoftheRed
T-Mobile is getting rid of the friction that customers experience when switching from Verizon—no more giving up your device, buying a new one and transferring your photos, contacts and apps. All that hassle—gone! Starting Wednesday, May 31, when you switch to T-Mobile from Verizon with a qualifying phone, you're free to keep your phone and your number—no trade-in required. Simply port in a number with T-Mobile ONE, pop in a new SIM, and you're all set. It's that quick and easy.
But it gets better. T-Mobile will also pay off anything you owe on that phone—whether you owe $1 or $1,000—for you and anyone else on your account when you sign on for T-Mobile ONE and device protection. That could mean thousands of dollars back for a family. And, you'll get paid faster than ever—typically within 15 days—with a digital prepaid MasterCard. So you'll get your money before your old carrier bill is even due.
Participating customers just need to protect their device with T-Mobile's Premium Device Protection Plus for $15 per month. For the first time ever, T-Mobile will protect your used phone. That's something that's never been done before by a major national wireless company. Up until now, customers had to give up their device protection if they switched networks, but T-Mobile is eliminating yet another barrier to switching and bringing your own device. The Un-carrier's got you covered, so you don't have to worry about losing that investment in your phone.
A Lifeline to Customers Trapped on Verizon's Sinking Network
The fact is, about 23 million Verizon customers say they are likely to switch carriers, according to a survey of Verizon postpaid customers. But, in reality, only around 9 million of them are expected to switch this year. That means 14 million Verizon customers want to leave but won't—because Big Red has them feeling trapped.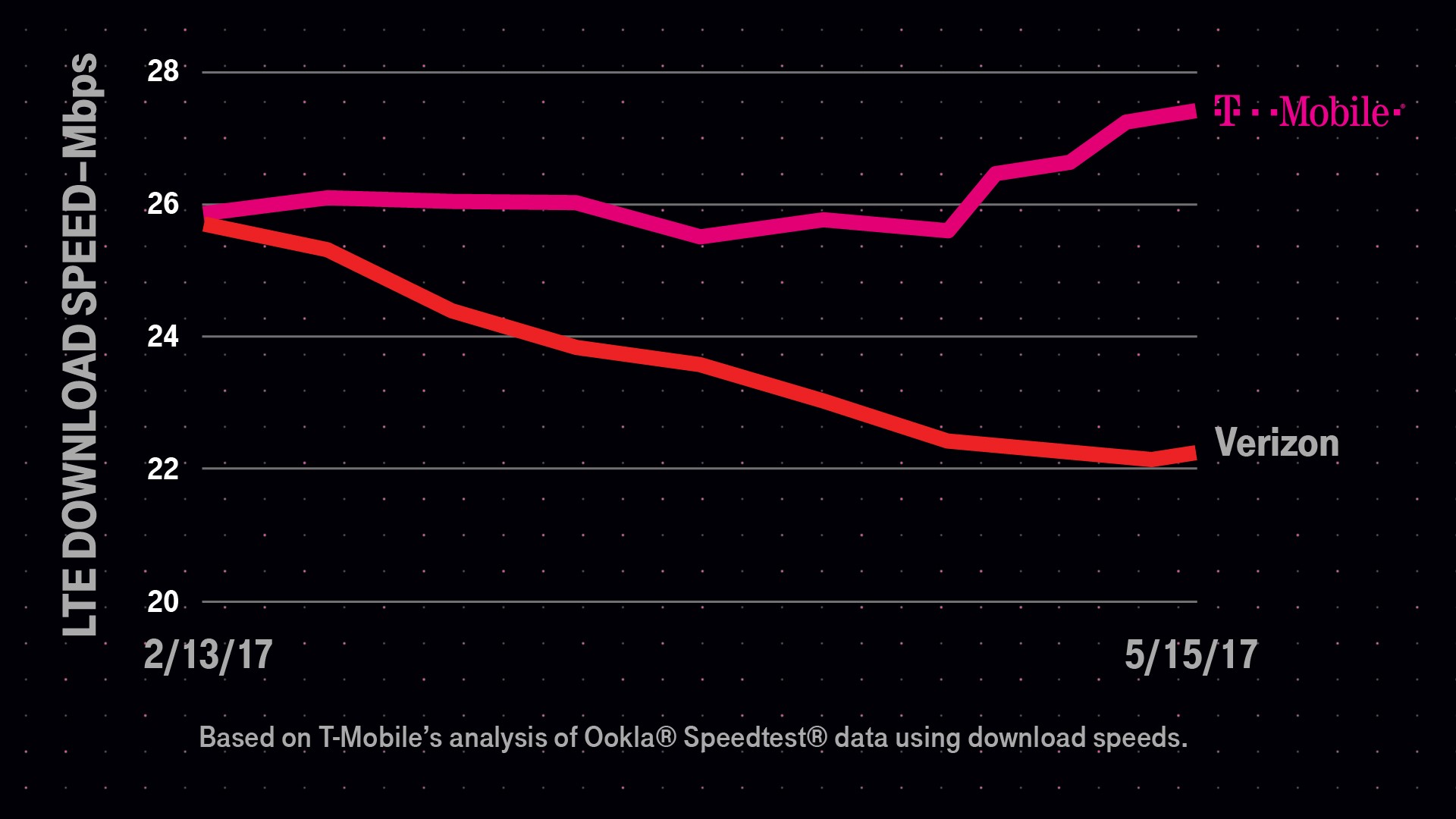 There are two big reasons those customers feel trapped. First, they feel locked in by phone payment plans, since they've got to come up with a big out-of-pocket payment if they leave. In fact, the average Verizon customer owes nearly $315 on their device. For a family, that could mean coming up with thousands of dollars to leave Verizon. Second, carrier customers feel trapped because of the time and the hassle involved in leaving. On average, it takes more than 3 hours to switch your family. And it
can take up to a full day.
When you #GetOutoftheRed, there's no more moving your pictures, contacts and apps from one phone to another. Simply ditch Verizon and keep your phone.
And now, Verizon's network is slowing down ever since the carrier launched unlimited data earlier this year—with speeds slipping by as much as 14%—over 3Mbps—in recent weeks. And, given Americans' fast-growing appetite for mobile data, Verizon's network isn't likely to get a break anytime soon. Last year, US wireless customers' data usage surged a massive 42% over the year before, according to the CTIA.
But there's good news for US wireless customers. Unlike the carrier networks, the Un-carrier network was built for unlimited. So, even though T-Mobile customers' data usage leads all others, T-Mobile's lightning fast network actually got lightning faster during that time.
Plus, while Verizon de-prioritizes data for customers who use 22 GB, T-Mobile's prioritization threshold just keeps growing. Today, in fact, T-Mobile announced it is upping it to 32 GB—a 2 GB increase over last quarter. Why? Because that's what you can do with a network built for unlimited.
#GetOutoftheRed will be available for a limited time in T-Mobile stores nationwide starting May 31.
For Customers of AT&T and Sprint
And, of course, the Un-carrier hasn't forgotten other carrier customers. Thanks to Carrier Freedom, AT&T and Sprint customers can also switch, and starting on May 31 for a limited time, T-Mobile will pay off your phone or early termination fee when you finance a new device. On top of that, for a limited time, there is no trade-in required at all. So you can keep that phone and do whatever you want with it.
Get Two Additional Lines for the Price of One
And, starting tomorrow for a limited time, customers with at least two T-Mobile ONE voice lines can get two additional lines of service for the price of one via bill credit. That's up to a $240 savings every year for a family of four. So, there's never been a better time to add family members; get a SyncUP DRIVE; or snag that new tablet or smartwatch.
LTE download speeds based on Speedtest.net data for the 15 day average from Jan 29 to Feb 12 (144,055 records, 25.70 Mbps average for Verizon; 168,431 records, 25.18 Mbps average for T-Mobile) and from May 1 to May 15 (213,490 records, 22.16 Mbps average for Verizon; 179,123 records, 27.22 Mbps average for T-Mobile).
 
Limited time offer; subject to change. New financed or leased device (or if Verizon iPhone SE, 6S, 7, or Pixel BYOD, PDP+ required), qualifying credit, service, port-in, 60+ days with carrier, and timely redemption required. You must be active and in good standing when payment is processed; typically 15-30 days. 1 offer/subscriber; up to 5 lines. Card issued by Citibank N.A., member FDIC. Terms apply; card expires.  Video typically streams at DVD quality (480p).  On all T-Mobile plans, if the network becomes intermittently congested the top 3% of data users (>32GB /mo.) may notice reduced speeds due to prioritization. 2 for 1 price is after bill credits and AutoPay. Qualifying credit and service required. May take up to 2 bill cycles; must keep regular price lines. $5 more/line w/o AutoPay.
 
About T-Mobile US, Inc.
As America's Un-carrier, T-Mobile US, Inc. (NASDAQ: TMUS) is redefining the way consumers and businesses buy wireless services through leading product and service innovation. Our advanced nationwide 4G LTE network delivers outstanding wireless experiences to 72.6 million customers who are unwilling to compromise on quality and value. Based in Bellevue, Washington, T-Mobile US provides services through its subsidiaries and operates its flagship brands, T-Mobile and MetroPCS. For more information, please visit https://www.t-mobile.com.
 
# # #
 
Media Contacts
T-Mobile US Media Relations
MediaRelations@T-Mobile.com
 
Investor Relations 
877-281-TMUS OR 212-358-3210 
investor.relations@t-mobile.com