OVERLAND PARK, Kan. (BUSINESS WIRE), June 05, 2016 – Sprint (NYSE:S) today demonstrated that its fastest and most reliable network ever can lure away even the most iconic people in wireless. That's right, Paul Marcarelli, the guy who used to ask if you could hear me now with Verizon, is appearing in new Sprint advertising and is now a Sprint customer.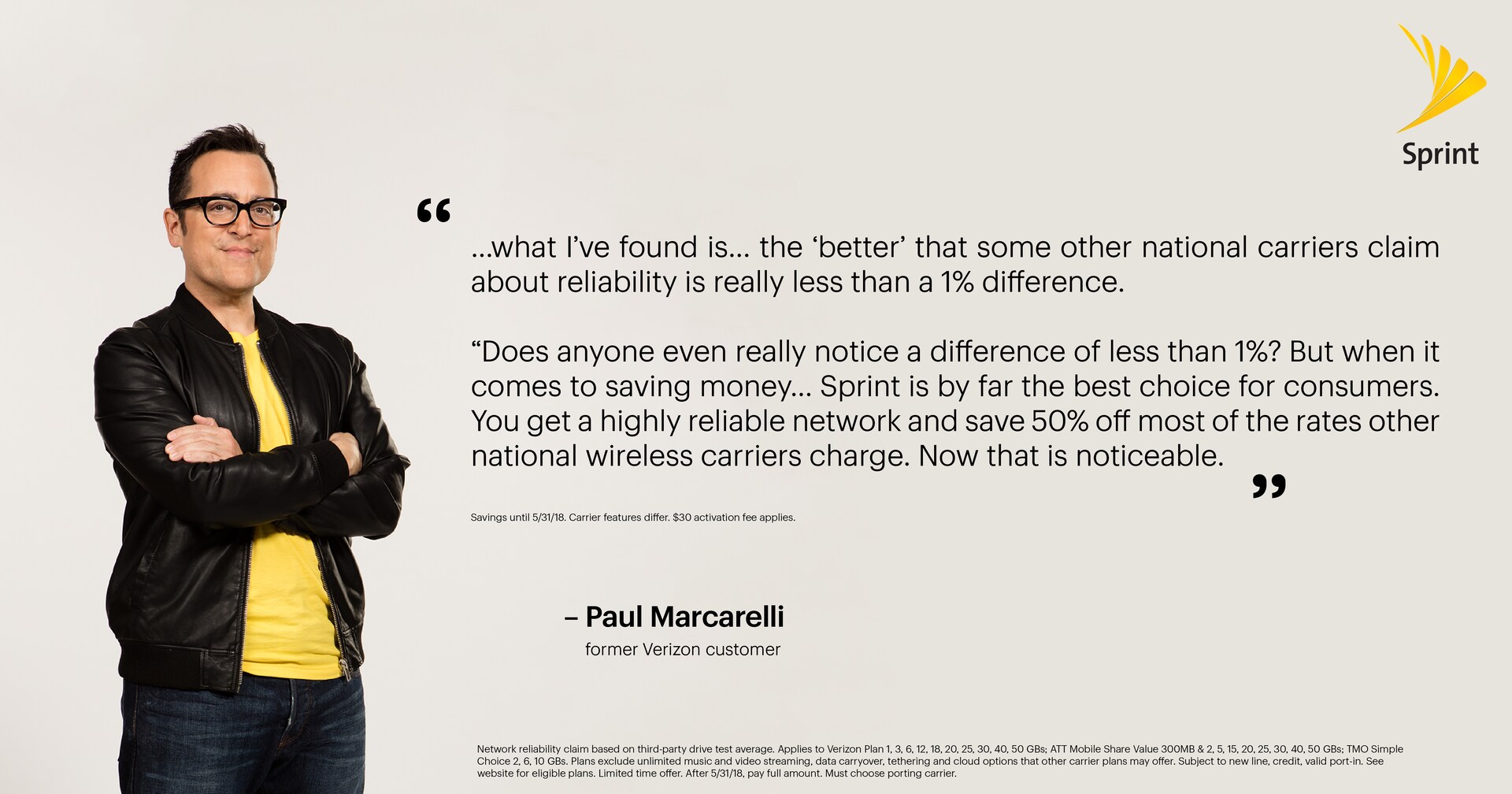 Press Kit with Images: Sprint Launches New Advertising Campaign
Sprint is featuring one of the most well-known faces in wireless (who recently switched to Sprint) to call attention to its vastly improved network and to highlight the savings that Sprint offers. Sprint's analysis of drive test data from Nielsen – covering the top 106 metropolitan markets in the U.S. – shows that Sprint's reliability now beats T-Mobile's and performs within 1% of AT&T and Verizon.1 This is a dramatic improvement over the last two years and gives Sprint customers a significantly better experience than before when connecting and using their favorite mobile devices.
"I've watched with interest as each of the wireless carriers claims to be the most reliable or the fastest," said Marcarelli. "But what I've found is…the 'better' that some other national carriers claim about reliability is really less than a 1% difference. Does anyone even really notice a difference of less than 1%? But when it comes to saving money…. Sprint is by far the best choice for consumers. You get a highly reliable network and save 50% off most of the rates other national wireless carriers charge. Now that is noticeable."
Sprint advertising featuring Marcarelli made its debut tonight on ABC during Game 2 of the NBA Finals. The ads also will appear on cable and network stations nationwide and in print and digital channels. These will soon be followed with out-of-home and radio advertising. Additionally, fans can follow Marcarelli on Twitter @ThatWirelessGuy. To watch the full-length ad, please visit: https://sprint.co/22HEKhu.
"We've made tremendous advancements in our network during the past year and Sprint's network reliability is now within 1% difference of Verizon," said Marcelo Claure, Sprint president and CEO. "Within 1%. We don't expect our customers would even notice such an insignificant difference. And Sprint will save customers who switch 50% on most national carrier rate plans. So Verizon customers can switch to Sprint, experience network reliability on par with Verizon and save money on their wireless service each month. Using Paul in our advertising demonstrates loud and clear that it's a new day in wireless."
Sprint encourages people to make the switch, like Marcarelli did, and take advantage of the biggest wireless offer in U.S. history – 50% off the price of most Verizon, AT&T and T-Mobile standard rate plans. 2 Customers who switch get 50% off most current rate plan prices, with savings until May 31, 2018. And, Sprint will pay switching fees up to $650 per line via an American Express® Reward Card after online registration and phone turn-in.3 Also, today is a great time to try Sprint with its 30-Day Satisfaction Guarantee.4 If you're not completely satisfied, Sprint will refund your money.
About Sprint
Sprint (NYSE: S) is a communications services company that creates more and better ways to connect its customers to the things they care about most. Sprint served more than 58.8 million connections as of March 31, 2016, and is widely recognized for developing, engineering and deploying innovative technologies, including the first wireless 4G service from a national carrier in the United States; leading no-contract brands including Virgin Mobile USA, Boost Mobile, and Assurance Wireless; instant national and international push-to-talk capabilities; and a global Tier 1 Internet backbone. Sprint has been named to the Dow Jones Sustainability Index (DJSI) North America for the past five years. You can learn more and visit Sprint at www.sprint.com or www.facebook.com/sprint and www.twitter.com/sprint.
1 Claim based on Sprint's analysis of latest Nielsen drive test data for average network reliability (voice & data) in top 106 markets.
2 Discount applies to base monthly service plan and access charges only. Discount does not apply to certain charges such as taxes, surcharges, roaming, premium content, add-ons, and apps. New plan features may not be an exact match. Carrier features differ. Discount offer limited to regular rates on consumer plans as of 6/1/16 for: Verizon's shared data rate plans as of 6/1/16 for 1GB, 3GB, 6GB, 12GB, 18GB, 20GB, 25GB, 30GB, 40GB and 50GB; T-Mobile's Simple Choice rate plan prices as of 3/31/16 for 2GB, 6GB and 10GB; and AT&T's shared data rate plans as of 6/1/16 for 300MB, 2GB, 5GB, 15GB, 20GB, 25GB, 30GB, 40GB and 50GB. Discount does not include competitor promotional or sale prices. Plans exclude unlimited music and video streaming, data carryover, and cloud options that other carrier plans may offer. Savings until 5/31/18 – after pay full amount. Offer/coverage not available everywhere or for discounted phones. Subject to new-line, up to $30/line activation fee, credit, valid port-in. Customer must choose from same porting carrier rate card.
3 Via an American Express® Reward Card (less trade-in value) after online registration and new phone activation.
4 Valid for a limited time. If a new customer or an existing customer adds a line of service (phone, tablet or MBB) and deactivates within 30 days, Sprint will credit all device charges (Installment Billing, Lease, or Early Termination Fee, when device is returned) and reimburse the customer for the device purchase, price or down payment, activation fee, MRC, and all associated taxes and fees. The following charges will not reimbursed: Premium content, third party billing, any international charges not included in your plan (e.g. international voice roaming) and any associated taxes and Sprint surcharges. As an example, overage, per minute international services with a cost outside of plan MRC are considered nonstandard usage.
View source version on businesswire.com: https://www.businesswire.com/news/home/20160605005109/en/