BELLEVUE, Wash. — June 22, 2023 — The year is 2005. Your collar's popped, and you're looking fresh in a new puka shell necklace as your bedazzled magenta RAZR V3 blasts 'Fergalicious' and your friends invite you over for a Guitar Hero jam session. Life is good.
Fast forward to today. The early 2000s are calling and T-Mobile is answering — with the release of custom nostalgia Throwback Packs to celebrate the launch of the motorola razr+, available exclusively at the Un-carrier in Pantone® Color of the Year 2023 "Viva Magenta" starting June 23. Since only T-Mobile customers can score the new motorola razr+ with the ultimate experience — America's leading 5G network and major value — T-Mobile is stoked to celebrate with these poppin' packs.
Featuring a bedazzle jewel set with 6,400 magenta rhinestones, tie-dye bucket hat, iridescent fanny pack, custom retro Ed Hardy inspired T-shirt and a puka shell necklace, it'll feel like the RAZR V3 (and the early 2000s) never left.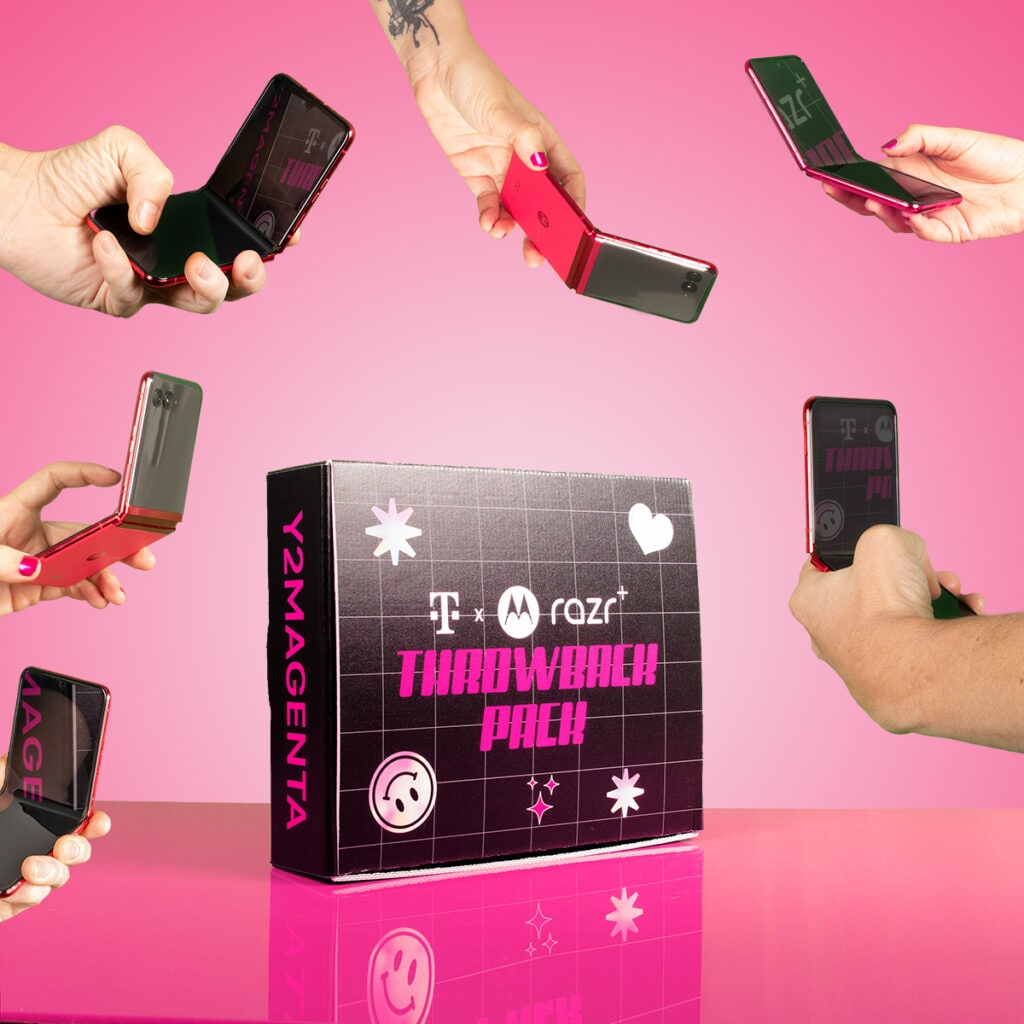 The Throwback Packs are $30. Orders are available beginning today at Sales.Y2Magenta.com while supplies last. The first 30 orders will include the new motorola razr+ in Viva Magenta.
For more details on all motorola devices at T-Mobile, visit https://www.t-mobile.com/cell-phones/brand/motorola.
Follow T-Mobile's Official Twitter Newsroom @TMobileNews to stay up to date with the latest company news.
See 5G device, coverage, & access details at T-Mobile.com.
About T-Mobile  
T-Mobile US, Inc. (NASDAQ: TMUS) is America's supercharged Un-carrier, delivering an advanced 4G LTE and transformative nationwide 5G network that will offer reliable connectivity for all. T-Mobile's customers benefit from its unmatched combination of value and quality, unwavering obsession with offering them the best possible service experience and indisputable drive for disruption that creates competition and innovation in wireless and beyond. Based in Bellevue, Wash., T-Mobile provides services through its subsidiaries and operates its flagship brands, T-Mobile, Metro by T-Mobile and Sprint. For more information please visit: https://www.t-mobile.com
###