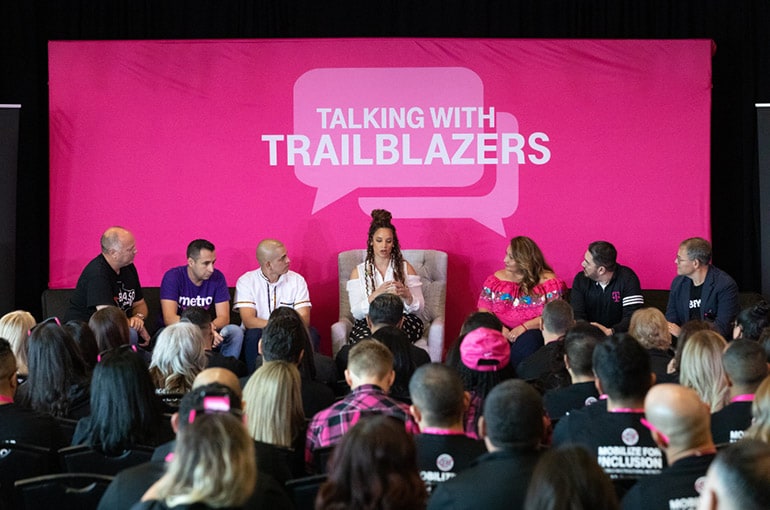 In recognition of Hispanic Heritage Month, Orange Is the New Black standout Dascha Polanco joined T-Mobile EVP of Consumer Markets Jon Freier and a panel of employees in El Paso as part of the wireless company's ongoing Talking with Trailblazers guest-speaker series, featuring some of the brightest, most innovative, creative and diverse leaders from across the country talking about topics that matter. The Netflix star, a naturalized U.S. citizen who was born in the Dominican Republic, opened up about her own journey as a Hispanic American.
"I'm a first-generation immigrant, and I am honored every time I'm approached about speaking regarding my heritage," Polanco said. "My experience is something that I feel is a blessing."
The conversation ranged from recognizing and respecting the culturally rich contributions of our Hispanic and Latino communities, to the importance of allyship at every level in our society. Here are some essential Trailblazer Takeaways from Dascha Polanco.
Don't just find a career — find your purpose.
"Before becoming an actress, I was in the healthcare field. For eight years, I managed the central sterile department of an operating room, which is all about decontamination and keeping things sterile for all procedures. I've seen every type of procedure, and I know all of the types of surgical instruments you need. At the same time, I was working on my second degree, a combined bachelor's and master's in nursing. But it wasn't my purpose. I needed something beyond just having a career to make money. I'm more of an artist, I realized. I had to find confidence and trust in myself to pursue that. I had a backup plan that I could always go back to. Finally, I just said to myself, 'You know what? I want to risk it.' And now I'm an award-winning actress."
Respect extends to the workplace.
"Hispanics and Latinos make up a large percentage of this country. To culturally respect and understand one another is important. Those of us in positions of leadership or influence have a responsibility to use our power to educate one another on how to respect each other. Things as little as hair can be an issue. I used to work in retail as a makeup artist. I was told that I couldn't wear my hair curly, it's not professional. And I was like, 'Well, what do you mean it's not professional? I don't understand.' Like, why is my natural hair texture not professional? We have to embrace each other's uniqueness, we have to make it acceptable in the workplace. We have to say that that if I wear my curly hair in the workplace — or anywhere — it is a beautiful thing."
Culturally appreciate, not appropriate.
"I know it might sound corny or cliché, but I feel like the world is becoming smaller with so much access to information and knowledge. There's no reason for any of us to be ignorant, there's no reason for any of us to tolerate oppressions and make excuses for people that choose to be disrespectful of different communities, of having an issue with you because of your ethnicity and your race and your culture. Even when it comes to things like fashion. That's when we have to really self-analyze and ask ourselves, 'Am I really honoring this culture? Or am I just using it to selfishly get attention. Like, is it for the likes? Is it because it's a trend? Do I really want to wear that and be disrespectful?' I like to respect cultures and I like to respect traditions and I like to be careful as to what's true to me. Why do I do it? What is the purpose? Make sure it's because you're appreciating a different culture, not appropriating it for the wrong reasons."
If you see something, say something.
"I think that for you to be an ally, you have to actually speak up. Sometimes we forget that in moments of solitude and isolation, or when we're going through tragic times, we need to hear a voice of hope. That's why I recently signed the 'Querida Familia Latina' ("Dear Latinx Family") letter along with 200 other Latinx celebrities like Eva Longoria, America Ferrera and Lin-Manuel Miranda. We need the entire Hispanic community to know that we're actually here for them, and that we are aware of their hardships. We were all affected as Latinos, as a community, because that's our shared heritage. Our heritage is to be together. We're in this together, family and beyond. You mess with one, you're going to mess with all of us. So that letter was hope. Hope that we are here, and we will continue to be as long as it takes for everyone to have equal representation."
Allyship begins at home.
"I have two kids, a daughter who's in college and an 11-year-old boy. And in my household, what I like to reinforce is where they're from culturally and transcend beyond that — evolving through different cultures and respecting the cultures. I don't think it's about right or wrong. I think it's about listening, communicating. If you are an ally, you are also teaching your kids how to be an ally. Kids are more honest and more intelligent and aware now than I think that they have ever been. I think it's all about educating, listening, and also practicing things in your household so that they feel like, 'Oh, I do this at home. I can do this outside.'"
Be the light you seek.
"One thing that has allowed me to feel more powerful and most confident, is when I know that I'm here not only to be a celebrity, but to be able to be a voice and a vessel of light for those that come behind me and have helped and supported me to reach my goals. When people tell me, 'Your light is too bright, I don't like your light!' I'm like, "Well, I can't turn off my light. My light transcends.'"
Seasons 1-7 of Orange Is the New Black are now streaming on Netflix. Want an amazing deal on Netflix? Sign up for T-Mobile's Magenta family plan! And stay tuned here for more Trailblazer Takeaways.