Last week, I had the honor of participating in the opening events for Cellphones: Unseen Connections, the new exhibition at the Smithsonian's National Museum of Natural History in Washington, D.C. The exhibition explores the technological, environmental and cultural impact of cellphones.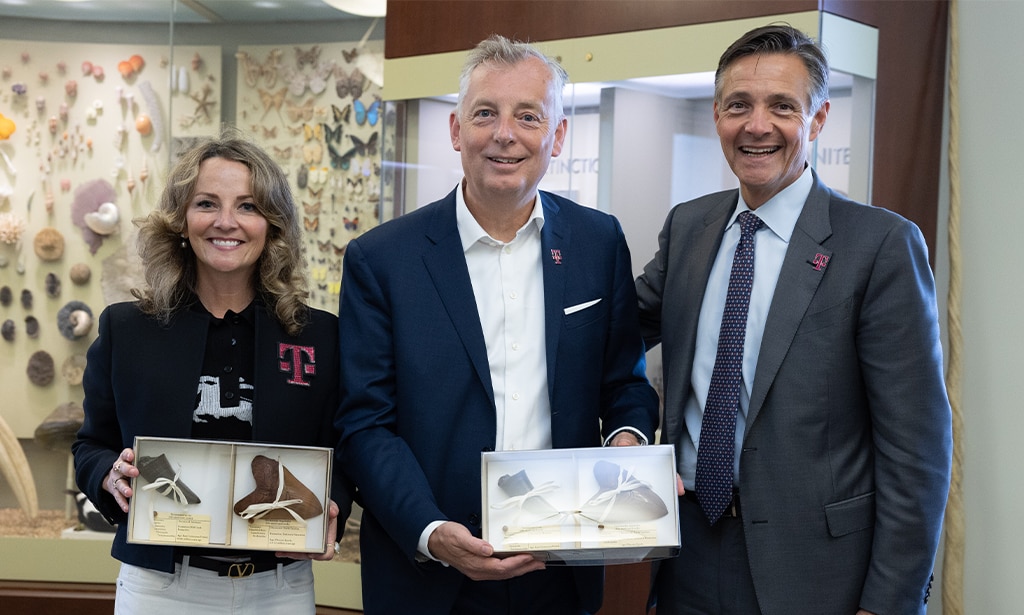 The story told in this exhibition is not just about cellphones. It's about what they unlock. While they started out as a way to make phone calls from wherever you could find a signal, today these devices –
along with the performance and coverage of the network that connects them – are essential to our lives.

T-Mobile discovered early on that cellphones would enable connectivity in a whole new way. Our iconic Sidekick – the first "all-in-one" device – disrupted the industry in 2002 with messaging, photos and music. Although we couldn't predict everything a cellphone might do at the time, it was clear that our brand and network were going to transform the way we connect.

In recent years, we have not only seen but also helped drive the continued evolution of computing. Smartphones have become increasingly powerful with new capabilities enabled by advancements in wireless connectivity, making it possible to access the internet and run complex applications from anywhere in the world … and it's always in the palm of our hands. This has led to a dramatic increase in connectivity as people are now able to stay connected with friends, family and coworkers, no matter where they are.

Our economy is also increasingly digital. How we do business, learn and live are all heavily influenced by advanced technologies like 5G. But there's a catch: digital economies worldwide won't prosper, and enterprises won't thrive, if we don't address the digital divide – the gap between those with and those without reliable access to the internet. According to the Federal Communications Commission, more than 8.3 million U.S. homes and businesses lack access to high-speed broadband. This issue is particularly concerning in rural and underserved communities, according to a Pew Research survey which found that these two groups are less likely to have internet access. The "racial tech gap" largely threatens Black and Hispanic workers who may be unprepared and under-skilled for jobs (and careers) in the digital economy.

As a company whose mission is to become the best in the world at connecting customers to their world, nothing's more gratifying than helping bridge the nationwide digital divide. Our ongoing commitment to deliver reliable connectivity in practically every corner of the nation – with great value – to those who previously lacked choice, has resulted in increased 5G coverage in rural areas by 90% over the past three years.

Another way T-Mobile is tackling this challenge is through Project 10Million, our $10.7 billion initiative aimed at closing the digital divide in education by offering free internet connectivity and mobile hotspots to up to 10 million eligible student households across the U.S. Since 2020, we've connected more than 5.3 million students with high-speed connectivity through Project 10Million and our other education initiatives.

We also participate in the Affordable Connectivity Program, which offers low-income families and other groups a discount on broadband service and devices. The subsidy goes directly to participating ISPs, creating a stable source of revenue and mitigating risks to investment in building networks in high-cost areas.

As president of T-Mobile Technology Group, I see how T-Mobile's 5G network and connectivity solutions improve operational efficiency, help realize cost savings and unlock productivity for businesses. Take health care, where we saw exponential growth of telehealth during the pandemic. Connectivity, more than ever, became a lifeline for patients in rural or underserved areas and for those who were homebound. With connected wireless clinics, doctors and other providers can easily tap into their patient's information in real-time to deliver virtual care.

The evolution of computing, wireless networks and connectivity is a truly remarkable story, and it is one that is still being written. I am excited to see what the future holds, and T-Mobile is committed to making sure everyone has the opportunity to participate in it.