It's official: T-Mobile customers continue to be the happiest. Un-carrier customers are the most satisfied in wireless two years running, rank T-Mobile highest for Quality AND score the fastest LTE network for the fifth year in a row.
What's the news
Un-carrier customers are the happiest in wireless for the second year in a row according to two different sources. And the Un-carrier's LTE network is fastest for the fifth straight year. Plus for the first time, T-Mobile led all major wireless providers on Quality.
Why it matters
Life's too short not to love your wireless provider, or deal with slower networks and carrier BS.
Who it's for
Wireless customers everywhere who want the best network, best quality, and just the best wireless experience there is. Yep, T-Mobile is the most loved in wireless for a reason…or three.
 
Bellevue, Washington – January 22, 2019 – It's a good time to be with the Un-carrier. T-Mobile (NASDAQ: TMUS) customers are starting off the new year on top yet again, with two independent studies showing they're the happiest in wireless for the second year in a row. And for the first time, T-Mobile led all major wireless providers on ratings for Quality. Maybe that's because Un-carrier customers are enjoying the fastest 4G LTE upload and download speeds for FIVE YEARS in a row (20 quarters or 60 months or 1,826 days … and counting). That's based on millions of actual customer experiences across all wireless providers by Speedtest Intelligence® data from Ookla®.
"Someone get the carriers a hearing aid...I've been saying for years that the key to customer happiness is simple – shut up, listen, and do what they tell you," said John Legere, CEO of T-Mobile. "Maybe they're not listening, or maybe they just can't deliver the fastest LTE network in the nation, give customers what they actually want and do it all with an incredible, customer experience obsessed team. Instead Verizon and AT&T are misleading customers with their invented 5G (W)TF and 5Ge! SMH."
It's true, T-Mobile customers again ranked highest for Overall Customer Satisfaction and Likelihood to Recommend all throughout 2018 according to the latest national results from a leading consumer opinion tracker1, which surveys more than 360,000 wireless customers annually. Still a skeptic? YouGov, an international data analytics firm, also reported that T-Mobile customers were the most satisfied in wireless throughout 2018, and for the first time T-Mobile ranked highest for Quality, too.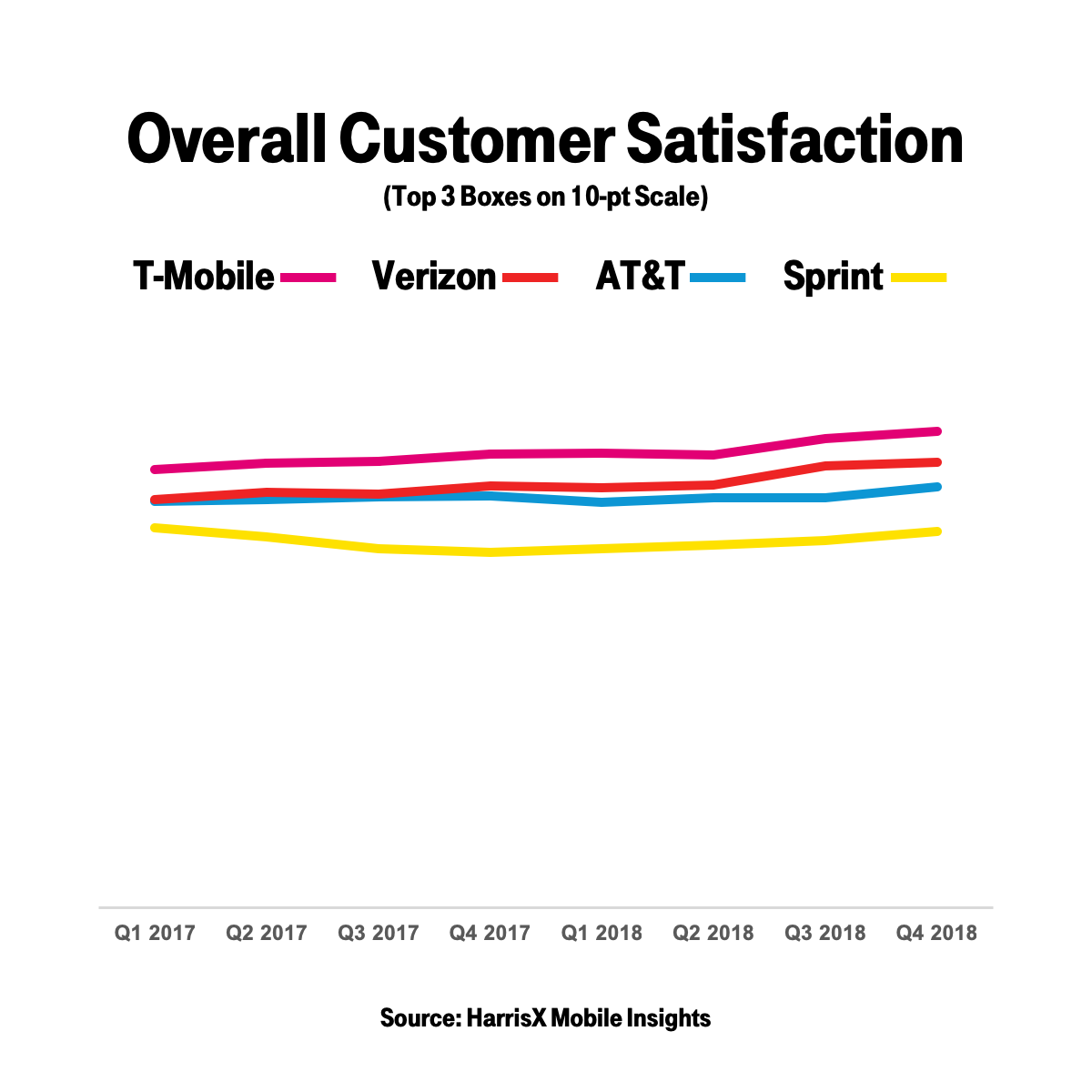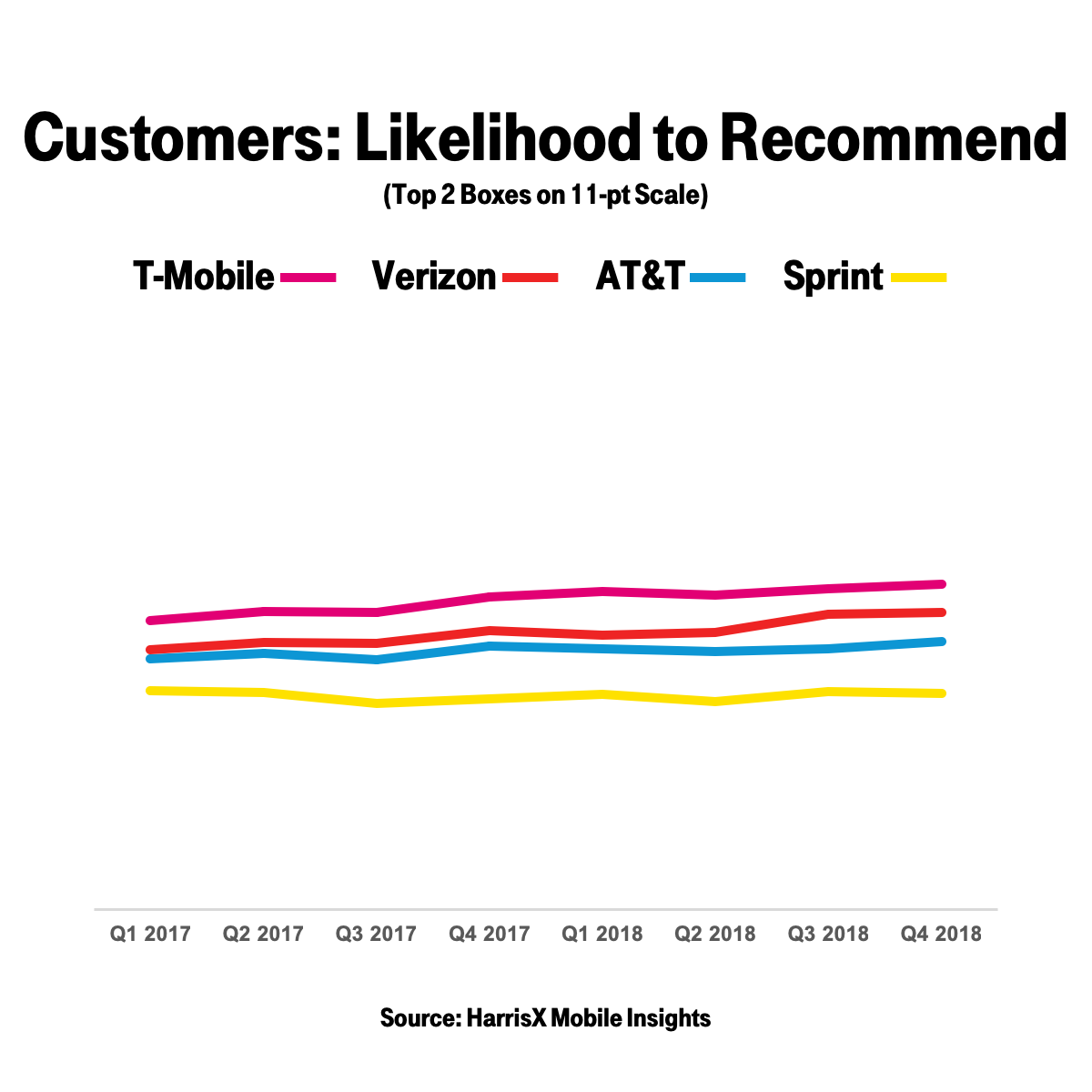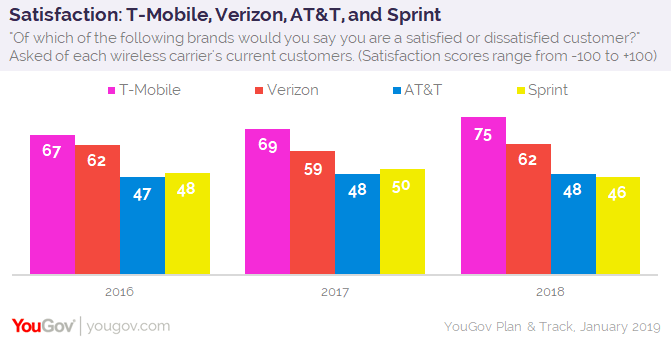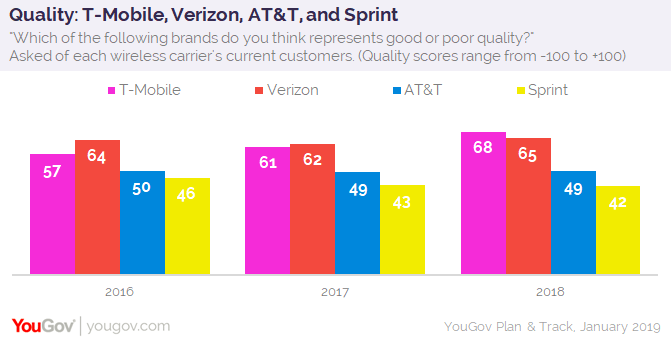 "While we've been improving our network – deploying more LTE-Advanced coverage than anyone else -- Verizon and AT&T have been working on duping customers with made-up 5G ... whether it's 5G (W)TF or 5GE, none of it is actual real 5G," said Neville Ray, Chief Technology Officer at T-Mobile. "It's no surprise that Un-carrier customers have the fastest LTE – faster than AT&T's 5GE (which, spoiler alert, is LTE). Our customers know that the days of choosing between the best network and the best value are history, and that's just one of the reasons they're the most satisfied in all of wireless."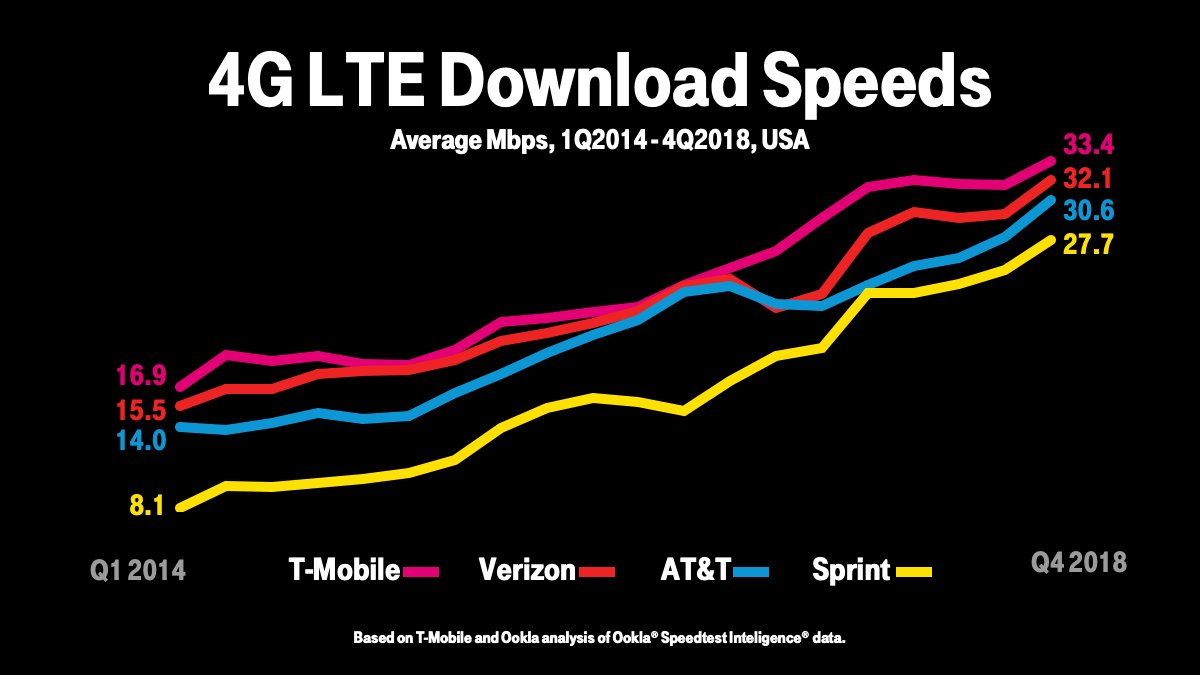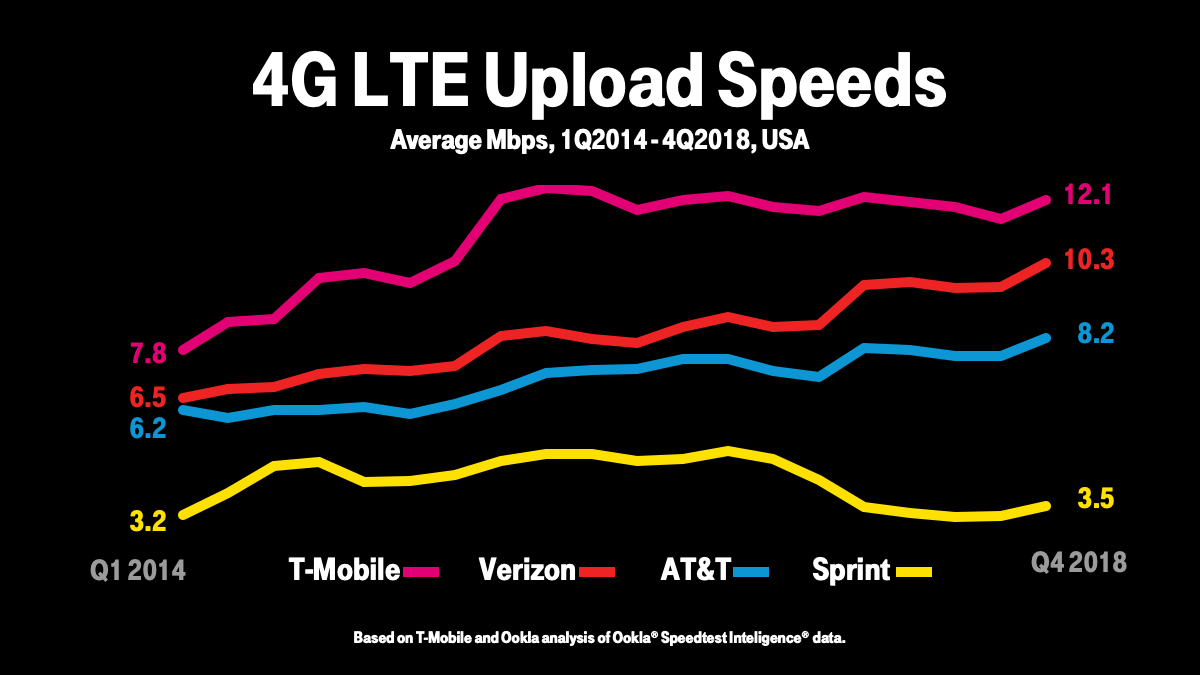 With the most LTE-Advanced coverage in the nation, T-Mobile just dominates network speeds, innovating and deploying new technologies so customers get fast and reliable coverage to use their devices whenever they want, from virtually anywhere. Speed-boosting LTE-Advanced technologies – including carrier aggregation, 4x4 MIMO and 256 QAM -- have been deployed in more than 6,000 cities and towns in the U.S., and T-Mobile's LTE coverage is neck-and-neck with AT&T and Verizon and growing. And, the Un-carrier is aggressively rolling out 600 MHz Extended Range LTE, which travels twice as far and works four times better in buildings than mid-band spectrum, with coverage already in more than 2,700 cities and towns across 43 states and Puerto Rico.
But being on the fastest network in the nation isn't the only reason T-Mobile customers are the happiest in wireless. Maybe it's because T-Mobile launched Team of Experts – a dedicated team of real people to help any time you call or text, with no bots, no bouncing and no BS. It could be because T-Mobile has blocked over a billion scam calls and offers an entire suite of free scam protection options for customers, including Scam ID, Scam Block and Caller Verified. Or maybe it's because T-Mobile ONE customers get taxes and fees included, Netflix on Us with family plans, and the industry's best travel benefits including a free hour of Gogo Wi-fi when traveling domestically and unlimited texting and data in over 210 global destinations. Or it could be the $1,550 in added value Un-carrier customers get every year including free stuff and discounts every Tuesday.
For more information on T-Mobile's network, visit T-Mobile.com/coverage.
1 Based on HarrisX Mobile Insights survey data using subscriber's self-reported rating of Overall Satisfaction on a scale from 1 (Extremely Dissatisfied) to 10 (Extremely Satisfied). Likelihood to Recommend is on a scale from 0 (Extremely Unlikely) to 10 (Extremely Likely). Underlying source data is estimation based on national survey of 90,000 quarterly mobile phone users, Jan 2017 through Dec 2018.
YouGov Plan & Track data is based on daily polls conducted between January – December 2018 involving a nationally representative sample of more than 35,000 U.S. consumers and each respondent's self-reported net perceptions (% positive - % negative). Satisfaction is calculated by taking the percentage of satisfied customers and subtracting it by the percentage of dissatisfied customers. Satisfaction is based on a 3-point scale (positive/negative/neutral). Quality is calculated by taking the percentage of customers who think a brand represents good quality and subtracting it by the percentage who think a brand is poor quality. Quality is based on a 3-point scale (positive/negative/neutral).
Data from Speedtest Intelligence® based on average 4G LTE speeds. Q1 2014 through Q2 2017 is T-Mobile's analysis of the data. Q3 2017 – Q4 2018 is analysis by Ookla® of the data.
About T-Mobile US, Inc.
As America's Un-carrier, T-Mobile US, Inc. (NASDAQ: TMUS) is redefining the way consumers and businesses buy wireless services through leading product and service innovation. Our advanced nationwide 4G LTE network delivers outstanding wireless experiences to 79.7 million customers who are unwilling to compromise on quality and value. Based in Bellevue, Washington, T-Mobile US provides services through its subsidiaries and operates its flagship brands, T-Mobile and Metro by T-Mobile. For more information, please visit https://www.t-mobile.com.