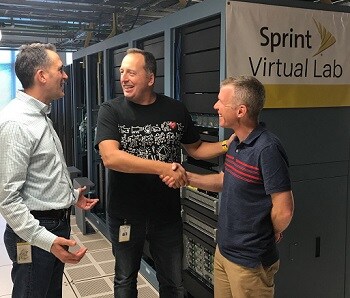 Today is a great day here at Sprint as we announce several of the industry-leading pioneers we are collaborating with on our nationwide Network Function Virtualization OpenStack cloud deployment. 
We've spent the last several years laying the foundation and charting a path for Sprint's NFV journey. NFV is an essential building block as we develop our LTE Plus Network to Gigabit LTE and 5G, which will require more efficient scaling of core network capabilities to handle the dynamic flow of data requirements among our customers.   
On the journey to virtualize our network, we have taken a multi-pronged approach to address both the operational and the technological components of NFV.   This has included preparing and creating passion amongst our key technology teams for the paradigm shift to a virtualized world via an ongoing series of internal "Open Door Day" dialogues.  In addition, we started two years ago to create and deploy common infrastructure in more than 30 data centers around the network.  These data centers will be expanded as needed in the future to facilitate our "cap and grow" approach to commercializing NFV.  Going forward, we will cap our expansion on legacy core network hardware, while growing new functionality and capacity on our virtualized platform. 
We're excited to lay this foundation as part of Sprint's network virtualization initiative, which we expect will deliver an expanding range of innovative services to our customers for many years to come. These new services will enable our customers to do more with the devices they depend on at home and at work, while reducing our infrastructure and operating costs.
For NFV, Sprint is committed to deploying open-source software on standards-based hardware to provide a more flexible, innovative, and cost-effective network that can support the 5G requirements for super-high data speeds, ultra-low latency, automation, and mass connectivity required for IOT, Ultra HD video, AR-VR, and Edge computing.  This approach builds on our recent announcement of C3PO, Sprint's open source NFV- and SDN-based mobile core reference solution.
To accomplish these foundational goals, Sprint has been building out a new virtual Core – replacing stand-alone, bare metal platforms with a single Network Function Virtualization infrastructure (NFVI) on which all of the Evolved Packet Core (EPC) and IP Multimedia Sub-System (IMS) platforms virtually reside as Virtualized Network Functions (VNFs). 
Over the past two years, Sprint has virtualized our messaging platforms in the network and we have started migrating Multimedia Messaging Service (MMS) and Short Message Service (SMS) functions over to this NFV platform.  As of today, 100% of IP Short Message (IPSM) traffic has been virtualized.   In fact, during the first half of 2017 Sprint was tied for #1 in text messaging due in large part to IPSM supporting IP based text messaging over LTE.  In addition, we are currently migrating SMS traffic to NFV.   SMS will be fully virtualized by the end of 2017 and we will deploy the MMS VNF onto the virtual platform during the first half of 2018.
With this next step for NFV, Sprint is extending its existing vendor ecosystem with the introduction of new, agile, innovative, and smaller players. Sprint is using new providers in many areas starting with the SBC (Session Border Controller), the Call Session Control Function (CSCF), and the Telephony Application Server (TAS) functionality. Our providers are Metaswitch for the SBC, CSCF, and the Breakout Gateway Control Function (BGCF) as well as Mavenir for the TAS, Media Resource Function (MRF), and policy Diameter Routing Agent (pDRA).  Virtualizing the EPC and IMS onto a single NFVI will enable Sprint to scale the Core up or down dynamically to support new 5G services, depending upon demand.
Now is the right time to leverage the benefits of NFV, as we evolve towards Gigabit LTE and 5G.  We expect this to be a progressive roll-out of functionality, which will begin to introduce new functionality and capabilities, release by release.  As we move forward, we expect that the strengths of NFV and our ecosystem will afford Sprint greater flexibility, greater efficiencies, and more agility in terms of innovation. 
With this enhanced core network capability added to our network toolbox, it's a great time to be a Sprint customer!
mfg – go
("mit freundlichen grüssen" which means "with kind regards")