The majority of Sprint's retail locations are open to offer device repair and charging stations for anyone in the area. Please check the Sprint store locator tool to confirm that the store nearest you is currently open.
Photos of Sprint's Emergency Response Team on the Ground in Florida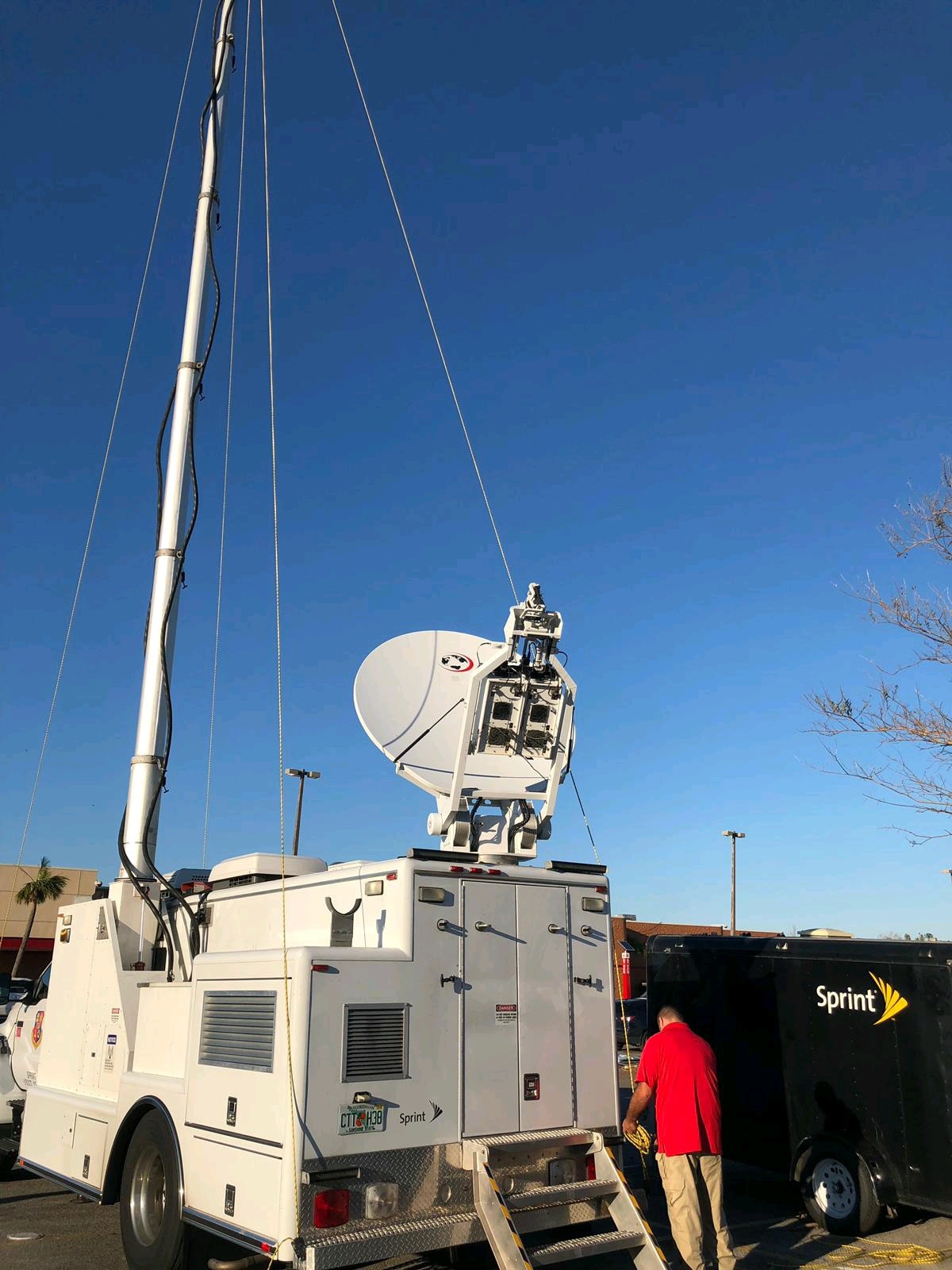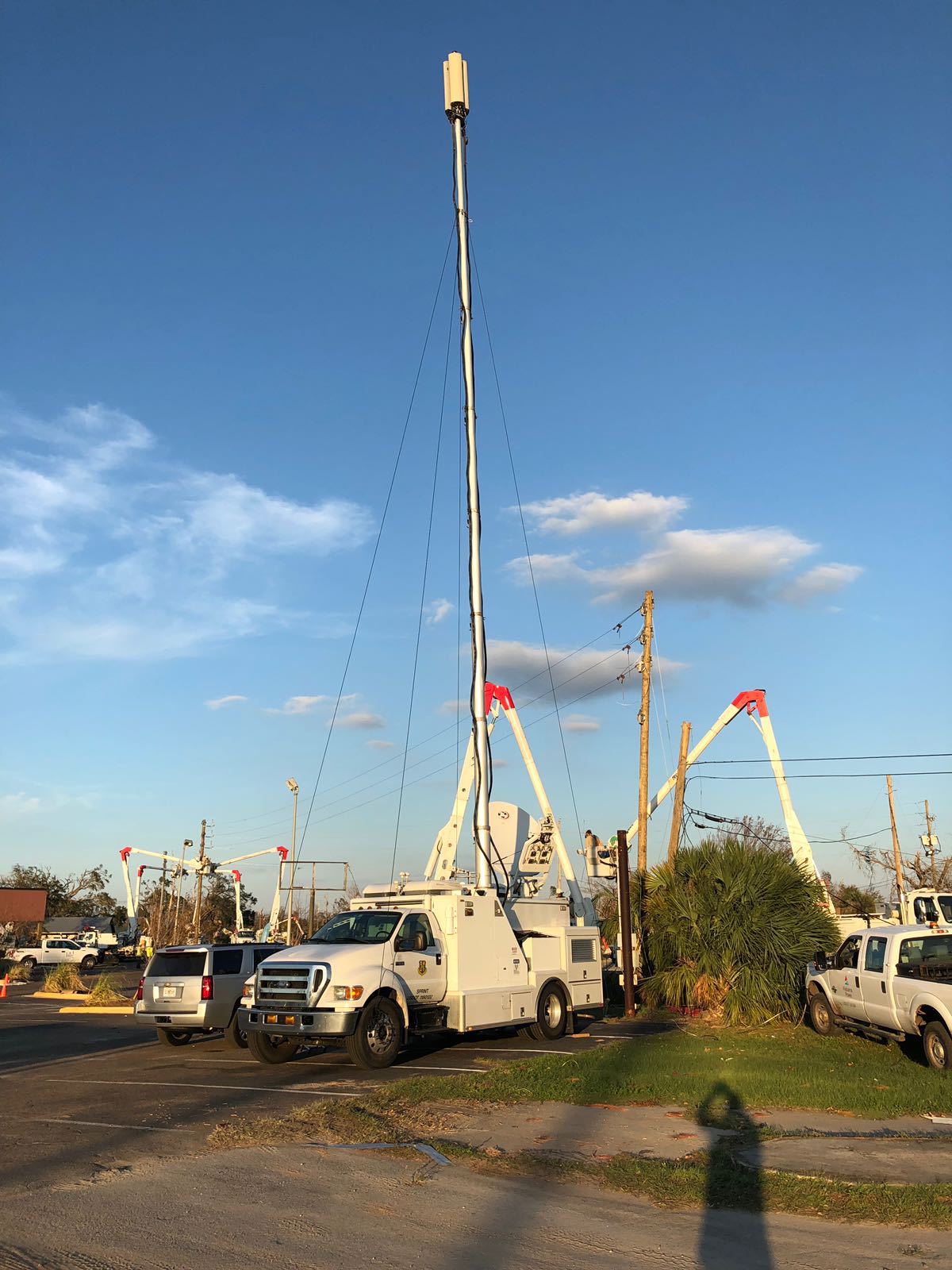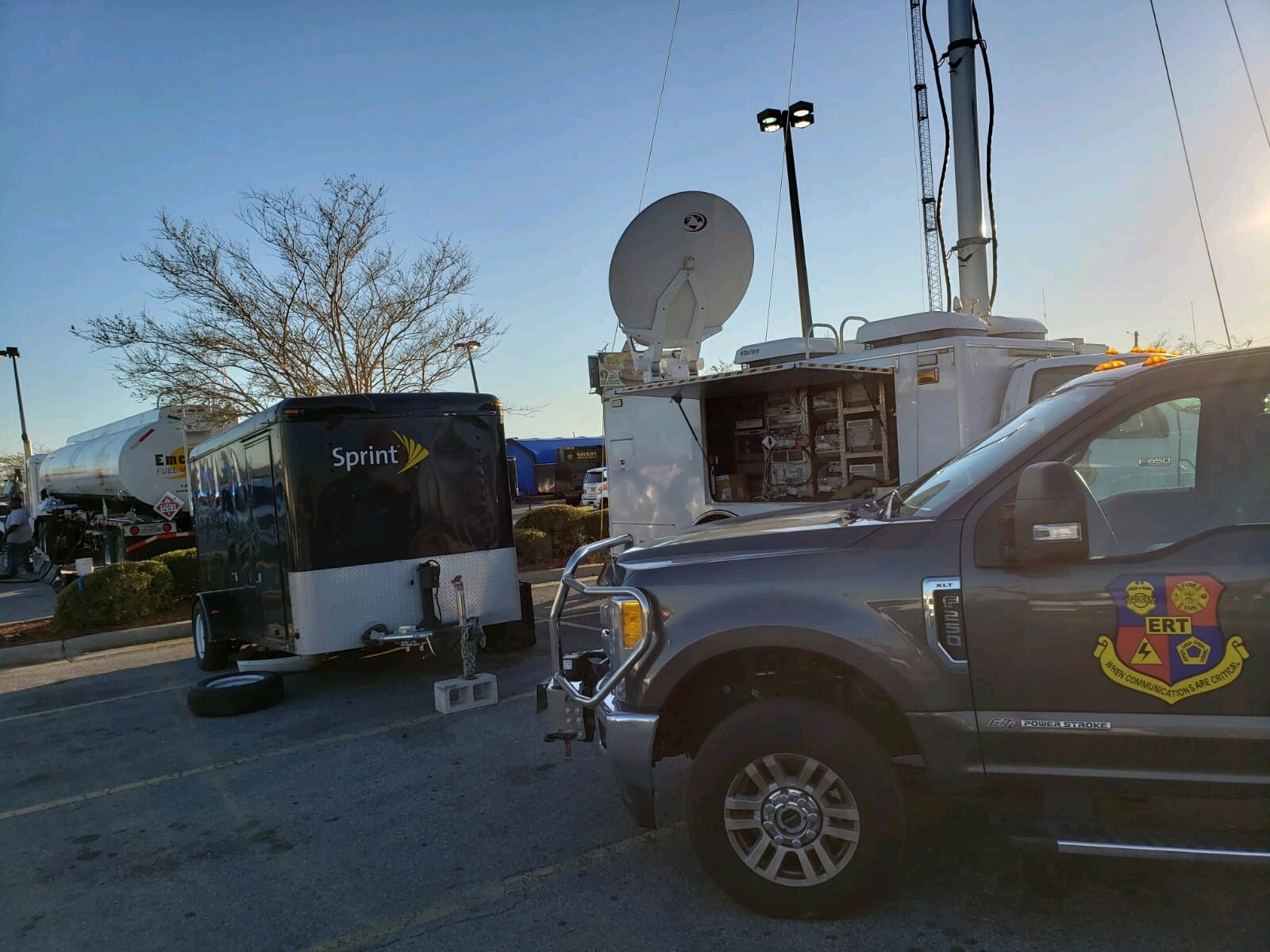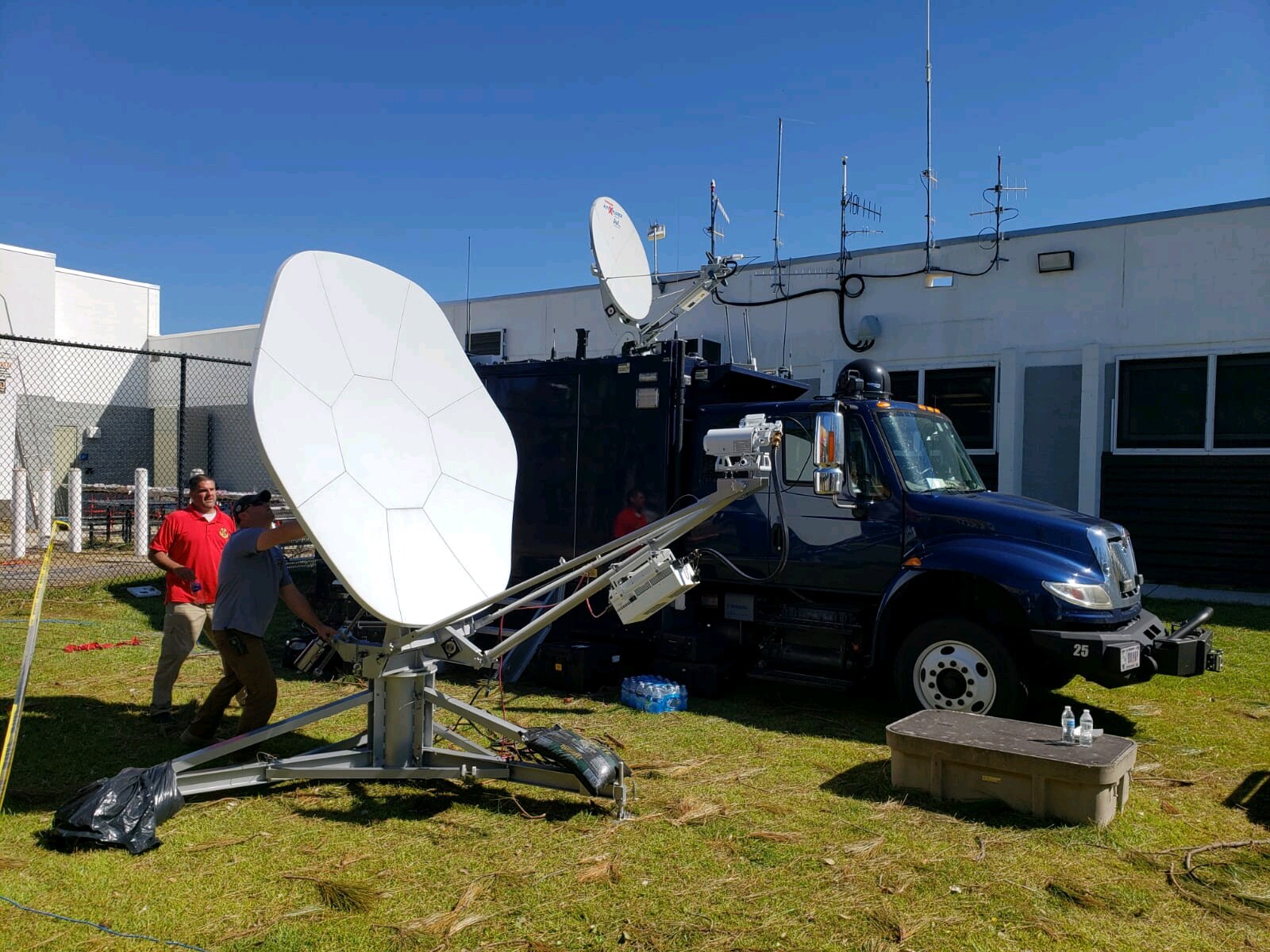 Sprint Update on Network Restoration; Extends Credits to Florida Customers Impacted by Hurricane Michael
October 17, 2018 – Sprint continues to make significant progress in restoring service to our Florida customers and as a result the majority of Sprint customers in areas impacted by Hurricane Michael now have wireless service. Because of ongoing commercial power outages and delays in fiber backhaul restoration in some areas, some customers in the hardest hit areas by the hurricane are still experiencing disruptions in service. Network and Emergency Response teams have been on the ground throughout the region working aggressively, and doing everything possible to restore service as quickly and safely as possible.
In the meantime, to help our customers during this difficult time, Sprint will proactively credit monthly recurring charges for one month for all Sprint customers in Bay, Calhoun, Franklin, Gulf, Jackson, Liberty, and Washington counties. Each Sprint subscriber on the account will receive a credit in the amount of one monthly service plan charge, including tax. Sprint previously announced it will waive all overage fees to customers across the impacted region. Credits do not include equipment fees or other optional add-ons. Customers should continue to pay the amount indicated on their bill, but be assured that the credits will be applied in future cycles.
Sprint Extends Support for Customers Impacted by Hurricane Michael
October 16, 2018 – In response to the devastation left by Hurricane Michael, Sprint has extended the assistance it's providing to impacted customers. From Oct. 10, 2018 through Oct. 18, 2018 Sprint will waive call, text and data overage fees. Those customers who are already on Unlimited plans, they will continue to have their unlimited call, text and data benefits.
Sprint Assisting Customers Impacted by Hurricane Michael
October 10, 2018 — Sprint announced support today for customers impacted by Hurricane Michael and resulting flooding in Alabama, Florida, Georgia and Mississippi. Sprint customers impacted by Hurricane Michael with usage between Oct. 10, 2018 and Oct. 14, 2018 will have call, text and data overage fees waived for the full billing period. Customers on Unlimited plans will continue to enjoy their unlimited data, call and text benefits.
Sprint is Prepared for Hurricane Michael
October 8, 2018 — Sprint is monitoring the path of Hurricane Michael as it moves toward the U.S. and we're prepared to help keep our customers connected during and after the storm.
Some of the actions that are currently underway include:
Activating of our Incident Management, Network and Emergency Response Teams (ERT) to prepare for this potential event.
Finalizing our Incident Action Plans and conducting protective action measures for our employees, network facilities, operations centers, retail stores, and other facilities where necessary.
Conducting operational readiness checks for all power generation assets, including staging and fuel-topping both our fixed and portable equipment at cell sites, switching centers and network POPs which provide network services to our customers and other critical facilities.
Preparing COWS, COLTS, SatCOLTS and other mobile cellular infrastructure for potential deployment to areas where coverage may be needed. 
Staging a number of satellite assets that can provide temporary cellular as well as internet (last mile) connectivity.
Preparing charging stations for deployment as necessary.
Also, the Sprint ERT has activated its 25/14 Customer Disaster Support Program, providing 25 handsets and/or hotspots to any state or local government agency impacted by Hurricane Michael or providing mutual assistance in the preparation or response to this event.
Finally, as a reminder, now is the time for anyone in the path of Hurricane Michael to start preparing for the storm's U.S. landfall. Here are some of Sprint's tips:
Make a disaster kit yet that includes flashlights, food and first aid kits. It's also handy to include portable charging devices, such as car adapters, wireless and battery chargers, and waterproof cases and backup batteries.
Program all of your emergency phone numbers into your mobile device. Good ones to include are police, fire and rescue, medical services, friends and family. And, as an extra precaution – write these numbers down on paper, seal it in a plastic bag, and keep it in a safe place in the event your device loses power.
Subscribe now to emergency and critical communications alerts from your local and state government agencies, and weather stations that cover forecasts for your area.
Have multiple ways to stay informed. Download storm apps from the Red Cross and FEMA which can provide helpful resources for local area outreach, such as shelter finders and emergency meeting location information.
Always remember to keep your wireless devices charged when possible as commercial power loss during and after a storm may happen. It's also a good idea to have additional batteries and car-chargers for back-up.
Use text messaging when possible due to high call volumes and possible network congestion in the local area.
Have a range of different-sized plastic, re-sealable bags on hand to store all of your technology items and make sure everything is charged in advance because flooding is unfortunately a concern with major weather events like hurricanes.
Stay informed before, during and after a major weather event by following @Sprint, @SprintCare, @SprintNews, @SprintsERT. Also, check back on our Hurricane Michael Newsroom page for regular updates. We will make it our priority to keep our customers up-to-date with alerts and information on our network.