Today Sprint (NYSE: S) announced that the award-winning Sprint Magic Box is slated for deployment in approximately 100 City of Pittsburgh buildings to provide connectivity for the nation's first fully integrated Energy Savings as a Service initiative.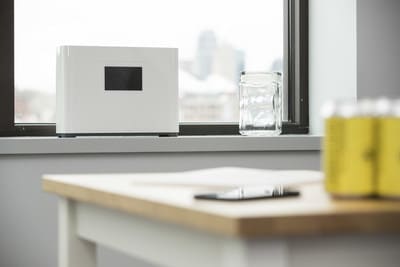 BOSS Controls, an IoT energy management company headquartered in Pittsburgh, has received the intent to award contract from the City of Pittsburgh. It is collaborating with Sprint and the City of Pittsburgh's Sustainability and Resilience Division, Facilities Bureau and the Department of Innovation and Performance and other companies to provide immediate energy savings for city buildings, making Pittsburgh a national model for clean energy innovation.
Sprint Magic Box, which offers improved data coverage and increased download and upload speeds, and Sprint LTE modems with Wi-Fi, will connect BOSS Smart Plugs installed in the City of Pittsburgh buildings. The BOSS Smart Plugs can be added to any electrical device that simply needs to be scheduled off when the buildings are unoccupied, ultimately netting meaningful cost savings and granting the city a reduced carbon footprint.
"This is a great example of how Sprint Magic Box is making a difference for our customers with a data connectivity solution that's so simple to use," said Scott Santi, Head of Network Deployment & Operations at Sprint. "We're proud to play a part in launching this innovative program to increase energy efficiencies and lower costs with the City of Pittsburgh."  
Sprint Magic Box is the world's first all-wireless small cell, which improves data coverage and increases download and upload speeds on average by 200 percent.1 This low cost, self-configuring small cell provides indoor coverage averaging up to 30,000 square feet, but its signal also extends data coverage to Sprint customers in nearby businesses. As part of its Next-Gen Network investment, Sprint is densifying its network by deploying more small cells – including Sprint Magic Boxes – to improve coverage, reliability and speed for consumers and businesses in cities across the country. 
For more information about the integrated Energy Savings as a Service initiative visit https://bosscontrols.com/boss-city-pittsburgh-roll-energy-savings-service/.
About Sprint:
Sprint (NYSE: S) is a communications services company that creates more and better ways to connect its customers to the things they care about most. Sprint served 54.6 million connections as of March 31, 2018 and is widely recognized for developing, engineering and deploying innovative technologies, including the first wireless 4G service from a national carrier in the United States; leading no-contract brands including Virgin Mobile USA, Boost Mobile, and Assurance Wireless; instant national and international push-to-talk capabilities; and a global Tier 1 Internet backbone. Today, Sprint's legacy of innovation and service continues with an increased investment to dramatically improve coverage, reliability, and speed across its nationwide network and commitment to launching the first 5G mobile network in the U.S. You can learn more and visit Sprint at www.sprint.com or www.facebook.com/sprint and www.twitter.com/sprint.
1 Signal and speeds based on optimal conditions for most Sprint devices.