NEW ORLEANS (BUSINESS WIRE), March 09, 2017 – Yesterday as NBA basketball fans filled Smoothie King Center in New Orleans, Sprint (NYSE:S), Qualcomm Technologies Inc., a subsidiary of Qualcomm Incorporated, and Motorola Mobility, a Lenovo company, debuted the first U.S. deployment of Gigabit Class LTE live on a commercial network with a forthcoming flagship premium tier smartphone.
The Gigabit Class LTE service utilizes three-channel carrier aggregation and 60 MHz of Sprint's 2.5 GHz spectrum in combination with 4X4 MIMO (Multiple Input Multiple Output) and 256-QAM higher order modulation to achieve incredible Category 16 LTE download data speeds on a TDD network.
Motorola showcased the blazing-fast, high-bandwidth capability of a forthcoming flagship smartphone based on the Qualcomm® Snapdragon™ 835 mobile platform with an integrated Snapdragon X16 LTE modem, supporting Gigabit Class LTE.
"The lightning speeds of Gigabit Class LTE in the Snapdragon 835 mobile platform with X16 LTE can open up new applications and deliver new experiences to your mobile devices," said Mike Finley, senior vice president and president, Qualcomm North America, Qualcomm Technologies, Inc. "We are proud to work together with Sprint to bring Gigabit Class LTE to the United States on a live commercial network for the first time, helping to ensure consumers have a superior connectivity experience. This is yet another step in accelerating global adoption of Gigabit Class LTE, enabling us to see a glimpse of our 5G future."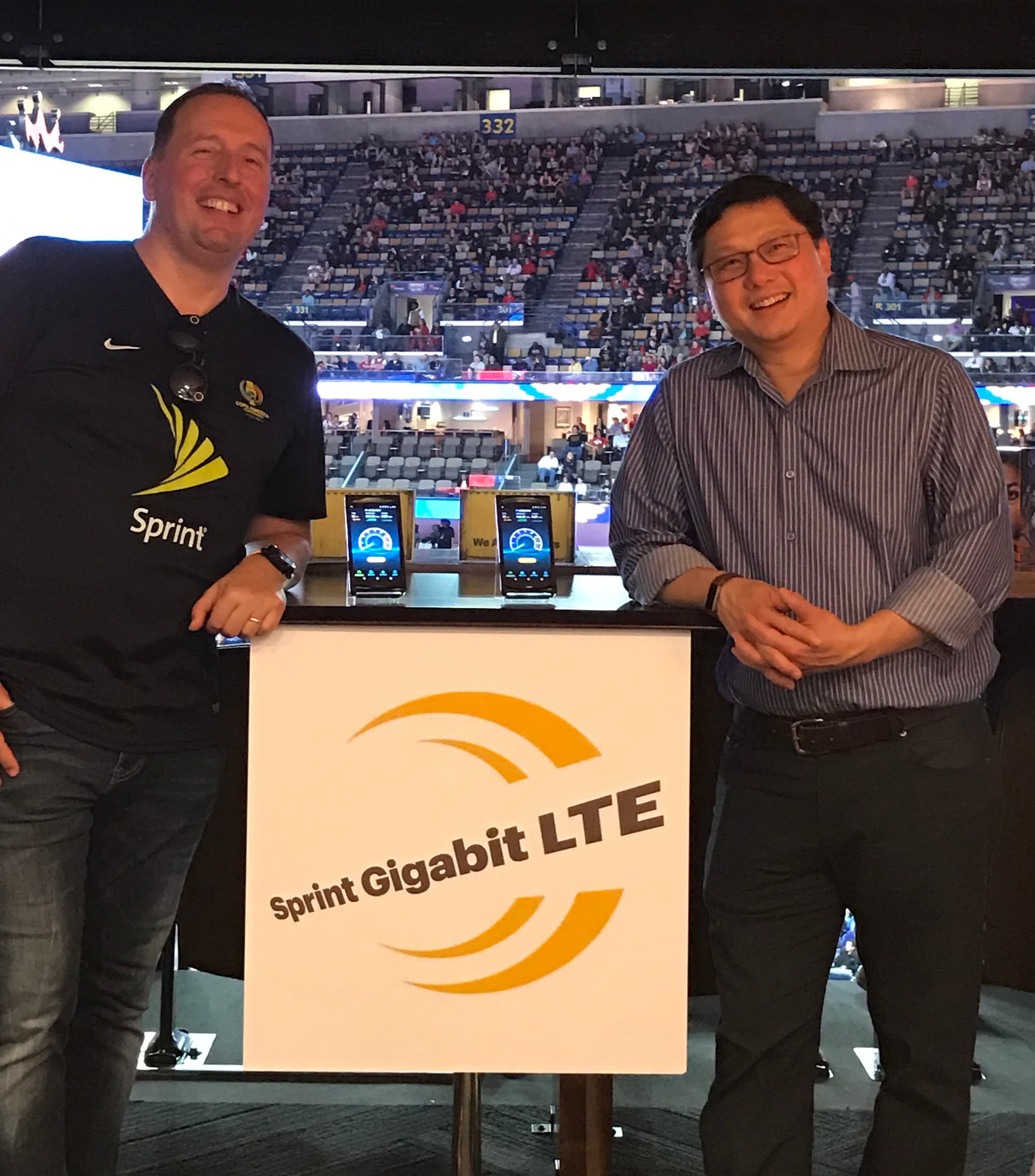 Sprint plans to use its 2.5 GHz spectrum to offer Gigabit Class LTE service in high-traffic locations across the country. This is part of Sprint's strategy to build a strong foundation for 5G by densifying its network with the addition of small cells and smart antennas. This will enable Sprint to offer 5G-like throughput experiences with Gigabit Class performance on the Sprint LTE Plus network, and meet future mobile broadband demand for higher data rates per person across a given geographic location. With Gigabit Class performance, Sprint customers may experience the latest generation of connectivity experiences, such as immersive 360-degree video and virtual reality, connected cloud computing, rich entertainment, and instant apps on the Sprint LTE Plus network.
With 204 MHz of spectrum in the U.S., and more than 160 MHz of 2.5 GHz spectrum in the top 100 markets, Sprint has more licensed spectrum capacity to deploy Gigabit Class LTE than any other U.S. carrier. Use of licensed spectrum offers Sprint LTE Plus customers a more reliable and sustainable quality experience by not relying on unlicensed resources that might be available at some times and not at others.
"Only Sprint has enough licensed spectrum to deliver this level of capacity and performance in major markets across the country," said Dr. John Saw, Sprint CTO. "Our high-band 2.5 GHz TDD LTE spectrum is uniquely suited for Gigabit Class LTE, and we fully intend to maximize our deep spectrum holdings to provide customers with more immersive and connected mobile experiences."
The roll-out of Gigabit Class LTE on the Sprint LTE Plus network requires a series of incremental upgrades beginning with three-channel carrier aggregation already available today in more than 100 markets. Next needed is Category 16 devices that support 4×4 MIMO and 256 QAM. Sprint plans to also utilize Massive MIMO, a key element of 5G, to further enhance capacity and coverage of its 2.5 GHz TDD-LTE spectrum. With Massive MIMO radios using 64T64R, Sprint has the ability to push capacity well beyond the 1 Gbps barrier, reaching 3-6 Gbps per sector.
Recently at Mobile World Congress 2017, Sprint and Ericsson demonstrated 1 Gbps class performance over 60 MHz of 2.5 GHz spectrum. And Sprint with Nokia demonstrated how Massive MIMO can boost cell capacity by up to eight times compared to 4G LTE using 2.5 GHz TDD-LTE spectrum with 64T64R.
About Sprint:
Sprint (NYSE:S) is a communications services company that creates more and better ways to connect its customers to the things they care about most. Sprint served 59.5 million connections as of Dec. 31, 2016 and is widely recognized for developing, engineering and deploying innovative technologies, including the first wireless 4G service from a national carrier in the United States; leading no-contract brands including Virgin Mobile USA, Boost Mobile, and Assurance Wireless; instant national and international push-to-talk capabilities; and a global Tier 1 Internet backbone. Sprint has been named to the Dow Jones Sustainability Index (DJSI) North America for the past five years. You can learn more and visit Sprint at www.sprint.com or www.facebook.com/sprint and www.twitter.com/sprint.
###
Qualcomm and Snapdragon are trademarks of Qualcomm Incorporated, registered in the United States and other countries.
Qualcomm Snapdragon is a product of Qualcomm Technologies, Inc.
MOTOROLA and the Stylized M Logo are registered trademarks of Motorola Trademark Holdings, LLC.
View source version on businesswire.com: https://www.businesswire.com/news/home/20170309005472/en/