When we launched HPUE (High Performance User Equipment) just over a year ago we knew we'd developed a breakthrough innovation that would further maximize our 2.5 GHz asset. Today we're excited to share test results from independent network testing firm P3, who recently took to the streets of Chicago to test HPUE's ability to extend coverage of our 2.5 GHz spectrum.
HPUE is an innovation unique to Sprint in the U.S. It enables our 2.5 GHz spectrum to propagate further and have nearly the same coverage performance as our 1.9 GHz spectrum, including indoors where the majority of wireless traffic is generated. More time spent on 2.5 GHz gives customers a better data experience in more places, improving the quality of streaming videos, mobile gaming and other online apps and services.
In December, P3 engineers drove 36 miles around the Chicago metro area gathering about 4,000 test samples along a fixed route. They tested two Samsung Note 8 devices running in parallel, one with HPUE active, and one without, to provide a side-by-side comparison.
P3 found that HPUE increased Sprint's 2.5 GHz coverage by 24%. And as a result of spending more time on our faster 2.5 GHz spectrum band, average download speed jumped 49%.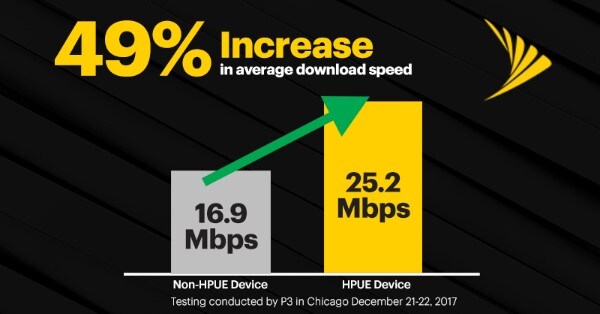 Similarly, a December 2017 report by Signals Research Group noted that "the benefits of HPUE are real and quite dramatic" following its drive tests comparing an HPUE device (Samsung Galaxy Note 8) to a non-HPUE device (Samsung Galaxy S7 Edge) in Minnesota (highlighted below) and the greater Chicago area.

Today we have 15 iconic HPUE-enabled devices and we'll continue to expand our portfolio with leading manufacturers this year.
HPUE is one of the many innovative tools we're using as part of our Next-Gen Network strategy. We're well underway executing our plan to dramatically improve coverage, reliability, and speed across our nationwide network, and launch the first truly mobile 5G network in the U.S. Our Next-Gen Network build includes upgrading all cell sites to triband service using 800 MHz, 1.9 GHz, and 2.5 GHz, adding thousands of new cell sites to expand coverage, densifying the network with more small cells to increase capacity and speed, and deploying 5G-ready Massive MIMO infrastructure.
HPUE is making a great difference improving the network experience for our customers, and we look forward to many more innovations in the year ahead.
     — John