Here at Sprint we're always working to improve our network, and I'm excited to share that nationally our average download speed is up 33% year-on-year.1 And in more than 25 of 99 top markets, our average download speeds increased anywhere from 40% to more than 100%.2 Here are 10 examples: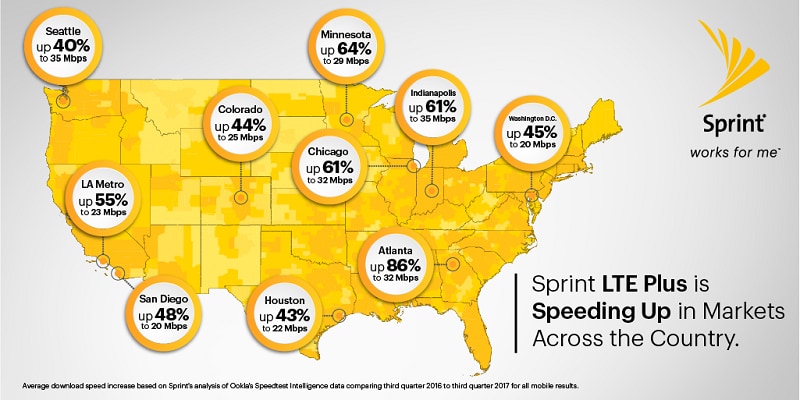 Atlanta – Up 86% to 32 Mbps
LA Metro – Up 55% to 23 Mbps
Chicago – Up 61% to 32 Mbps
Minnesota – Up 64% to 29 Mbps
Colorado – Up 44% to 25 Mbps
San Diego – Up 48% to 20 Mbps
Houston – Up 43% to 22 Mbps
Seattle – Up 40% to 35 Mbps
Indianapolis – Up 61% to 35 Mbps
Washington DC – Up 45% to 20 Mbps
This Ookla® Speedtest® Intelligence data shows we're making great progress improving our network, and customers in cities all across the country are benefitting from a big boost in data speeds. Meanwhile, media reports suggest some other networks' average speeds appear to have slowed under the load of Unlimited data! When it comes to speed, Sprint is the most improved network so far in 2017, and we aim to improve even more with our Densification and Optimization strategy.
What's the secret to this improvement? Spectrum!
The more 2.5 GHz spectrum we deploy, the more our data performance and speeds improve. What's exciting is that we now have more tools to bring this spectrum to customers. Our LTE Plus Densification and Optimization toolkit includes technologies such as multiple carrier aggregation, beamforming, and HPUE, along with small cell solutions such as Sprint Magic Box, airpoles, and strand mounts. This broad toolkit enables us to quickly roll out targeted, capital efficient capacity in our network to improve service and meet customer's growing demand for Unlimited data.
We'll soon add Massive MIMO to the Sprint toolbox with field testing underway and deployment slated for the first half of next year. As demonstrated a few weeks ago in Seattle, Massive MIMO will bring even more capacity and performance to the Sprint network – up to 10 times that of current LTE networks. And in high-band TDD-LTE networks that can be done by simply exchanging antennas on cell sites.
With the best prices and a network that's built for Unlimited, Sprint is the best choice for customers both now and in the future!
It's a great time to be a Sprint customer with download speeds up in markets all across the country. And there are more great advancements on the horizon. Our teams are working hard to roll out higher order and Massive MIMO, 256 QAM, Gigabit Class LTE, and four-channel (and later five-channel) carrier aggregation. These technologies will add more capacity and performance to the network and make more efficient use of our 2.5 GHz spectrum. They'll also improve the network experience for ALL Sprint customers!
As I like to say, when it comes to the Sprint network, you ain't seen nothing yet!
mfg – go
("mit freundlichen grüssen" which means "with kind regards")
Follow Me:
Twitter: @guengott68
Facebook: https://www.facebook.com/sprintcoo/
LinkedIn: https://www.linkedin.com/in/guenther-ottendorfer-b6b35a/
1 Average download speed increase based on Ookla's analysis of Speedtest Intelligence data comparing Sept. 2016 to Sept. 2017 for all mobile results.
2 Average download speed increase based on Sprint's analysis of Ookla's Speedtest Intelligence data comparing third quarter 2016 to third quarter 2017 for all mobile results.