As we continue on the journey of our digital transformation, we remained focused on empowering the connected lifestyle, providing the best value in wireless connectivity, and bringing our customers the most formidable devices that drive their digital lives. We are determined to be a leader in the digital space and provide our customers the best customer experiences possible. 
Making things simple for our customers requires orchestration and innovation behind the scenes. First, we are using artificial intelligence to power our customers and employees. Second, our data-driven website allows our team to test, learn and optimize experiences at scale. 
Artificial Intelligence
Sprint is ramping up its rollout of a cutting-edge intelligent customer experience leveraging AI and analytics. We are leveraging AI through AI-assisted chats, where nearly 30 percent of chats are handled by virtual agents — up from only 4 percent just a few months ago.  We have even enabled AI within the My Sprint app so customers can use the chat function to make and schedule payments and manage their wallet. AI chats are wonderful because the bots are constantly learning customer behavior. We can deliver better, faster results, and we can resolve customer concerns. They also allow our care agents to focus on the most important and complicated customer issues and invest the time necessary to resolve them.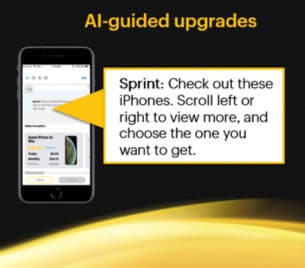 Data-driven Website
A data-driven website allows us to offer the most relevant experience and marketing campaigns to specific customer segments. We regularly test and improve the digital platform based on our data insights. We continue to push the envelope of one to moment personalized experiences, and we will continue to lean into machine learning to power the experience and exponentially enhance the number of combinations we can launch and learn from.
For example, we recently ran two small test groups to see which purchase flow works best when customers add Sprint Complete, Sprint's equipment protection program, to their plan. The team learned that the original design needed more visuals. Therefore, we added more images to make Sprint Complete simpler and easier so customers could better understand its benefits.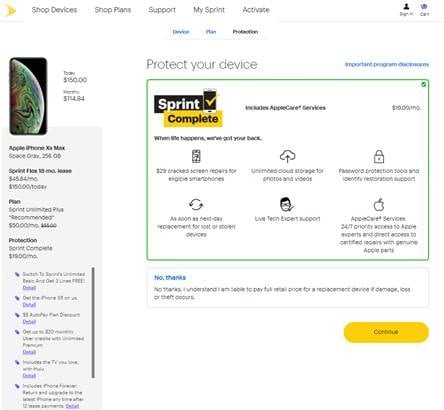 Leveraging AI and a data-driven website clearly puts Sprint in a leadership position for digital sales in our industry. With these new digital capabilities, we are making it easier for customers to engage with Sprint. These capabilities also mean that customers get the same information and high-quality experience, regardless of which channel they choose or what they're trying to accomplish.
Our focus on innovation will enable us to develop the 'digital muscle' that's critical to our transformation.