Check out the new LG K30™, available today for $149.99 (plus tax) at Boost Mobile retailers and on www.boostmobile.com. A smartphone that's designed to impress, LG K30™ helps you make the most of your best moments and do more of the things you love.  
Comfortable, sleek and designed to help you stay connected on-the-go, LG K30™ comes with a 5.3-inch HD display, sharp, quick cameras, and a 1.5GHz Octa-Core processor, delivering premium technology at a value price.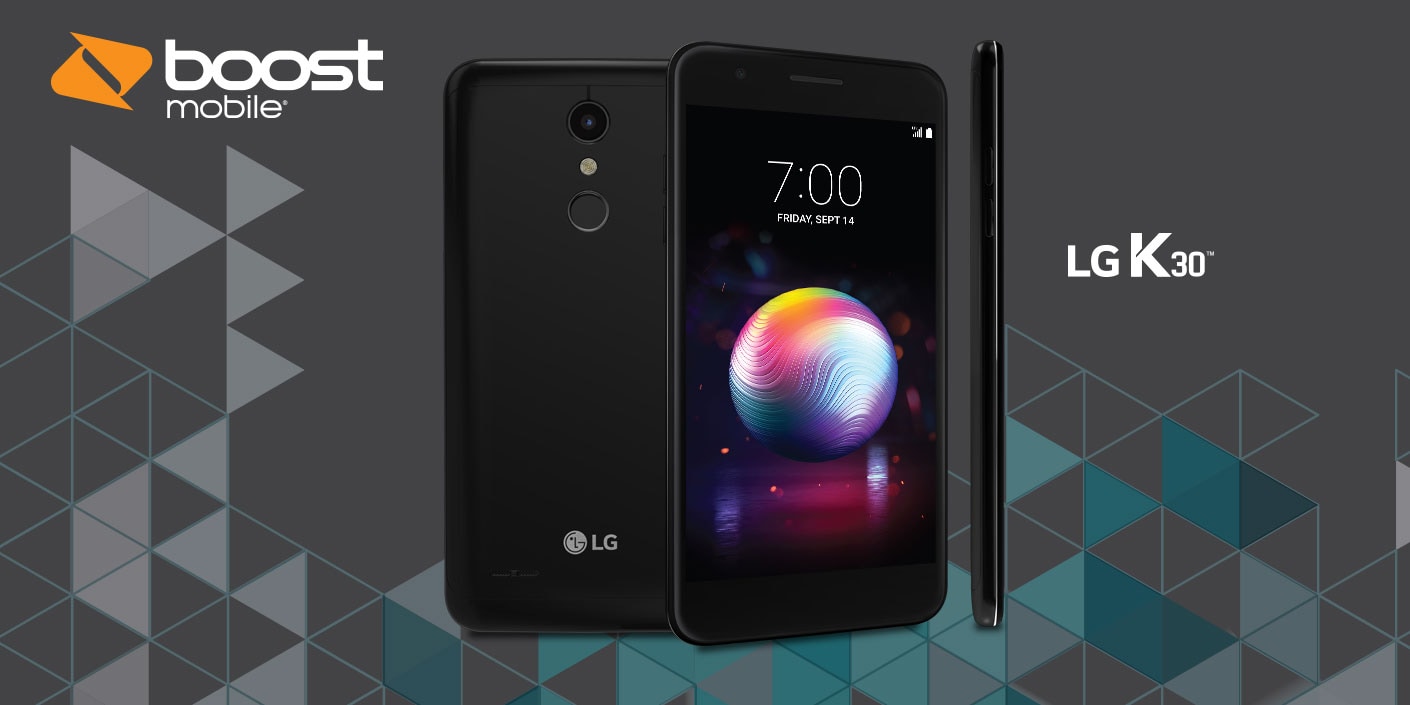 Highlights of the LG K30™ include:
5.3-inch HD display provides stunning viewing on a wide, brightly colored screen so you can enjoy images and video in crisp detail.
Real metal design with curved glass edges enables a comfortable grip.
13MP rear-facing camera and 5MP front-facing camera lets you capture high-resolution photos and rich video with the rear-facing camera; the front-facing camera is ideal for post-worthy selfies.
32GB ROM/2GB RAM provide plenty of storage space, so you can access important documents, favorite music and moments at any time.
Fingerprint sensor lets you keep your content safe and secure and enables quick lock/unlock access with the ease of just your fingerprint.
Switch to Boost Mobile and get four lines for $25 per line per month
Looking to make the switch? Head into a Boost Mobile store and Boost Mobile's Unlimited Gigs plan which offers four lines of unlimited data, talk and text for only $25 per line per month1 through Thursday, Nov. 15. Each line includes:
Unlimited talk, text and optimized streaming videos, games and music
4G LTE high speed data for most everything else
Includes 50 minutes of nationwide domestic roaming (select phones)
Unlimited streaming music without data charges for select partners
Review full details of the promotion.
# # #
1 Mobile Hotspot Not Included. Mobile optimized: video streams at up to 480p+ resolution, music at up to 500kbps, streaming cloud gaming at up to 2mbps. Data deprioritization during congestion. Limited Time Offer. Valid until Nov.15, 2018 4 lines for $100/month: Available for new customers only; requires at least one port; excl. Sprint-related carriers. Only in select markets (excl. boostmobile.com or national retailers). Not combinable with other family plans. If one or more secondary lines leave, plan cost remains $100. 5th line avail. for an additional. $30/month. Ineligible lines will be moved to the $50 single-line plan. If primary line leaves, secondary lines automatically move to new plan at next payment date. Primary responsible for monthly payment for all lines and its add-ons. Secondary lines pay their one-time/add-on purchases. Unlimited Gigs: Includes 50 domestic voice roaming minutes (sel. devices). International services extra. Data Terms: Unlimited services are on-network only. 4G LTE data where available. Quality of Service Practices (QoS): Unlimited customers who use more than 35GB of data during a billing cycle will be de-prioritized during times and places where the Sprint network is constrained. See sprint.com/network management for details. Other terms: Total plan price includes services, taxes and fees. Payment due on monthly payment date or acct. will be suspended. Sufficient funds must be added within 120 days of suspension or acct. will expire and account balance will be forfeited. No annual service contracts. Offers/coverage not available everywhere or for all phones/networks. Boost reserves the right to change or cancel offer at any time. Sprint 4G LTE network reaches more than 300 million people. Prohibited network use rules and other restrictions apply. See boostmobile.com or in-store materials for details.
© 2018 Boost Worldwide, Inc. All rights reserved. All other marks are the property of their respective owners.