BELLEVUE, Wash. — July 24, 2020 — Today, T-Mobile (NASDAQ: TMUS) launches Scam Shield — a massive set of free solutions to protect customers from robocalls and scams — along with the best price for 4 lines of postpaid unlimited … ever. This, as new data shows consumers are FED UP with scams and robocalls and want the Carriers to do more to protect them.
Nine in ten customers recently surveyed1 said that scams and robocalls are a big problem (they are), and they wish their carrier would do more to stop them (they should). Over 50% said it's "greedy" to charge for protections and 28% described it as "despicable" (they're right). Think about it — Verizon and AT&T charge to protect customers against the very calls they deliver them. It'd be like FedEx delivering dangerous packages to your door and charging you to know who sent them. It's crazy, it's wrong … and you don't have to stand for it.
Un-carrier moves like Scam Shield have a history of driving a deluge of switchers to T-Mobile, so to welcome them, the Un-carrier rolled out a massive magenta carpet with the best price for unlimited data in postpaid wireless, in the history of ever. This price point with unlimited data has never been offered for everyone in postpaid wireless before, and it's for new and existing customers, regardless of age, military status, etc for a limited time this summer. It's four lines of unlimited data for $25 each/month, including 5G access. Or, get four 5G phones included for just $5 more each month, and tap into the first and LARGEST nationwide 5G network. Or, stay with Verizon and get 5G roughly 0.4% of the time and spend about $1,000 more a year on their CHEAPEST plan that includes 5G. And still get those scams and robocalls.
Scam Shield includes free enhanced caller ID, free scam identification and blocking, a free second number (PROXY) on T-Mobile Magenta, Magenta for Business, and Essentials accounts, a free number change and for a limited time, 12 months of free identity monitoring. Here's how to get it:
T-Mobile postpaid and Metro by T-Mobile: download Scam Shield from the App Store or Google Play.
Sprint: download the Call Screener app from the App Store or on Android, simply open and enable the pre-installed app.
And, all T-Mobile customers can sign up for Be ID Aware between today and August 31 at https://www.t-mobile.com/offers/deals-hub. Use your phone number and the code 2020McAfee. Sprint customers get it at sprint.com/scamprotection, just select McAfee Identity Protection to register.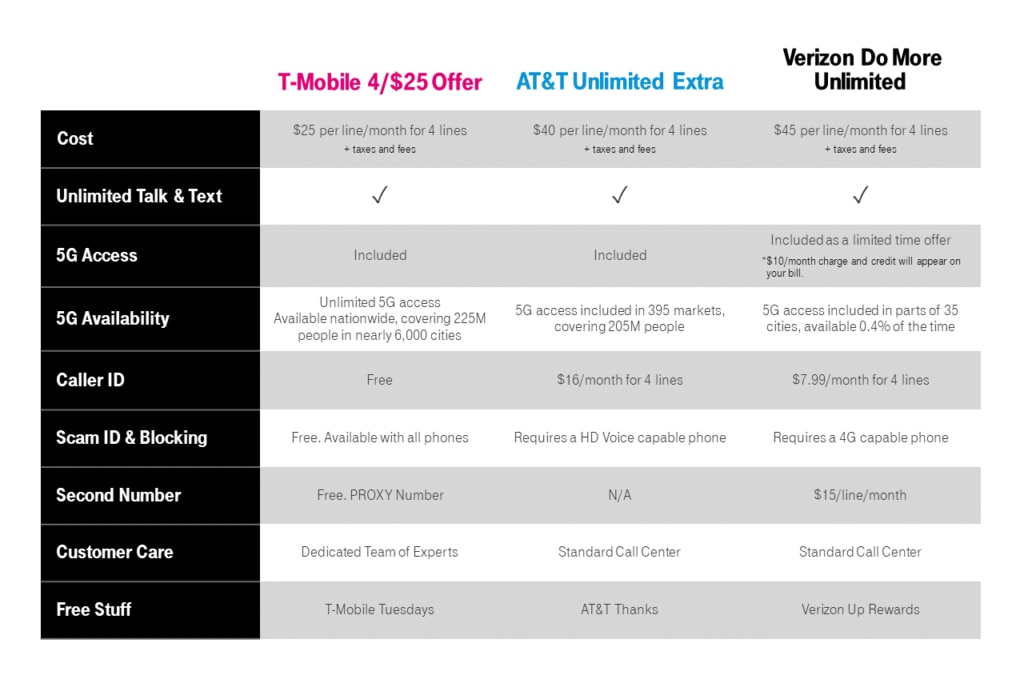 For more information on Scam Shield, visit t-mobile.com/scamshield.

For more information on the best deal in postpaid wireless, visit t-mobile.com/offers/summer-2020-deals.

Follow T-Mobile's Official Twitter Newsroom @TMobileNews to stay up to date with the latest company news.
1 Civic Science survey of wireless customers for T-Mobile, July 2020, Sample size 1,180.



During congestion, Essentials customers may notice speeds lower than other customers and further reduction if using >50GB/mo., due to data prioritization. Limited time offers; subject to change. 4/$25: Qualifying credit and 4+ lines required. $5 more/line without AutoPay. Existing customers that switch plans may lose features & promo credits. Scam Shield:  Capable device req'd for some features. Turning on Scam Block might block calls you want; disable any time. 1 number change per line per year. 1 PROXY Number per account; may be cancelled for non-use.  Be ID Aware: Timely code redemption required; 1 per line. 

About T-Mobile
T-Mobile U.S. Inc. (NASDAQ: TMUS) is America's supercharged Un-carrier, delivering an advanced 4G LTE and transformative nationwide 5G network that will offer reliable connectivity for all. T-Mobile's customers benefit from its unmatched combination of value and quality, unwavering obsession with offering them the best possible service experience and undisputable drive for disruption that creates competition and innovation in wireless and beyond. Based in Bellevue, Wash., T-Mobile provides services through its subsidiaries and operates its flagship brands, T-Mobile, Metro by T-Mobile and Sprint. For more information please visit: https://www.t-mobile.com.