What level are you?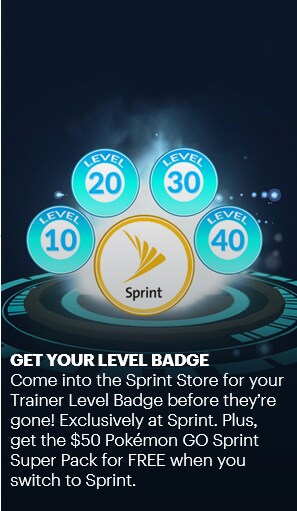 The much-anticipated and exclusive Trainer Level Badges are in stock at participating Sprint stores NOW! These sew- or iron-on badges are available to Trainers who stop by a Sprint store (also identified as Pokémon GO Gym) – available only while supplies last.
These badges are a great way to show the world that you have reached impressive milestones while playing Pokémon GO. While at the store, you can pick-up your Level 10, 20, 30 or 40 badge, sign up for Trainer Rewards, recharge your batteries, and most of importantly… have fun.
When you're in the store, make sure to also ask the sales representative about the Pokémon GO Sprint Super Pack, which includes a $50 value of Ultra Balls, Lucky Eggs, Pinap Berries, Lure Modules, Incense and more. Trainers can also receive moto e4 smartphones for the whole family. Up to 10 lines of the moto e4 are on us – available for new and existing Sprint customers who add a line to their account.
If you're interested in learning more, please email me at kathleen.dunleavy@sprint.com or call me at 424-270-0921 .
Disclaimer: Limited time offers. moto e4: $145.00 MSRP. $0/mo after $6.05/mo/line service credit, applied w/i 2 invoices. Reqs. 18-mo. lease for well-qualified customer leasing at least 2 devices with one new-line and eligible upgrades. Early termination results in remaining balance of full price due. Unlimited Freedom Includes unlimited talk, text and data. Streams video at up to HD 1080p, music at up to 1.5mbps, gaming at up to 8mbps. Data deprioritization during congestion. MHS, P2P and VPN reduced to 2G speeds after 10GB/moO­ffer/coverage not avail. everywhere or for all phones/networks. Restrictions apply. See store or sprint.com for details.