Pokémon GO Trainers! We've got some amazing news for you. Starting NOW, you can join the Sprint and Boost Mobile Trainer Rewards Program to earn points, get exclusive discounts and offers, access special rewards and more.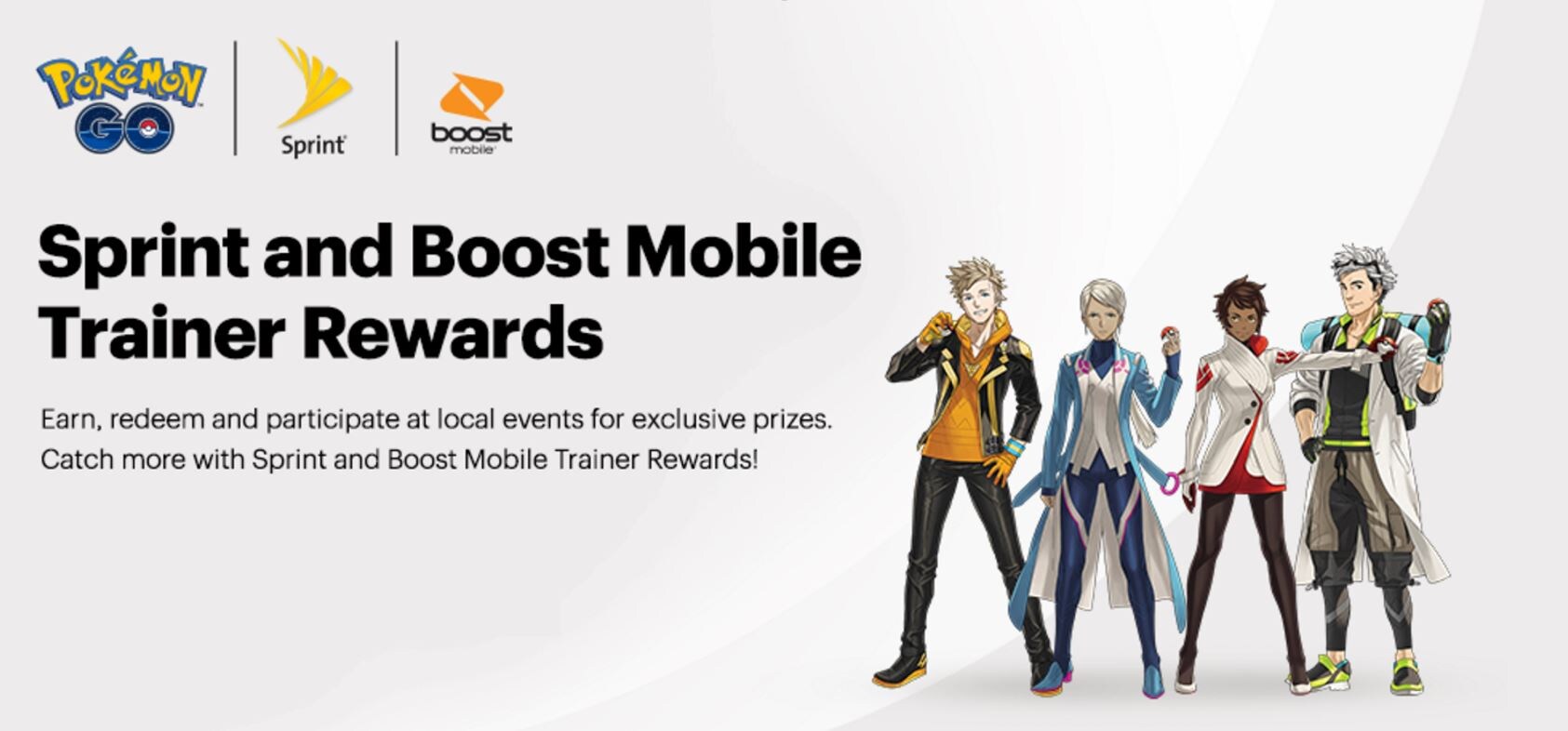 This rewards program is the first of its kind and is open to U.S. Trainers – regardless of which wireless carrier you have.
It's easy to register by simply going into a Sprint PokéStop or visiting www.sprint.com/PokemonGO. It takes minutes to complete and then, you're in!
Once you register, you can start to:
Earn Trainer Rewards points through activities listed on the site;
Redeem Trainer Rewards points for mobile accessories, gift cards, and more…
Register for local events and contests;
Access exclusive discounts and offers;
Gain Pokémon GO insights and tips to make your game even stronger.
Trainers are encouraged to partake in fun activities to earn valuable rewards points, including:
Upload an AR screenshot of a wild Pokémon while in a Sprint retail store;
Refer a friend to join the Sprint and Boost Mobile Trainer Rewards program;
Share an original Tweet with #SprintPokeStop
Watch a YouTube video, on the site.
Prizes include:
Pokémon GO Team Wallpapers – available exclusively from Sprint
Google Play Credit
iTunes App Store Credit
mophie powerstation mini
Sprint or Boost Mobile Smartphone.
And, don't forget … Trainers can take advantage of Sprint Unlimited Data, Talk and Text for $22.50 per line for four lines so you can play as much as you want1. Plus, our Sprint PokéStops are always available – during store hours – to provide free charging stations. Sprint is the first official U.S. sponsor and exclusive wireless partner of Pokémon GO in North America. Trainers can visit over 10,000 Sprint and Boost Mobile PokéStops and Gyms to collect Poké Balls, Potions, Eggs, Razz Berries and the new Pinap Berry and Nanab Berry to help them on their quest to catch Pokémon.
 
1Savings until March 31, 2018; then $60/mo. for line 1, $40.mo for line 2 and $30/mo. lines 3-4. HD video streams at up to 1080p, music at up to 1.5Mbps, gaming streams at up to 8Mbps. Data deprioritization during congestion. Pricing shown with $5/mo./line AutoPay discount applied within two invoices. Requires eBill and new account activation. Taxes, surcharges and restrictions apply.