Sports fans will soon descend on Minneapolis to experience the biggest and best moments in football. And this year's game will be one of the largest data events in the world as fans capture and share the event on their favorite mobile devices.
Just as the teams each week have battled to get a step closer to the big game, so has our team been planning, training, and executing to prepare the Sprint network. For the past 12 months, we've been hard at work investing hundreds of millions of dollars installing new infrastructure to boost capacity across Minneapolis-St. Paul, ensuring Sprint customers have a great network experience.
Small Cells Provide Big Capacity Boost
We're using a brand new state-of-the-art Distributed Antenna System (DAS) with more than 800 antennas inside the stadium powered by Sprint small cells. Our small cells use high-band 2.5 GHz spectrum that's great at delivering a lot of data at very fast speeds. In addition we're using two-channel carrier aggregation, an LTE-Advanced technology that doubles network capacity by creating even wider lanes for more network traffic.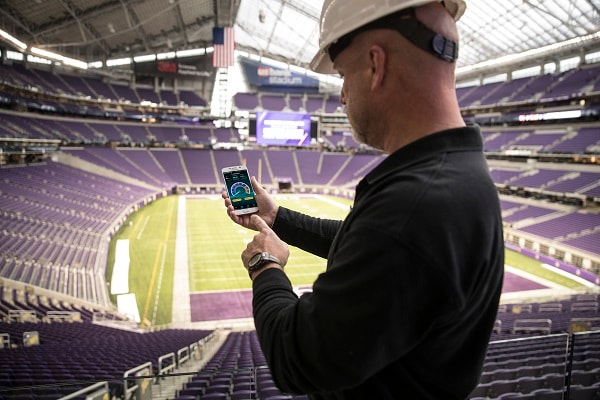 Small cells installed on lamp posts and street lights are also a great way to add more capacity throughout the city. By game day we'll have installed nearly 200 small cells across the greater Minneapolis-St. Paul area, including inside and around U.S. Bank Stadium as well as other venues.
Outside the stadium we've also deployed a small cells DAS to pump up capacity and speeds across the parking lots, and we've upgraded or installed new indoor systems at the Hyatt Regency, Minneapolis Convention Center, Target Center, Minnesota State Fair Grounds, Excel Energy Center and other venues.
In addition, we're deploying Sprint Magic Box, the world's first all-wireless small cell, in hundreds of locations across Minneapolis-St. Paul. Sprint Magic Box is a revolutionary plug–and–play LTE small cell that boosts indoor data speeds on average by 200%.1
Lastly, we're using three-channel carrier aggregation for even wider traffic lanes on nearly 400 2.5 GHz cell sites across Minneapolis-St. Paul. And we've upgraded hundreds of cell sites in the market to include all three of our spectrum bands – 800 MHz, 1.9 GHz and 2.5 GHz. When we put all three bands together, we can offer LTE Plus, our best network experience.  
Breaking Data Records
Each year we see a huge jump in the amount of data consumed by fans, and we look forward to seeing new records this year both on the field and in our network. Last year on game day, Sprint customers used nearly 5 terabytes of data inside and directly around NRG Stadium. Total data tonnage increased more than 3 times compared to the previous year's big event at Levi's Stadium, and about 8 times since the game at University of Phoenix Stadium.
We're all geared up to help customers enjoy an amazing event on February 4. But best of all, is the fact that the upgrades we've added to our network are permanent. So long after the game is over and the crowds have left, Sprint will continue to provide an excellent wireless experience in Minneapolis-St. Paul.
                — Scott
1 Signal and speeds based on optimal conditions for most Sprint devices.