Today we released our fiscal 2018 third quarter financial results, and I'm excited to share an update on our Next-Gen Network build. With a quarterly network investment that's doubled year-over-year, we're making continued progress improving coverage, reliability and speed on our network that's built for Unlimited.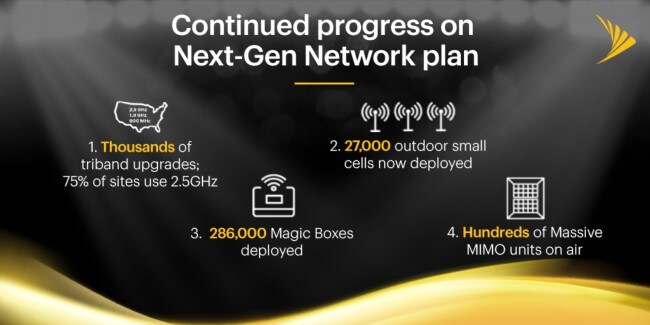 We're not standing still during the merger approval process, and we've seen a number of network achievements as we prepare to launch mobile 5G in the coming months. For example:
More Spectrum Now On Air: We completed thousands more triband upgrades in Q3, and today we're giving customers faster data speeds with 2.5 GHz deployed on roughly 75% of our macro sites. In addition, we've added 800 MHz to thousands of sites, primarily in the Southwest. This extends our voice and data coverage into more locations, including indoors where the majority of wireless traffic is generated.
Outdoor Small Cells Increase Speed and Capacity: In Q3 we deployed thousands of 2.5 GHz outdoor small cells – both mini macros and strand mounts – to now total 27,000 on air. We've more than doubled our on-air mini macros year-over-year, and had a very successful rollout of strand mounts on cable infrastructure, with both tools significantly improving our customers' network experience in targeted locations.
Sprint Magic Box Innovation Continues: To date we've distributed more than 286,000 Magic Boxes across the country, and in Q3 began shipping our smaller, faster Generation 3 model. The success of this product continues with the debut of Sprint TREBL Magic Box, the world's first smart home small cell solution providing better LTE coverage, an integrated Alexa voice assistant and exceptional Harman Kardon sound quality. This unique product took home a prestigious 2019 CES Innovation Award in the Smart Home category (and it's been nominated for a GSMA GLOMO award).
Gigabit Class LTE Expands: Our network uses the most innovative LTE Advanced technologies in wireless such as High Performance User Equipment (HPUE), 256 QAM, 4X4 MIMO, multiple carrier aggregation and more. LTE Advanced is delivering customers up to 2X faster speeds than before on capable devices. Plus we've expanded Gigabit Class LTE to nearly 300 cities. (And no, we don't label any of this 5G, because it's not.)
Massive MIMO Boosts LTE Capacity: Hundreds of 5G-ready Massive MIMO radios are now on air delivering a big boost in LTE speed and capacity as we prepare to light up mobile 5G service. In Atlanta, one of our first nine 5G launch markets, Sprint customers at the Big Game this weekend will have a great experience benefiting from the major investment we've made in network upgrades and our deployment of Massive MIMO. In fact, recent independent crowdsourced tests show Sprint had the fastest average download speeds around the stadium.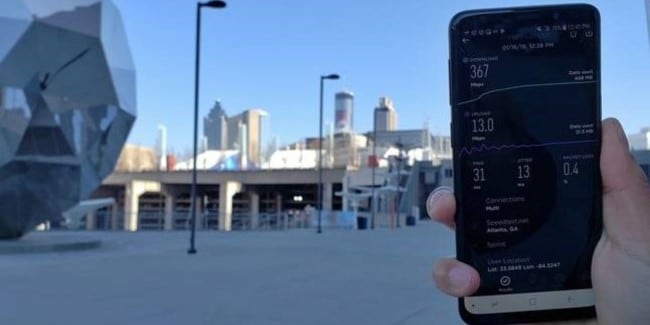 Meanwhile, over in Reston, Virginia, Massive MIMO is pushing a 4X to 20X increase in speeds (both indoors and outdoors) at the Reston Town Center, a popular destination with more than 50 stores and 30 restaurants. It's the type of high-traffic location that's perfect for Massive MIMO and 3D antenna beamforming – technologies that excel at moving more data, to more people, at significantly faster speeds than before. With newly added capacity from Massive MIMO, our network traffic at this location has jumped 42% and the number of connections have doubled, due in large part to improved indoor coverage.
Average Downloads Speeds Increase: Sprint customers love Unlimited data and we're meeting this demand by adding more capacity and speed to our network. Today we have a national average download speed of 29 Mbps1, and speeds are up 93% over the past two years.2 In addition, the latest quarterly data from Ookla shows no one beats Sprint for fastest average download speeds in 105 cities.3
Other reports show similar improvements in a number of cities. Recent data from RootMetrics® by IHS Markit shows Sprint has the fastest download speeds in Manhattan, Los Angeles, Denver, Seattle and Boston.4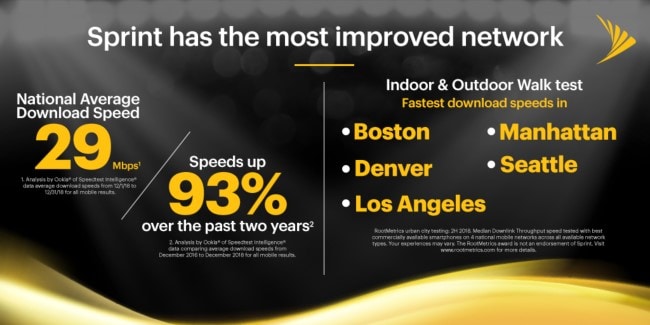 Looking ahead, we're on track to launch mobile 5G in the coming months covering the downtown city centers of Atlanta, Chicago, Dallas, Houston, Kansas City, Los Angeles, New York City, Phoenix and Washington, D.C. We're making good progress, having completed earlier this month with Qualcomm Technologies and Nokia, our first 5G data call on our commercial network in San Diego.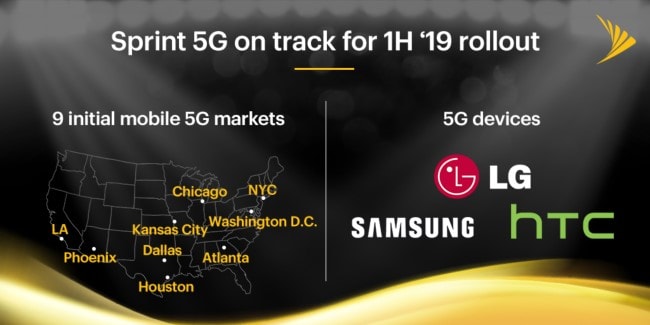 With our largest network investment in years well under way, we're working hard to improve our LTE Advanced network and launch mobile 5G. We also continue to advocate for our merger with T-Mobile, knowing that together we can build an incredible nationwide 5G network neither company could achieve on its own that reaches underserved communities, accelerates competition, and drives new levels of innovation for all U.S. businesses and consumers.
1 Analysis by Ookla® of Speedtest Intelligence® data average download speeds from 12/1/18 to 12/31/18 for all mobile results.
2 Analysis by Ookla® of Speedtest Intelligence® data comparing average download speeds from December 2016 to December 2018 for all mobile results. 
3 Analysis by Ookla® of Speedtest Intelligence® data for average download speeds from 10/1/18 to 12/31/18 for all mobile results.
4 RootMetrics New York City, Los Angeles, CA; Denver, CO; Seattle, WA; Boston, MA Metro testing: 2H 2018. Chart represents Median Downlink Throughput speed. Tested with best commercially available smartphones on 4 national mobile networks across all available network types. Your experiences may vary. The RootMetrics award is not an endorsement of Sprint. Visit www.rootmetrics.com for more details.
Important Additional Information
In connection with the proposed transaction, T-Mobile US, Inc. ("T-Mobile") has filed a registration statement on Form S-4 (File No. 333-226435), which was declared effective by the U.S. Securities and Exchange Commission (the "SEC") on October 29, 2018, and which contains a joint consent solicitation statement of T-Mobile and Sprint Corporation ("Sprint"), that also constitutes a prospectus of T-Mobile (the "joint consent solicitation statement/prospectus"), and each party will file other documents regarding the proposed transaction with the SEC.  INVESTORS AND SECURITY HOLDERS ARE URGED TO READ THE JOINT CONSENT SOLICITATION STATEMENT/PROSPECTUS AND OTHER RELEVANT DOCUMENTS FILED WITH THE SEC WHEN THEY BECOME AVAILABLE BECAUSE THEY WILL CONTAIN IMPORTANT INFORMATION.  The documents filed by T-Mobile may be obtained free of charge at T-Mobile's website, at www.t-mobile.com, or at the SEC's website, at www.sec.gov, or from T-Mobile by requesting them by mail at T-Mobile US, Inc., Investor Relations, 1 Park Avenue, 14th Floor, New York, NY 10016, or by telephone at 212-358-3210.  The documents filed by Sprint may be obtained free of charge at Sprint's website, at www.sprint.com, or at the SEC's website, at www.sec.gov, or from Sprint by requesting them by mail at Sprint Corporation, Shareholder Relations, 6200 Sprint Parkway, Mailstop KSOPHF0302-3B679, Overland Park, Kansas 66251, or by telephone at 913-794-1091.
No Offer or Solicitation
This communication shall not constitute an offer to sell or the solicitation of an offer to buy any securities, nor shall there be any sale of securities in any jurisdiction in which such offer, solicitation or sale would be unlawful prior to registration or qualification under the securities laws of any such jurisdiction.  No offering of securities shall be made except by means of a prospectus meeting the requirements of Section 10 of the U.S. Securities Act of 1933, as amended.
Cautionary Statement Regarding Forward-Looking Statements
This communication contains certain forward-looking statements concerning T-Mobile, Sprint and the proposed transaction between T-Mobile and Sprint. All statements other than statements of fact, including information concerning future results, are forward-looking statements. These forward-looking statements are generally identified by the words "anticipate," "believe," "estimate," "expect," "intend," "may," "could" or similar expressions. Such forward-looking statements include, but are not limited to, statements about the benefits of the proposed transaction, including anticipated future financial and operating results, synergies, accretion and growth rates, T-Mobile's, Sprint's and the combined company's plans, objectives, expectations and intentions, and the expected timing of completion of the proposed transaction. There are several factors which could cause actual plans and results to differ materially from those expressed or implied in forward-looking statements. Such factors include, but are not limited to, the failure to obtain, or delays in obtaining, required regulatory approvals, and the risk that such approvals may result in the imposition of conditions that could adversely affect the combined company or the expected benefits of the proposed transaction, or the failure to satisfy any of the other conditions to the proposed transaction on a timely basis or at all; the occurrence of events that may give rise to a right of one or both of the parties to terminate the business combination agreement; adverse effects on the market price of T-Mobile's or Sprint's common stock and on T-Mobile's or Sprint's operating results because of a failure to complete the proposed transaction in the anticipated timeframe or at all; inability to obtain the financing contemplated to be obtained in connection with the proposed transaction on the expected terms or timing or at all; the ability of T-Mobile, Sprint and the combined company to make payments on debt or to repay existing or future indebtedness when due or to comply with the covenants contained therein; adverse changes in the ratings of T-Mobile's or Sprint's debt securities or adverse conditions in the credit markets; negative effects of the announcement, pendency or consummation of the transaction on the market price of T-Mobile's or Sprint's common stock and on T-Mobile's or Sprint's operating results, including as a result of changes in key customer, supplier, employee or other business relationships; significant transaction costs, including financing costs, and unknown liabilities; failure to realize the expected benefits and synergies of the proposed transaction in the expected timeframes or at all; costs or difficulties related to the integration of Sprint's network and operations into T-Mobile; the risk of litigation or regulatory actions; the inability of T-Mobile, Sprint or the combined company to retain and hire key personnel; the risk that certain contractual restrictions contained in the business combination agreement during the pendency of the proposed transaction could adversely affect T-Mobile's or Sprint's ability to pursue business opportunities or strategic transactions; effects of changes in the regulatory environment in which T-Mobile and Sprint operate; changes in global, political, economic, business, competitive and market conditions; changes in tax and other laws and regulations; and other risks and uncertainties detailed in the Form S-4, as well as in Sprint's Annual Report on Form 10-K for the fiscal year ended March 31, 2018 and in its subsequent reports on Form 10-Q, including in the sections thereof captioned "Risk Factors" and "MD&A – Forward-Looking Statements," as well as in its subsequent reports on Form 8-K, all of which are filed with the SEC and available at www.sec.gov and www.sprint.com. Forward-looking statements are based on current expectations and assumptions, which are subject to risks and uncertainties that may cause actual results to differ materially from those expressed in or implied by such forward-looking statements. Given these risks and uncertainties, persons reading this communication are cautioned not to place undue reliance on such forward-looking statements. Sprint assumes no obligation to update or revise the information contained in this communication (whether as a result of new information, future events or otherwise), except as required by applicable law.