Today was a huge day for wireless customers. Every year consumers, including me, watch and wait to see what new technology and wizardry Apple will bring to market with their new devices!  But this year is different. This year is even bigger. This year the iPhone embraces 5G, and consumers who want the country's best 5G will find that the new iPhones combined with T-Mobile's 5G network … create the best experience in the market. In many ways, today can be seen as the day when 5G became relevant for consumers, as Apple's launch makes our lineup of 5G devices nearly complete, which means the 5G Era is HERE!  From today forward, consumers will start caring, a LOT, about 5G - and it matters which network they are using right now, more than ever.  Because only one company is WAY ahead in the 5G race, and it's T-Mobile.   
Now, you'd expect me to say that. Of course. But let me explain the facts and the reality. Because this isn't just an excited CEO talking about new phones and the leading 5G network. This is a moment we have been working towards for years … and it is a truly pivotal opportunity to deliver a transformational connected experience to everyone!
After years of planning, investing and building, we launched the country's first nationwide 5G network in December of last year, and we haven't slowed down since. Our 5G network is still the largest by far, now covering 260 million people in more than 7,500 cities and towns across 1.3 million square miles.
But it's not just bigger – it's better. Built on dedicated – not shared – airwaves.  And thanks to our merger with Sprint, we're now rolling out the best spectrum for 5G – mid-band 2.5 GHz 5G – across the country. It's now live in 210 cities and towns across the country, with thousands more coming by the end of the year. And we have millimeter wave spectrum for 5G too. Much was made about millimeter wave in today's Apple event by Verizon's CEO. Because millimeter wave – or "Ultra Wideband" as they branded it – is the centerpiece of Verizon's 5G strategy. They talked it up because, well, it's all they have. And millimeter wave is great where you can connect to it, but the fact is that fewer than 1% of Americans can even find Verizon Ultra Wideband 5G … because it doesn't scale. You read that right -only 1% of Americans can reach Verizon's signal on dedicated 5G spectrum.  The bottom line is this:  they simply bet on the wrong technology.
Mid-band Is the Goldilocks 5G band.  It has massive, transformational capacity.  AND it can reach for miles.  T-Mobile is the ONLY one with big swaths of mid-band dedicated to 5G.  That's why we're so far ahead.  As I write this, our mid-band 5G signal reaches 25 million Americans (on top of the 260 million Americans reached by our low-band 5G foundation).  We'll reach about 100 million people with dedicated 5G mid-band by year-end.  The other guys?  Almost nobody.  Where customers have both our low-band and mid-band 5G, we're seeing transformational speeds that average 7.5X faster than LTE today. That's 300 Mbps average, with peaks up to 1 Gbps. And across vast geography, not just certain street corners near a base station, like you-know-who. This "layered" approach of using multiple dedicated bands is just superior, and the other guys know it.
And now they're scrambling to completely retool their 5G strategy and steal LTE spectrum from their existing customers to offer any coverage at all. And even then the results show that T-Mobile is WAY ahead. Here's Verizon's 'nationwide' 5G map from their own web site side-by-side with T-Mobile's.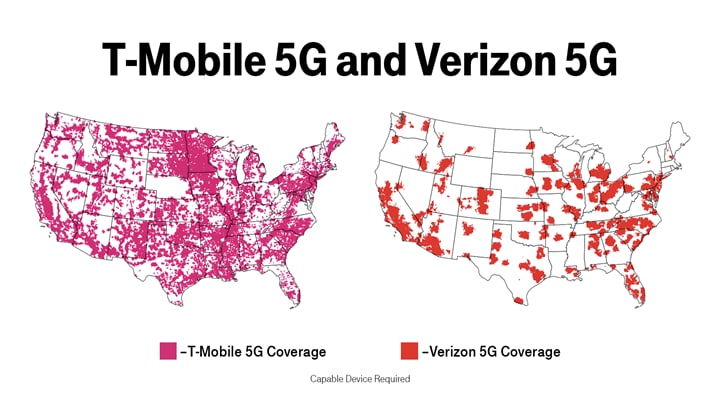 Which one is 5G Built Right? The answer is easy.  To be clear, this map gives Verizon credit for 5G that utilizes SHARED spectrum with LTE. It isn't fully dedicated to 5G. The map showing their dedicated millimeter wave would just be a few tiny dots.
That's because Verizon is totally dependent on a technology called Dynamic Spectrum Sharing, or DSS, to broaden their 5G coverage. That's what they announced today. It allows both 4G and 5G to share the same spectrum, splitting up the capacity so each technology gets part of it. It's an important technology … but not to provide your entire nationwide footprint, especially if your network is as congested as Verizon. Let's be clear, DSS does not create new spectrum. It forces more traffic into the same number of lanes. They're taking precious capacity from their LTE customers and making things more crowded and congested for everyone.  Good luck. But they have little choice, because again, their spectrum bet was on millimeter wave bands that don't reach many people.
At T-Mobile, we bet on mid-band 5G through our Sprint merger, which added to a huge blanket of nationwide, dedicated low-band 5G. And of course we have millimeter wave too (more than AT&T), which is properly used as a complement to the other dedicated 5G bands, in very dense areas.  We call this our "layer cake strategy" and if you take a look at the graphic, you'll see why!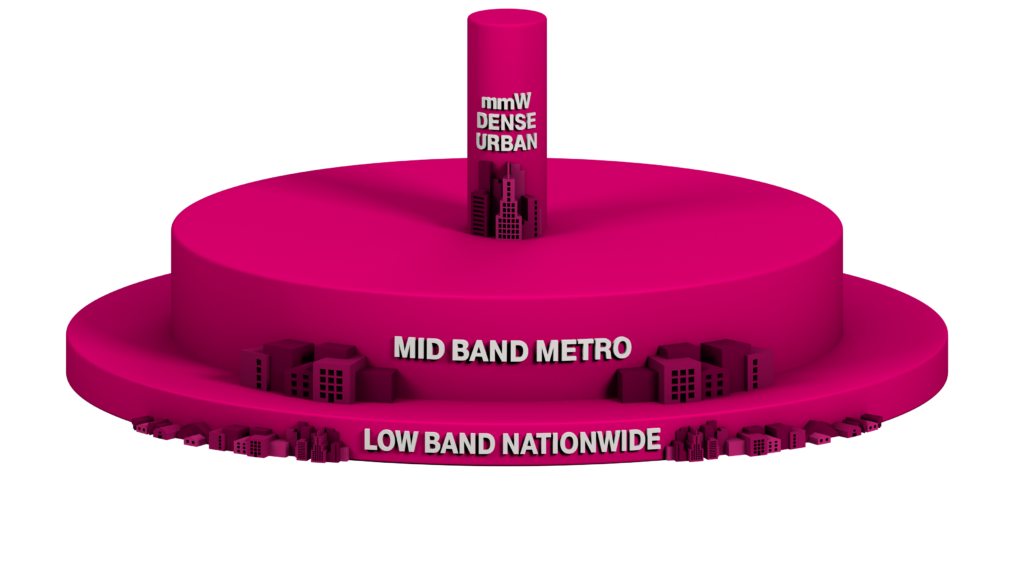 That looks delicious to me! With all 3 major bands dedicated to 5G, we have wide open freeways ready to take on massive amounts of 5G traffic. We have separate dedicated lanes for LTE AND 5G. And we have more low and mid-band spectrum than anyone in wireless, so building a much wider and faster freeway. And where we deploy millimeter wave to the layer cake, it gets even faster.  The Un-carrier is way out in front, and we aren't looking back.
I want to congratulate Apple on today's exciting announcements. 5G just got real. At the end of the day, if you want a transformational 5G experience with massive coverage and performance, there's only one choice … and it's T-Mobile.
Mike