With one of its largest investments in years, Sprint is building a blazing-fast, high-capacity mobile network that will enable the next wave of wireless innovation. Sprint True Mobile 5G is powerering new experiences for wireless customers in covered areas, from gaming and entertainment services to IoT and business applications.
Availability
Following launches that began rolling out in May 2019, Sprint True Mobile 5G is now available in parts of nine major cities: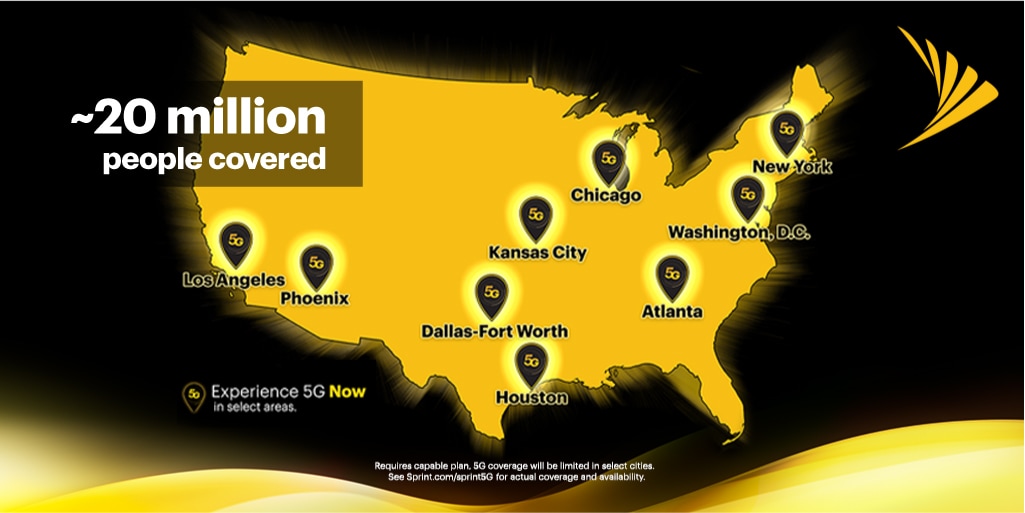 The company's next generation of wireless services covers approximately 20 million people across all nine cities. Customers can view coverage maps down to the street level at http://www.sprint.com/coverage.
Massive MIMO Technology
Innovative Massive MIMO technology and Sprint's fast 2.5 GHz spectrum are the foundation of Sprint's award-winning approach to 5G. Sprint 5G is using 64T64R (64 transmit, 64 receive) Massive MIMO radios using 128 antennas, working with technology leaders Ericsson, Nokia and Samsung Electronics America Inc.
These radios support a feature called split-mode, which enables Sprint to simultaneously deliver LTE Advanced and 5G New Radio (NR) service. Sprint's 5G Massive MIMO radios run on its 2.5 GHz mid-band spectrum, and they are deployed on Sprint's existing 4G cell sites, providing a nearly identical footprint for both 2.5 GHz LTE and 5G NR coverage.
Sprint True Mobile 5G is delivering faster download speeds with Ookla® Speedtest Intelligence® data showing Sprint's average 5G download speed of 213 Mbps – more than 5X faster than Sprint's average LTE download speed.1
5G Devices
Sprint is working with the right companies to deliver breakthrough technology and a robust roadmap for its consumer and business customers to experience Sprint 5G. Sprint's 5G devices are powered by a Qualcomm® Snapdragon™ mobile platform using the Snapdragon X50 5G modem to kick data speeds into turbo drive.
Sprint will announce additional devices as it builds its 5G product ecosystem to give customers choice in how they connect to Sprint's 5G network.
5G Gaming
Sprint and gaming pioneer Hatch announced a collaboration that provides an unrivaled game-streaming experience specifically designed for mobile 5G networks. With Hatch preloaded on Sprint 5G smartphones, customers can enjoy Unlimited mobile cloud gaming and a complimentary three-month subscription to Hatch Premium. The faster speeds and greater reliability provide gamers unlimited on-demand access to a portfolio of more than 100 premium mobile games and play instantly without waiting to download or update games.
Sprint hosted a live 5G gaming exhibition featuring Hatch to celebrate the launch of its True Mobile 5G service in Los Angeles in late August. The result was an esports event like no other, using the new 5G network to let players experience gaming using the fifth generation of wireless connectivity.
5G Relationships
Sprint is working with multiple U.S. cities on Smart City applications leveraging 5G and IoT from Sprint. In Peachtree Corners, Georgia, Sprint recently opened Curiosity Lab at Peachtree Corners – the nation's first 5G-powered smart city technology proving ground. The living laboratory includes a 1.5-mile autonomous test track located within an existing 500-acre technology park. It enables companies to develop and test emerging technologies with live smart city infrastructure, next-generation connectivity and the most real-world conditions possible.
In a multiyear project Sprint is working with Arizona State University (ASU) in an effort to help drive economic, educational, technological and social growth for an entire region in Arizona, leveraging Sprint's True Mobile 5G and Curiosity™ IoT's advanced dedicated network and operating system. Sprint will work alongside ASU to offer blazing-fast 5G service and IoT applications to the largest and fastest growing research university in the United States, help launch 'Curiosity University' for its employees to foster a new generation of IoT experts and help create a Sprint 5G Incubator at ASU's Novus Innovation Corridor.
Sprint and Google announced they are expanding their Mobile Virtual Network Operator (MVNO) relationship to include 5G. Following Sprint's 5G launch, Google Fi customers with Sprint 5G compatible phones in a Sprint 5G coverage area will be automatically connected to the next-generation wireless network.
Sprint 5G Experience
In March 2019, Sprint opened its 5G Experience, a 1,100-square-foot immersive center featuring more than a dozen stations and demonstrations that use augmented reality, virtual reality and simulated displays. It takes visitors through the foundation for 5G from spectrum to a fiber-optics network and from Massive MIMO technology to real-world demonstrations of 5G's lower latency. Guests learn how 5G will help innovate gaming and entertainment, power smart cities and make cities safer, and connect billions of things through IoT.
Learn more at http://www.sprint.com/sprint5G. Media can contact media.relations@sprint.com.
# # #
1 Based on analysis by Ookla® of Speedtest Intelligence® data average download speeds for January 2020 of 4G LTE and 5G Beta NR results. Ookla® trademarks used under license and reprinted with permission.