Sprint is the only U.S. carrier that gives customers an opportunity to experience Essential Phone in person before they buy it.  Beginning on Thursday, Sept.14, Essential Phone will be available for purchase in all Sprint retail channels including our stores, online and by calling 1-800-SPRINT1. Can't wait until Thursday? You can pre-order it now and have it shipped directly to your home or office.
For a limited time, get 50 percent off Essential Phone and pay just $14.58 per month with $0 down with 18 Sprint Flex Lease payments1 – that is a savings of more than $260. Plus, get the Essential 360° Camera, the world's smallest 360° 4K camera, for just $199.99 or $16.67 per month for 12 months with Installment Billing2.  
With Sprint Flex Lease, customers can lease Essential Phone and have the option to upgrade or purchase later. Unlike other carriers, which require the customer to decide to buy up front, Sprint lets customers make the final decision later, so they don't get stuck with their old phone. Sprint Flex allows customers to enjoy their phone before deciding what option (upgrade, continue leasing, return or own) works best for their lifestyle. Customers can still choose to buy the phone outright at point of sale.
Sprint offers the best price on fully-featured Unlimited. Customers who switch to Sprint get Unlimited data, talk and text, HD video and 10GB of mobile hotspot for just $22.50 per month per line for 4 lines with the 5th line for free. That's 50% off Verizon and AT&T Unlimited rates for a family of 4 or 5.3
Striking Design, Powerful Features
Essential Phone is the inaugural phone from Andy Rubin, co-founder of Android, the world's most widely used mobile operating system. Essential Phone is expertly crafted using titanium and ceramic, has an edge-to-edge Full Display, and captures stunning images (even in low light) with a color and monochrome dual-system camera that captures rich, crisp photos.
Essential Phone boasts stunning design elements and innovative technical specifications including:
Design & craftsmanship: There's a reason titanium is used to build rockets and replace bones. Unlike aluminum, which is what most phones are made of, titanium resists dents, bends, and scratches far better. Titanium is the perfect material to create one of the most essential things in our lives – one we all sometimes drop.
World's Smallest 4K 360° Camera: Other 360° cameras are big, bulky, and complicated to use. We thought it was about time someone made a 360° camera for the rest of us. Simply click the 360° camera to your phone to point, shoot, and share. It's that easy.
Full Display™: With the Essential Phone's stunning edge-to-edge Full Display there's finally a large-screen device that fits comfortably in the palm of your hand.
Beauty meets brawn: This phone will take on whatever you want it to do. It comes with top-of-the-line specs and 128GB of memory so you have plenty of space for apps, photos and music.
Accessories that simply click: The magnetic connector with wireless data transfer keeps your phone cord-free, future-proof, and always up-to-date.

 
Essential Phone is enabled with three-channel carrier aggregation capable of reaching peak download speeds of more than 200Mbps. With an average of 204MHz of spectrum and more than 160MHz of 2.5GHz spectrum in the top 100 U.S. markets, Sprint has more spectrum for the future than any other carrier across the nation, allowing Sprint to keep adding the capacity and speed needed to serve customers' increasing demand for unlimited data.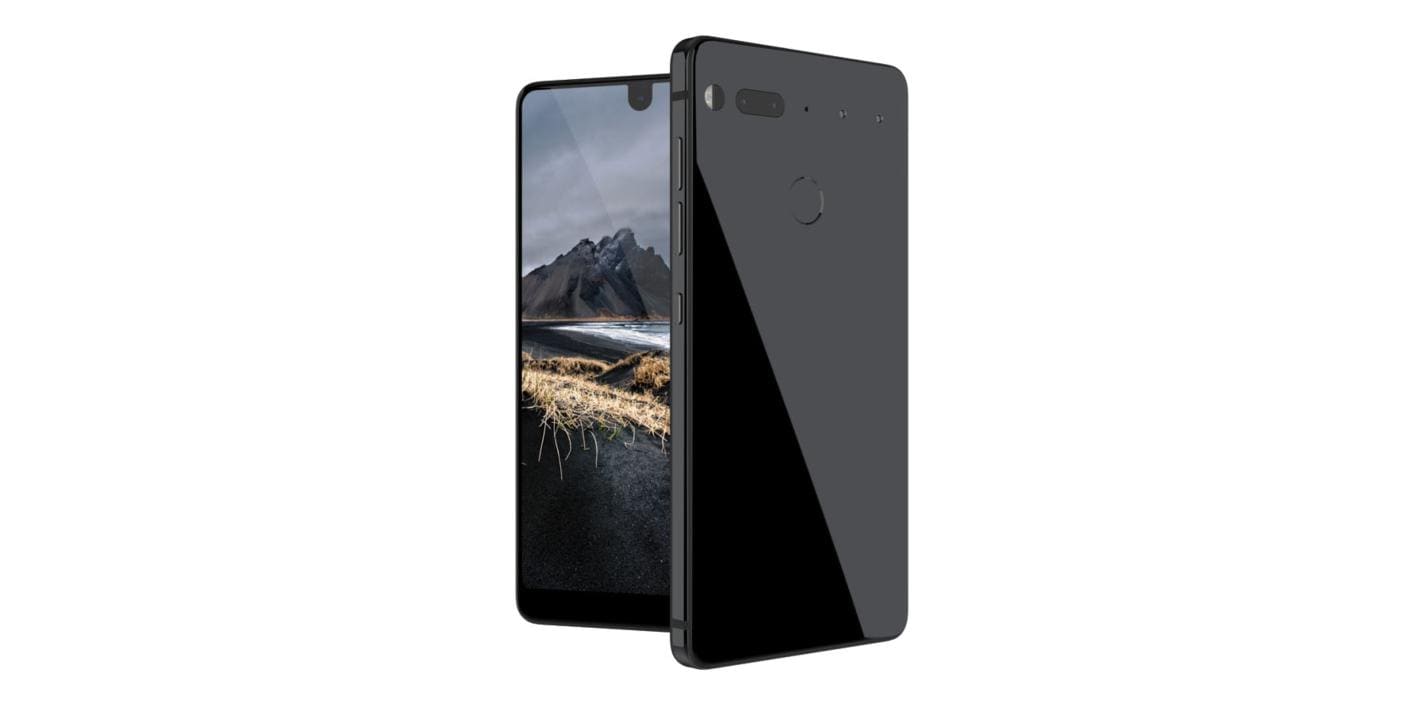 1 $14.58/mo. after $14.59/mo. service credit for 18 months on lease for well-qualified customer with new-line activation or eligible upgrade. Credit applied within 2 invoices and ends at term, early payoff, or upgrade. Monthly payment excludes taxes. Early termination results in remaining balance due. $699.99 SRP.
2 Excludes taxes. Requires installment agreement, credit approval, 0% APR, active account in good standing, qualifying device & service plan.
3 Savings until 10/31/18; then $60/mo. for line 1, $40/mo. for line 2 and $30/mo./line for lines 3-5. With AutoPay. Compared to advertised VZ Beyond Unlimited and AT&T Unlimited Plus rates for 4 lines as of 8/23/17.  Carriers' features differ. Includes unlimited talk, text and data. Streams video up to HD 1080p, music up to 1.5mbps, gaming up to 8mbps. Data deprioritization during congestion. MHS, P2P and VPN reduced to 2G speeds after 10GB/mo. Subject to credit and $30 activation fee. Excludes taxes, fees, roaming, and premium content. AutoPay discount applied within 2 invoices. Offer and coverage not available everywhere.