The mission of the Denver Housing Authority (DHA) is to serve the residents of Denver by developing, owning, and operating safe and affordable housing in a manner that promotes empowerment, economic opportunity, and thriving communities.
That mission includes bridging the digital divide.
Denver is one of 28 cities participating in the ConnectHome initiative, a collaboration between communities, the private sector, and the federal government to expand high-speed internet access to more families across the country. The initiative is bringing affordable broadband access, technical training, digital literacy programs, and electronic devices to thousands of low-income households living in HUD-assisted housing. By helping residents gain access to mobile broadband services, DHA's tenants can keep up-to-date with school, community events and employment opportunities through ConnectHome Denver.
DHA is also working with Sprint to expand mobile broadband service using the wireless carrier's latest innovation, Sprint Magic Box, inside five tenant buildings. Between 75 and 200 residents live in each building, all of which are five to 10 stories tall.
Sprint Magic Box is the world's first all-wireless plug-and-play 4G LTE small cell. Within minutes of plugging the unit into a power outlet, residents with Sprint service have a better data experience while streaming videos, surfing the web, and using their favorite online apps and services. The technology is part of a broad toolkit of solutions Sprint is using to improve data speeds and coverage for its customers.
While Sprint Magic Box was designed to be small, the company also engineered it to have an expansive coverage area – great for extending wireless service to the upper floors of tall buildings. One Sprint Magic Box provides average indoor coverage of 30,000 square feet under optimum conditions for most devices. The Sprint Magic Box signal also extends data coverage to Sprint customers nearby in homes and other businesses.
Since installing Sprint Magic Box, data speeds for DHA residents have significantly improved. At Barney Ford Heights, download speeds increased from 23 Mbps to 36 Mbps. And at North Lincoln Mid-rise, download speeds increased from 6 Mbps to 26 Mbps.
Tony Frank, Director of Digital Inclusion at DHA, says Sprint Magic Box is a great tool to expand internet access to residents with Sprint service. "Wireless access and mobile broadband is a bridge to the future and high-quality, reliable connectivity is key for our families," said Frank. "Sprint Magic Box helps our families with Sprint service navigate school resources, complete homework, apply for jobs and much more. It is a bridge to opportunity."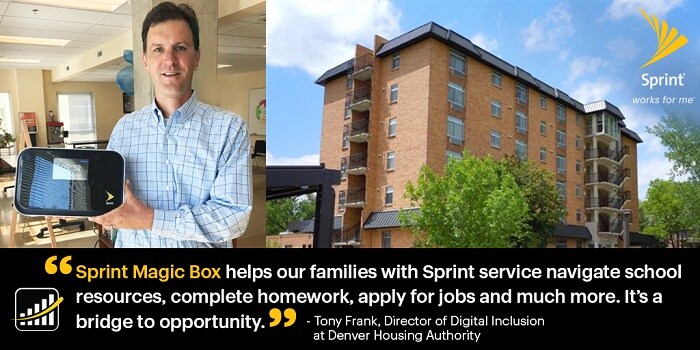 About Denver Housing Authority:
Denver Housing Authority is a quasi-municipal corporation with a portfolio of over 11,000 units and housing choice vouchers, providing affordable housing to more than 26,000 very low, low and middle income individuals representing over 10,000 families. DHA has transformed public housing in Denver creating vibrant, revitalized, sustainable, transit oriented, and mixed-income communities of choice.
ConnectHome Denver is part of a national public-private collaboration developed to narrow the digital divide for families with school-age children who live in HUD-assisted housing. Through the collaboration of several partners and dedicated community organizations, ConnectHome Denver creates the opportunity for thousands of Denver's low-income families to successfully cross the digital divide.
About Sprint:
Sprint (NYSE: S) is a communications services company that creates more and better ways to connect its customers to the things they care about most. Sprint served 59.7 million connections as of March 31, 2017, and is widely recognized for developing, engineering and deploying innovative technologies, including the first wireless 4G service from a national carrier in the United States; leading no-contract brands including Virgin Mobile USA, Boost Mobile, and Assurance Wireless; instant national and international push-to-talk capabilities; and a global Tier 1 Internet backbone. Sprint has been named to the Dow Jones Sustainability Index (DJSI) North America for the past five years. You can learn more and visit Sprint at www.sprint.com or www.facebook.com/sprint and www.twitter.com/sprint.