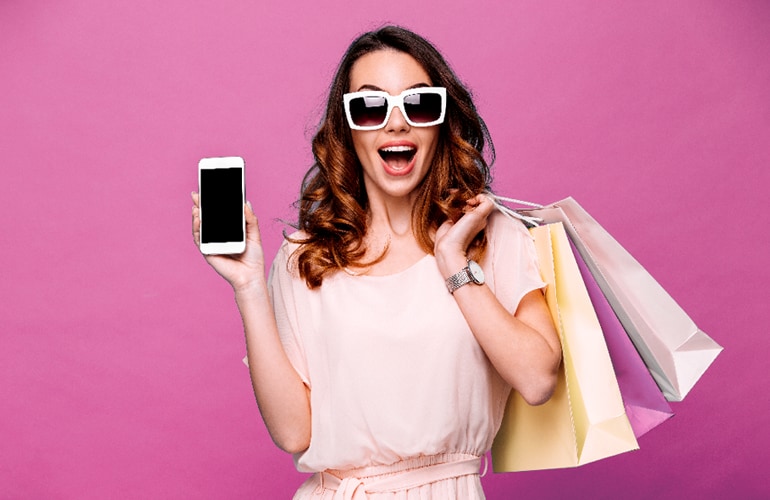 Just as online shopping upended the retail world, mobile commerce is now revolutionizing consumer behavior. It's never been easier or faster to purchase the things we need, like or simply want.
Last Thanksgiving, when early Black Friday sales started kicking off around the country, consumers in the U.S. spent a record $3.7 billion online, with mobile accounting for a full one-third of these sales. That's more than $1 billion in purchases on their mobile devices — in a single day.
But how exactly are we using our phones for retail therapy, and what types of purchases do we perceive as the most mobile-friendly?
The most popular spending categories on mobile are inexpensive and leisure-based, with one shining exception.
According to Comscore, consumers are more likely to make mobile purchases in "relatively inexpensive" categories, or those that include "lower consideration products." That means that spare time-centric purchases like video games (49% mobile share of all digital category purchases), toys and hobbies (46%), event tickets (36%), movies and videos (32%), and sports and fitness (31%) occupy five of the top six spots when it comes to mobile purchases' share of total digital spending in various retail categories. The one exception to this was jewelry and watches, which at 41% of all online purchases coming from mobile was ranked third among the eCommerce categories studied.
More than three-quarters of smartphone users have recently made a purchase on mobile.
That's right, more than three out of four of us have recently made a purchase with the tap or swipe of a phone screen. Specifically, new research shows that 79% of smartphone users have made a purchase on mobile in the last six months.
Mobile is the holiday shopper's new best friend.
Gone are the days when many of us stood in line in the freezing cold predawn to elbow our way into a big box store for the best deals on holiday gifts. Now nearly half of us simply tap our phone screen and start crossing off our gift lists from the comfort of home, convenience of work, or literally anywhere we might be at a given time. Over the 2018 holiday season, nearly 40% of all eCommerce purchases were made on a smartphone. Who knew Santa was so high tech?
Amazon is the North Star for mobile spending.
Of course, we all know that the eCommerce behemoth dominates in the online shopping department, but for a large number of consumers looking to purchase something on mobile, Amazon is their first stop and guiding light. Nearly half (49%) of all product searches now begin on Amazon. That's not to say that Amazon is everyone's final point of purchase on mobile, but it goes to show the online retailer is much more present in our lives — and on our credit card statements — than any of us probably ever thought.
Shopping on your mobile phone this holiday season? Check out these great deals on devices and plans.